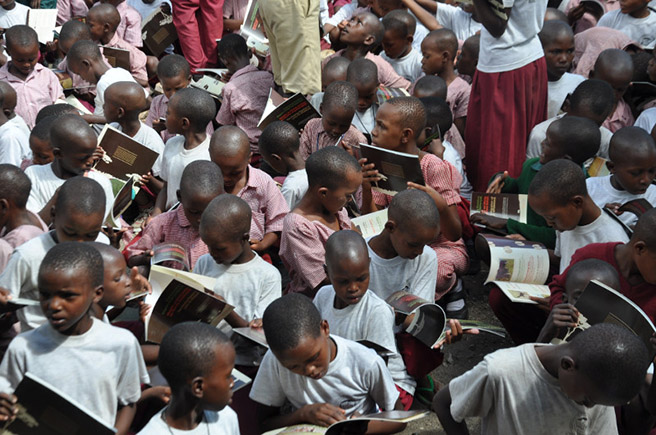 The children's faces lit up with excitement as the teachers handed out copies of The Amazing Migration of Lucky the Wildebeest, a story of the migration of a young wildebeest and its zebra friend from Lake Natron to Tarangire National Park in Northern Tanzania written by Monica Bond and Derek Lee.
Written in Maa, Swahili and English, the book promotes literacy and conservation to children living in the wildlife corridor, which is the focus of Derek and Monica's ungulate research with The Wild Nature Institute. AWF, with funding from USAID, helped the Wild Nature Institute print copies and distribute among Maasai schoolchildren such as those at Manyara Ranch School as part of efforts to ensure the migration route remains open for wildlife to use. 
The eastern grey bearded wildebeest, a genetically distinct population from the Serengeti wildebeest whose numbers have plummeted from 40,000 in 1988 to 6,000 in 2001, migrates from its calving grounds on the short grass plains near Lake Natron to the perennial waters in Tarangire National Park. Calves like Lucky are born on the plains to the South of lake Lake Natron and feed on the nutritious grasses that grow on the volcanic soils in the wet season. But as the water sources dry up the wildebeest and other wildlife including zebra, elephants and antelope migrate south through Maasai villages to the perennial water sources in Tarangire National Park where they remain for the duration of the dry season.   The cycle is an ancient rhythm of life that depends on ecological processes that have evolved over millennia.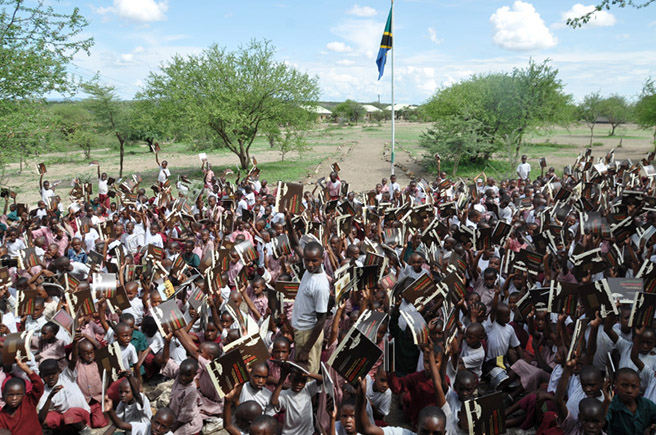 But the rhythm is changing as the underpinning ecological processes are threatened by changes in land use throughout the migratory route. Economic drivers and population pressures are prompting people to convert important habitat to agriculture, mining, and settlements. AWF has been working in the Tarangire Manyara Natron ecosystem for over a decade to secure habitat by providing economic opportunities for communities who commit land to conservation. Manyara Ranch and Randilen Wildlife Management Area at the southern end of the migratory route, and Lake Natron Wildlife Management Area at the northern end generate revenues from tourism for people living with wildlife and helping to keep the migratory route open for Lucky and her friends.
Access to education for children living in the corridor is another way AWF helps communities. Manyara Ranch school is one of the leading schools in Tanzania, with a 100% pass rate for its students, an IT lab and fully equipped classrooms. The enthusiasm of the students shines in their faces, as it did on the day we delivered The Amazing Migration of Lucky the Wildebeest books.
Learn about AWF's conservation schools.
---
About the Author
Andrea Athanas is AWF's Senior Program Design Officer for East Africa. She has experience in program design and development, project fundraising and implementation, and training and guideline development. She is an avid skier, swimmer and hiker and generally likes being outdoors.