Tuesday, April 3, 2012

Nairobi, Kenya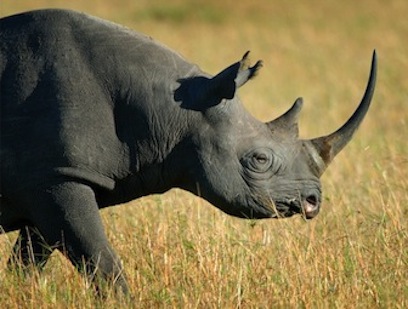 Africa's rhino population is currently estimated at 25,000 and it is suggested that if poaching continues at current rates, there will no longer be any rhino left in the wild by 2025. Photo by Billy Dodson.
Strategies to Halt Poaching Developed at Rhino Stakeholder Summit Convened by African Wildlife Foundation and Kenya Wildlife Service
NAIROBI, Kenya, April 3, 2012 -- Representatives of the conservation community from across Africa today announced a comprehensive response to combat the continent's alarming rhino poaching crisis.
These recommendations, which incorporated both short- and long-term suggestions, were developed at an invitation-only summit hosted by the African Wildlife Foundation (AWF) and Kenya Wildlife Service (KWS). The Rhino Summit, which took place April 2 -- 3, 2012, at AWF's Conservation Centre in Nairobi, brought together stakeholders from almost 25 organizations from across the continent to develop a far-reaching course of action to end the killing of rhinos for their horns.
Summit attendees cut across all sectors of African conservation and included representatives of wildlife authorities from Africa's rhino range states, scientists, owners of private rhino reserves, rhino trade and security experts, and leading international conservation organizations. Combined, the Summit drew government officials and other representatives from Botswana, Kenya, Namibia, South Africa, Tanzania, the United States, Zambia, and Zimbabwe. The event--moderated by a neutral professional facilitator--fostered an open, transparent discourse among attendees.
"Wildlife authorities, private land rhino reserve owners, conservation organizations, and others have made valiant efforts to halt the rhino poaching crisis, but these disparate actions have sadly been no match for this epidemic that is plaguing Africa. The African Wildlife Foundation and Kenya Wildlife Service convened these key stakeholders to establish a comprehensive strategy that can effectively put an end to this terrible tragedy," said Helen Gichohi, president of African Wildlife Foundation.
Rhino poaching in Africa has in the past few years rapidly reached crisis levels, with a record-breaking 448 rhinos poached in South Africa alone in 2011, a 33 percent increase in a single year.
"South Africans are angry," said Dr. Sam Ferreira, large mammal ecologist of South African National Parks. "South Africa has 93 percent of all the rhino in Africa, and until now has seen the bulk of devastation in terms of rhino poaching. One of the key factors for us is, we have to understand the cause of this demand, and more importantly, understand what are the drivers that predict what demand will do."
Demand is said to come from several Asian countries, where rhino horn is purported to cure cancer and other diseases. While scientists have proven that rhino horn has little to no medicinal value--and moreover is made of keratin, the same protein found in human hair and fingernails--these outsized myths, combined with surging Asian economies, have put rhino horns in high demand. Horns regularly sell for US$50,000 per kilogram, more than the price of gold. Meanwhile, several sophisticated criminal syndicates are said to have risen in response to this demand, giving poachers on the ground access to tremendous resources, from night-vision goggles and veterinary medicines to helicopters. The African Black rhino is currently listed as "critically endangered" on the International Union for the Conservation of Nature (IUCN) Red List; the White rhino is listed as "near threatened."
"Many organizations are doing worthwhile things to combat the rhino poaching crisis. The aim of the Rhino Summit was to bring together all of the relevant players to share best practices and lessons learned, and to add value to existing efforts," said Julius Kipng'etich, director of Kenya Wildlife Service. "Through two full days of serious discussion, I believe we, as key stakeholders in African rhino conservation, were successful in prioritizing actions and coordinating our efforts for greatest effect."
The Summit resulted in consensus among stakeholders for how best to immediately address the rhino crisis going forward. Participants agreed that, to effectively address the crisis, the African conservation community needed to target efforts along four tiers, with specific actionable items that can be addressed within the next six to nine months:
1. Assisting rhino surveillance and anti-poaching units on the ground with new strategies, tools and resources, including, but not limited to, more advanced communication technology, more vehicles and possibly helicopters.
2. Strengthening law enforcement and its coordination at both a local and national level. This includes harsher penalties and fines; improved detection, such as through the use of sniffer dogs at airports, and monitoring; and tougher law enforcement.
3. Curbing rhino horn demand and illegal trade, through the use of public awareness campaigns on wildlife trade issues in both consumer and source states.
4. Reaching out to influence policy makers, financiers, and government officials at the highest appropriate levels.
While attendees agreed that efforts needed to be directed at all four tiers simultaneously to achieve an end to rhino poaching, stakeholders acknowledged that the best way to accomplish this broad-ranged plan was for different players to focus on different areas of expertise, rather than all parties trying to do everything.
"Zambia lost her local population by 1998. In 1980, for instance, we had 2,750 rhino, but by 1998, the species was declared locally exterminated by IUCN. While the reintroduction of rhinos in our country has been a success so far, we are worried about the rate of poaching in the region, especially for countries like South Africa that have invested heavily in rhino protection. So we are looking to learn from those who are most experienced," said Zambia Wildlife Authority Director General Edwin Matokwani.
In addition to developing and distributing a comprehensive plan for combating rhino poaching in Africa, attendees came away from the Rhino Summit with a clear course of action for how each organization will contribute to the anti-poaching efforts across the continent. Stakeholders also agreed there was a need for collaboration over the long term so as to reach consensus among the key range states on other issues related to rhino protection and conservation.
"The private rhino reserve owners in South Africa have as much rhino on their lands as the rest of Africa combined, but where we are coming from is based on a huge outcry of indignation on the part of the entire African conservation community," said Pelham Jones, chair of the Private Rhino Owners Association in South Africa. "This is our heritage, a part of our culture. What right does anyone have to steal our continent's assets?"
Download the Rhino Summit Action Plan.
# # #
About African Wildlife Foundation
Founded in 1961, the African Wildlife Foundation (AWF) is a leading conservation organization focused solely on the African continent. AWF's programs and conservation strategies are based on sound science and designed to protect both the wild lands and wildlife of Africa and ensure a more sustainable future for Africa's people. Since its inception, AWF has protected endangered species and land, promoted conservation enterprises that benefit local African communities, and trained hundreds of African nationals in conservation--all to ensure the survival of Africa's unparalleled wildlife heritage. AWF is a nonprofit organization headquartered in Kenya and registered as a 501(c)(3) in the United States. For more information, visit www.awf.org.
About Kenya Wildlife Service
The Kenya Wildlife Service (KWS) conserves and manages Kenya's wildlife for the Kenyan people and the world. It is a state corporation established by an Act of Parliament Cap 376 with the mandate to conserve and manage wildlife in Kenya, and to enforce related laws and regulations. To tackle the many issues confronting wildlife and biodiversity conservation in Kenya, KWS employs a multi-pronged approach, engaging different interest groups, stakeholders, and partners. For more information, visit www.kws.go.ke.
Contacts:
African Wildlife Foundation (AWF)
John Butler
Director of Marketing and Membership
Kenya Mobile: +0706 101 083
US Office: +1 202 939 3333
Kenya Wildlife Service (KWS)
Paul Udoto
Corporate Communications Manager
Mobile: +254 721 453 981
Office: +254 20 3992088