Tuesday, October 29, 2013

Washington, D.C.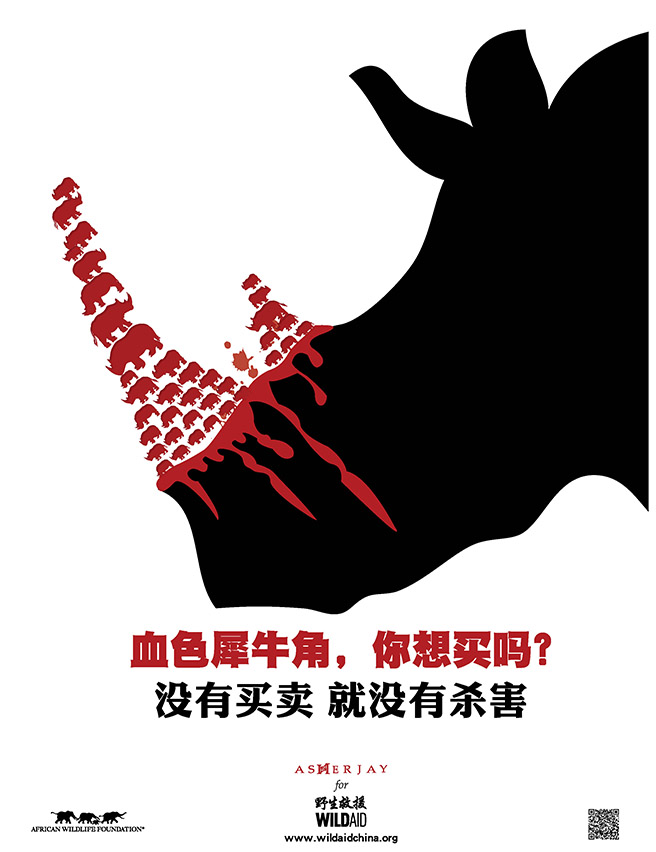 Do you want to buy bloody rhino horn? When the buying stops the killing can too.
Print PSAs highlight China's national pride in effort to stop illegal wildlife trade
October 29, 2013 – WildAid launched a new print public service campaign this month featuring four original works from artist and activist Asher Jay. An extension of the "Say No to Ivory and Rhino Horn" campaigns launched earlier this year with partners African Wildlife Foundation and Save the Elephants, Jay's works ask China's residents to imagine Africa's treasured rhinos and elephants as pandas, the national symbol of China's own conservation movement. A second set of PSAs asks consumers if they really want to own "blood rhino horn" or "blood ivory."
"We have long admired Asher Jay's conservation efforts through her chosen medium," said WildAid Executive Director Peter Knights. "These new works aim to enhance China's current conservation efforts, shining a light on their accomplishments while asking them to broaden the impact of their kindness."
Jay, a New York based artist and a staunch supporter of wildlife preservation, animal rights, sustainable development, and marine conservation, is the first artist to be officially commissioned by WildAid to stop the demand for illegal wildlife products in China. She uses her fashion, art, public speaking, and writing to raise awareness about various ecological and humanitarian initiatives. Her designs for the "Say No to Ivory and Rhino Horn" campaigns in China will be featured on ads in magazines, billboards, and on the Beijing and Shanghai subway.
"I am honored to be chosen as WildAid's first artist to bring this important message to China," said Asher Jay. "Their distribution channels will allow this important conservation story to reach hundreds of thousands of current and potential consumers of these by-products of horrific slaughter."
"By transforming consumers into conservationists, we can directly impact the future of Africa's rhinos and elephants," Jay added. "Cultural change is a contagious phenomenon, and comes with a tipping point – it starts with a few, gets adopted by many, and is then condemned by all. It is my daily hope that rhino and elephant conservation is embraced as part of the cultural fabric of China, effectively condemning the trade in horn and ivory."
"Art is a particularly effective and powerful medium for provoking an emotional response in people," said African Wildlife Foundation CEO Patrick Bergin. "At the end of the day, we want people to see these ads, react to them on an emotional level, and become advocates for elephants and rhinos rather than consumers of ivory and rhino horn."
"Africa's elephants are in a crisis that only a global coalition can solve. Asher's artwork breaks down borders and brings Africa to the East," said Iain Douglas-Hamilton, CEO of Save the Elephants. "Africa needs her elephants – China and the world can help her keep them."
WildAid is currently accepting proposals for original works from artists around the globe. Interested artists and designers should contact Brian Adams at adams@wildaid.org.
See the full series of ads in our album.
###
About WildAid
WildAid is the only organization to solely focus on reducing the demand for wildlife products. Working with hundreds of Asian and Western celebrities and business leaders, including Jackie Chan, Leonardo DiCaprio, and Sir Richard Branson, WildAid's public service messages and educational initiatives reach hundreds of millions of people a week in China alone through donated media space. For more information: www.wildaid.org.
About Save the Elephants
Save the Elephants (STE) aims to secure a future for elephants in a rapidly changing world. Pioneers in cutting-edge science, their research provides vital insights into elephant behavior, intelligence, and long-distance movement. Given the current crisis, STE has now marshalled its resources to combat elephant poaching, prevent ivory trafficking at all levels, and bring to the attention of ivory consumers the catastrophic impact of their purchases. For more information: www.savetheelephants.org.
About African Wildlife Foundation
African Wildlife Foundation (AWF) together with the people of Africa, works to ensure the wildlife and wild lands of Africa will endure forever. In 1961, African Wildlife Leadership Foundation, Inc., later AWF, was established to focus on Africa's unique conservation needs—wildlife conservation, land preservation, community empowerment, and economic development. AWF is working with other partners and governments to spread public awareness about the illegal trade in rhino horn and ivory, the horrors of poaching, and dwindling rhino and elephant populations. Their work also includes the recruitment, training, and equipping of scouts who help protect rhinos, elephants, and other wildlife from poachers. For more information: www.awf.org.
Contacts:
Kathleen Garrigan, African Wildlife Foundation
T: 202.939.3326, E: kgarrigan@awf.org
Brian Adams, WildAid US Communications Director
C: 857.264.9688, E: adams@wildaid.org
Frank Pope, Save the Elephants Chief Operations Officer
T: +254725777552, E: frank@savetheelephants.org