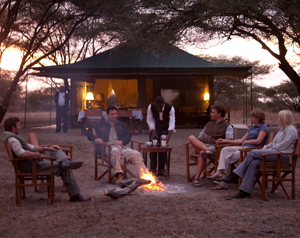 New Tourism Initiative Successfully Combines Conservation and Luxury Travel
Denver, CO (July 05, 2010) -- African Wildlife Foundation is pleased to announce the opening of Manyara Ranch Conservancy, a private conservancy and new intimate tented safari camp offering travelers an opportunity to experience the wildlife and culture of Tanzania. Located in the middle of the crucial Kwakuchinja wildlife corridor connecting Lake Natron, Ngorongoro and Manyara wildlife areas in Northern Tanzania to the Tarangire ecosystem and the Maasailands further south, Manyara Ranch offers plentiful game year round, dramatic landscape and a unique opportunity to connect with the local Maasai communities in the area - all well off the busy tourism routes. This tourism initiative was developed in partnership with the African Wildlife Foundation (AWF) to support conservation efforts in this critical wildlife and cultural area in Northern Tanzania, and offers travelers an intimate view at Africa's wildlife along with a personalized safari experience.
"Protected areas like national parks are important areas for wildlife," explains Sandy Evans, a director of Manyara Ranch Conservancy. "However, if the land surrounding them is not properly conserved, they risk becoming isolated and unviable for wildlife. Lake Manyara National Park and Tarangire National Park are 20 kilometers apart. About fifteen years ago, the migration routes that connect them began to disappear. This habitat fragmentation has become one of the greatest threats to conservation in northern Tanzania. This is why Manyara Ranch Conservancy is so important and why the African Wildlife Foundation along with the Tanzania Land Conservation Trust has stepped in to help protect the needs of pastoral communities as well as to preserve the integrity of these areas for wildlife conservation."
Originally established as a cattle ranch during Tanzania's colonial period, Manyara Ranch remains an operating ranch with a relatively small herd of beef cattle and black-headed sheep. In 2000, AWF obtained management and conservation rights to the ranch to protect these wildlife corridors. In so doing, AWF established a working relationship with the Maasai, developing their community conservation projects and rehabilitating the ranch itself. The ranch is held in Trust by the Tanzania Land Conservation Trust (TLCT) for the benefit of the local communities and Tanzania.
To help sustain Manyara Ranch Conservancy, a luxury safari camp was developed which officially opened in June 2010. This intimate safari experience now offers safari facilities for relatively small numbers of visitors to experience the wildlife and culture in and around this vital wilderness area. Here guests can enjoy an authentic safari experience with the modern luxuries such as comfortable beds, en-suite bathroom, with hot and cold running water and flush toilets. Each tent also has a private viewing deck allowing guests to enjoy their morning cup of coffee with a panoramic view onto the plains beyond. The safari camp consists of 6 classic East African-style tents, and offers exclusive access to the impressive wildlife in the conservancy. With an outstanding group of safari guides, travelers can enjoy both traditional game drives as well as walks in the conservancy, escorted by armed guides who specialize in walking safaris.
Guests can enjoy a range of private activities, some of which are rarely offered elsewhere in Tanzania, such as night game drives. Throughout the year, the Conservancy remains a haven for wildlife moving between the parks and protected game areas surrounding Manyara Ranch Conservancy. In the near future, the Conservancy will also implement opportunities to accompany and assist AWF and other scientists with their research projects in the Conservancy Area.
For more information visit: http://www.manyararanch.com or contact the North American office at contact@fazendinportfolio.com or +1.303.586.1305.
About African Wildlife Foundation
Founded in 1961, the African Wildlife Foundation (AWF) is the leading conservation organization focused solely on the African continent. AWF's programs and conservation strategies are based on sound science and designed to protect both the wild lands and wildlife of Africa and ensure a more sustainable future for Africa's people. Since its inception AWF has protected endangered species and land, promoted partnerships with the private sector for ecotourism to benefit local African communities as a means to improve livelihoods, and trained hundreds of African nationals in conservation -- all to ensure the survival of Africa's unparalleled wildlife heritage. AWF is a non-profit organization headquartered in Kenya and is a registered 501(c)(3) in the United States. Visit www.awf.org.
About Manyara Ranch Conservancy
Manyara Ranch Conservancy, situated within the wildlife corridor between Tarangire and Manyara National Parks in Tanzania, offers a superb wilderness area with an excellent cultural mix for the active traveler in Tanzania. The Conservancy provides guided game walks, day and night drives, 4x4 safari extensions to nearby parks, visits to partner villages and activities including horse riding with big game, bush breakfast and dinners and participative research activities to promote ongoing conservation projects in collaboration with the African Wildlife Foundation.
Media Contacts
African Wildlife Foundation
John W. Butler, Jr.
Director, Communications and Marketing
202-939-3313
Manyara Ranch Conservancy
Rebecca Widness/ Annie Fitzsimmons
646-375-2239