Tuesday, February 17, 2009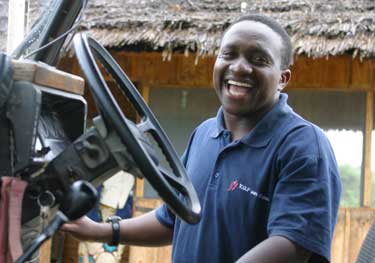 NAIROBI, KENYA--AWF is pleased to announce the addition of three new wildlife experts to the AWF Blog Team. The new bloggers lend their expertise in the conservation of lions, bonobos and Grevy's zebras.
Lions of Tarangire (www.awf.org/lionblog), AWF's Lion Conservation Scientist Dr. Bernard Kissui blogs about his work to protect Africa's most iconic great cat in the savanna of northern Tanzania. Using his intimate knowledge of the Maasai Steppe, Bernard is studying several groups of collared lions and tracking human-lion conflict in and around Tarangire National Park.
Bonobos of the Congo (www.awf.org/bonoboblog), AWF Protected Area Manager Valentin Omasombo W'Otoko is blogging about his work from one of the wildest places on earth--the remote Lomako-Yokokala Faunal Reserve in the DRC. Pivotal in establishing the Lomako Reserve in 2006, Valentin now oversees bonobo research from the new conservation science camp AWF recently built there.
Guarding Grevy's Zebra (www.awf.org/zebrablog), Dr. Paul Muoria, head of AWF's Grevy's Zebra Conservation Science project, is reporting on the challenges and successes of AWF's work to protect this highly endangered equid in its last great stronghold--the high desert of Samburu.
AWF Blogs enable a new way for people to help Africa's wildlife by donating to conservation efforts on the ground. Each blog has a secure donate button whereby readers can support the blogger's projects and make a difference in wildlife conservation.
Made possible thanks to the generous support of our donors and partners, AWF Blogs launched last spring with Nakedi Maputla's Leopards of the Kruger blog and Paul Thomson's Running Wild in the Heartlands blog.
More blogs will be added soon. Read all the AWF blogs at www.awf.org/blogs.