Monday, April 7, 2014

Kinshasa, Democratic Republic of Congo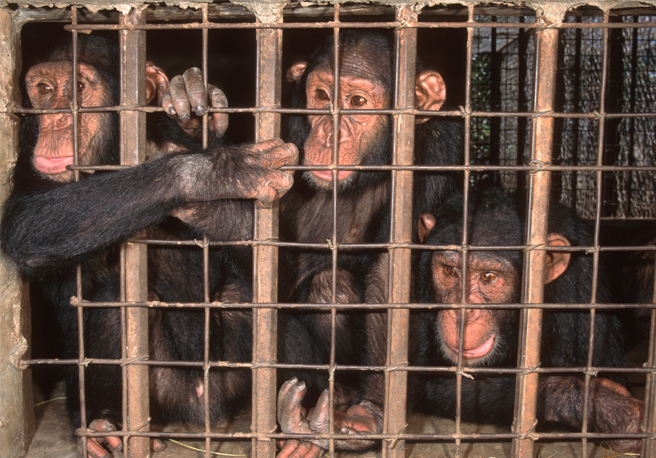 Chimpanzees and other great apes are highly threatened by the illegal pet trade. Photo: Martin Harvey
Organized by the African Wildlife Foundation, the workshop and field-based training in the Democratic Republic of Congo will provide an opportunity for high-level policymakers and field-based staff to collectively improve great ape conservation efforts
The African continent is home to four of the world's five great apes—and all four are endangered or critically endangered. On 8th April, therefore, policymakers, protected area authorities, and great ape conservation groups from Cameroon, Senegal, Rwanda, and the Democratic Republic of Congo (DRC) will gather in Kinshasa for a two-day workshop on great ape conservation, followed by a seven-day training exercise for ecologists and rangers at the Lomako–Yokokala Faunal Reserve in northern DRC. The workshop and field training, organized by the African Wildlife Foundation (AWF) as part of its African Apes Initiative, will guide how government, local partners, and international NGO groups can most effectively conserve great apes and ape habitat and also foster networking and collaboration among conservation peers. The workshop is being funded by the Arcus Foundation and facilitated by Annette Lanjouw, Arcus Foundation vice president of strategic initiatives and the great apes program. Field-based training is funded by the United Nations' Great Apes Survival Partnership, or GRASP.
"Great apes usually do not receive as much attention as some of Africa's megafauna, but they face just as many threats, ranging from habitat loss and fragmentation to the exotic pet trade," says Jef Dupain, technical director for the African Wildlife Foundation's great apes program. "Meanwhile, those involved in the conservation of Africa's apes are often isolated in the course of their day-to-day work. This is an opportunity for stakeholders to meet their counterparts in other countries who are doing the same work and who often face similar challenges. By bringing all the different players together, we hope this will improve understanding of the roles, capacities, limitations, and expectations of those involved in great ape conservation."
Participants at the meeting will represent six critical great ape landscapes: Niokolo-Koba National Park in Senegal; Dja Biosphere Reserve in Cameroon; the Virunga Massif in Rwanda, Uganda, and DRC; and the Maringa Lopori Wamba landscape, Bili-Uele Protected Area Complex, and Virunga National Park in DRC. Throughout these landscapes are key populations of Africa's great apes, which include chimpanzees, mountain gorillas, lowland gorillas, and bonobos.
Policymakers and other national-level decision makers will gather in Kinshasa to discuss the threats facing great apes in their countries and to design a well-functioning model for collaboration between key wildlife stakeholders—including governments, wildlife authorities, NGOs, and research institutes—to better support conservation efforts. Following the Kinshasa meeting, wildlife rangers and ecologists from each country will travel to AWF's Lomako Conservation Science Centre in the Lomako–Yokokala Faunal Reserve for a practical team-based field exercise in ecological monitoring, using handheld Trimble devices loaded with CyberTracker software. AWF had previously trained many of these practitioners in the use of the CyberTracker.
Rangers in the Lomako landscape have used the technology to great success in collecting critical information about bonobos, forest elephants, and other species, as well as threats to the habitat. "The CyberTracker technology helps field-based staff collect reliable, accurate information about species and threats, which can be shared quickly and in a transparent way with protected area authorities," says AWF Biologist Alain Lushimba, who led the original CyberTracker trainings and will be assisting AWF's Dupain during this event. "Authorities can then quickly deploy rangers and resources to identified areas of interest or concern."
While visiting Lomako, participants from different countries will break up into mixed groups for an overnight training exercise in the forest. They will then meet to discuss what worked and what didn't during the exercise, and compare notes on challenges within their own protected areas.
# # #
Les intervenants de conservation des grands singes se rassemblent pour partager les efforts et les défis liés à la protection des chimpanzés, gorilles, et bonobos
Organisé par la African Wildlife Foundation, l'atelier et la formation sur terrain en République Démocratique du Congo seront l'occasion pour les décideurs politiques de haut niveau et le personnel sur le terrain d'améliorer collectivement des efforts de conservation des grands singes.
Le continent africain abrite quatre des cinq grands singes du monde et tous les quatre sont en danger ou danger critique d'extinction. Le 8 Avril, par conséquent, les décideurs, les autorités des aires protégées, et les grands groupes de conservation des grands singes du Cameroun, le Sénégal, le Rwanda et la République Démocratique du Congo (RDC) se réuniront à Kinshasa pour un atelier de deux jours sur la conservation des grands singes, suivie par un exercice d'entraînement de sept jours pour les écologistes et les gardes à la Réserve de faune de Lomako-Yokokala dans le nord de la RDC.
La formation en atelier et sur le terrain, organisée par la African Wildlife Foundation (AWF) dans le cadre de l' African Apes Initiative , guidera la façon dont le gouvernement, les partenaires locaux, et des groupes d'ONG internationales peuvent le plus efficacement conserver les grands singes et les habitats des grands singes, et aussi favorisent le réseautage et la collaboration entre pairs de conservation. Cet atelier est financé par l'Arcus Foundation et animé par Annette Lanjouw, vice-président des initiatives stratégiques et le programme de grands singes de l'Arcus Foundation. La formation sur le terrain est financée par le Partenariat Survie des Grands Singes de l'Organisation des Nations Unies, ou GRASP. «Les grands singes en général ne reçoivent pas autant d'attention que certains espèces de la mégafaune africaine, mais ils font face à autant de menaces, allant de la perte et la fragmentation des habitats au commerce des animaux exotiques," dit Jef Dupain, directeur technique pour le programmes de grands singes de l'African Wildlife Foundation. "Parallèlement, ceux qui sont impliqués dans la conservation des singes d'Afrique sont souvent isolés dans le cadre de leur travail de jour en jour. C'est une occasion pour les intervenants de rencontrer leurs collègues dans d'autres pays qui font le même travail et qui sont souvent confrontés à des défis similaires. En réunissant tous les différents acteurs ensemble, nous espérons que cela va à améliorer la compréhension des rôles, les capacités, les limites et les attentes de ceux qui sont impliqués dans la conservation des grands singes ".
Les participants à la réunion représenteront six paysages critiques de grands singes: Parc national du Niokolo-Koba au Sénégal; Réserve de biosphère du Dja au Cameroun; le massif des Virunga au Rwanda, l'Ouganda et la RDC; et le paysage Maringa-Lopori-Wamba, zone protégée complexe de Bili-Uele, et le parc national des Virunga en RDC. Tout au long de ces paysages y sont des populations clés de grands singes d'Afrique, qui comprennent les chimpanzés, les gorilles de montagne, gorilles des plaines, et les bonobos.
Les décideurs politiques et autres décideurs au niveau national se réuniront à Kinshasa pour discuter des menaces qui pèsent sur les grands singes dans leurs pays et de concevoir un modèle qui fonctionne bien pour la collaboration entre les parties prenantes clés, y compris les gouvernements, les autorités de la faune, des ONG et des instituts de recherche à mieux soutenir les efforts de conservation. Suite à la réunion de Kinshasa, des gardes forestiers et des éc
ologistes de chaque pays se rendront à Lomako Conservation Science Centre de AWF dans la Réserve de faune de Lomako-Yokokala pour un exercice pratique de travail en équipe sur le terrain à la surveillance écologique, utilisant des Trimbles portables chargés avec le logiciel CyberTracker. AWF avait précédemment formé un grand nombre de ces praticiens dans l'utilisation des CyberTracker.
Des Rangers dans le paysage Lomako ont utilisé la technologie avec grand succès dans la collecte des informations essentielles sur les bonobos, les éléphants de forêt, et d'autres espèces, ainsi que les menaces à l'habitat. «La technologie CyberTracker aide le personnel sur le terrain à recueillir des informations précises et fiables sur les espèces et les menaces, qui peuvent être partagées rapidement et de manière transparente avec les autorités des aires protégées», explique Alain Lushimba biologiste de l'AWF, qui a dirigé les formations de CyberTracker originaux et qui sera à l'assistance de Dupain de l'AWF lors de cet événement.» « Les autorités peuvent ensuite déployer rapidement des gardes et des ressources à des domaines d'intérêt ou de préoccupation. »
Lors d'une visite de Lomako, les participants de différents pays se diviseront en groupes mixtes pour un exercice d'entraînement pendant la nuit dans la forêt. Ils se réuniront ensuite pour discuter de ce qui a fonctionné et ce qui n'a pas au cours de l'exercice, et de comparer leurs notes sur les défis au sein de leurs propres aires protégées.
###