Monday, February 23, 2009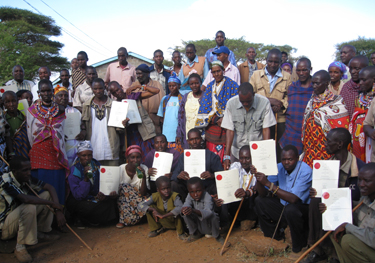 KILIMANJARO HEARTLAND, KENYA--In southern Kenya, where the African Wildlife Foundation (AWF) has partnered with local communities for more than four decades, AWF recently launched a new program called Leasing Land for Conservation.
The innovative new program -- under which AWF pays landowners for land conserved under a special lease agreement -- is initially being deployed in the Kilimanjaro Heartland, in the area stretching from the eastern border of Kenya's Amboseli National Park to the Kimana Sanctuary.
Nearly 8,000 acres of community lands have already been protected through AWF's Leasing Land for Conservation program. This past January, the 50 landowners of Osupuko, a community of Maasai pastoralists occupying a crucial wildlife dispersal area next to the Kimana Sanctuary, collectively set aside 3,000 acres through a lease with AWF. The 85 landowners of Kilitome, which abuts Amboseli National Park, set aside 5,000 acres.
The leasing program is part of AWF's work to connect Amboseli, Chyulu, and Tsavo National Parks. Elephants, lions, cheetahs and other wildlife use this historical corridor to move from the increasingly congested Amboseli area to the Kimana Sanctuary to areas farther east. Local Maasai also use these lands to graze their livestock.
Because of population growth and changing lifestyles, however, land parcels in this region are increasingly being converted for agriculture or sold off to developers. These forces have led to both a rapid reduction in wildlife habitat and increased human-wildlife conflict.
With support from the Dutch government and The Nature Conservancy, AWF will pay the Osupuko and Kilitome landowners $6 for every acre set aside for conservation and safeguarded against poaching, subdivision, and other activities that degrade habitat. Under these terms, the Osupuko families will earn $18,000 and the Kilitome families $30,600 a year. AWF is now working with both communities to employ local scouts who will help patrol the land and uphold the land use restrictions.
In the months ahead, AWF will also reach out to its supporters to secure critical funding to help the communities set up conservancies and build conservation enterprises that are economically self sustaining.
"The recent lease signings are a huge milestone and a critical step in securing the entire Amboseli ecosystem," says Kathleen Fitzgerald, AWF's Director of Land Conservation. "The swift results so far--with 8,000 acres already brought under conservation management and thousands more expected to come on line in the coming months--is possible thanks to AWF's long-term engagement with local communities throughout the region."