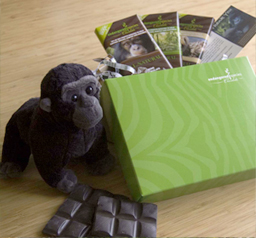 Washington, DC -- African Wildlife Foundation (AWF) and Endangered Species Chocolate have partnered to sell new Adoption Collections beginning in October 2009.
All proceeds from the AWF adoption program go to support AWF's work in the African Heartlands--large program landscapes identified as being essential to conservation because of their unmatched concentrations of wildlife and their potential to sustain viable populations for centuries to come.
The Adoption Collections are named for nine of Africa's imperiled mammals: the elephant, mountain gorilla, lion, Grevy's zebra, giraffe, leopard, black rhino, wild dog and warthog. A charitable donation is made to AWF's wildlife adoption program with each Adoption Collection purchased. Adoption Collections also include Endangered Species Chocolate bars, a plush animal that matches the collection's name, and an AWF e-membership.
Each of the nine gift collections is offered at three price levels, including $30, $45 and $75.
"Our customers are moved to buy products that support a conservation effort, and these Adoption Collections provide a win-win for customers wishing to enhance the positive reach of their spending power. Adoption Collection purchases directly support the vital work of African Wildlife Foundation while also contributing to Endangered Species Chocolate's 10% Give Back program," says Wayne Zink, Endangered Species Chocolate CEO. "The Adoption Collections are a natural extension of our 2009 10% Give Back partnership with African Wildlife Foundation."
ESC's support in 2009 has been particularly critical in funding AWF's Species Science Team, which works throughout Africa to protect endangered wildlife, such as lions, bonobos, Grevy's zebra and other magnificent species.
"We are extremely honored to partner further with Endangered Species Chocolate and offer a new adoption product just in time for the holidays," says Patrick Bergin, AWF's CEO. "Through the Adoption Collections, wildlife lovers can choose a gift that not only indulges a person's sweet tooth but also engages their loved ones in helping to protect Africa's magnificent wildlife."
Adoption Collections are available online at www.awf.org/chocolate or www.chocolatebar.com and are ready to be shipped in time for the holidays.
NOTE TO PHOTO EDITORS: High-resolution photos of the plush animals and chocolates for selected special gift collections are available on request.
# # #
About African Wildlife Foundation
Founded in 1961, the African Wildlife Foundation (AWF) is the leading conservation organization focused solely on the African continent. AWF's programs and conservation strategies are based on sound science and designed to protect both the wild lands and wildlife of Africa and ensure a more sustainable future for Africa's people. Since its inception AWF has protected endangered species and land, promoted partnerships with the private sector for ecotourism to benefit local African communities as a means to improve livelihoods, and trained hundreds of African nationals in conservation -- all to ensure the survival of Africa's unparalleled wildlife heritage. AWF is a non-profit organization headquartered in Kenya and registered as a 501(c)(3) in the United States. Visit www.awf.org.
About Endangered Species Chocolate
Indianapolis-based Endangered Species Chocolate is fully committed to providing premium, all-natural ethically traded, naturally shade-grown, and kosher products, as well as products that are certified vegan and organic. To honor its core value -- Reverence for Life -- ESC confirms that all beans used in its products are purchased from family-owned properties where the income benefits the community. The company also donates 10-percent of net profits to help support species, habitat and humanity. Recipient organizations demonstrate a commitment to conservation that aligns with the chocolate maker's vision of manifesting the Earth as a place where species and humanity flourish. Current partners are African Wildlife Foundation and Ocean Conservancy. The number one best selling brand of natural chocolate in the natural food category, ESC offers more than 30 products. For more information, please visit www.chocolatebar.com.