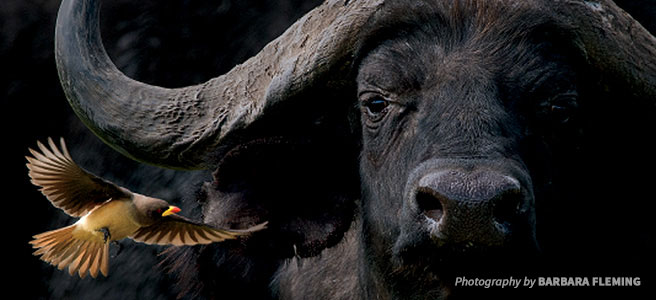 African Wildlife Foundation and Nature's Best Photography have teamed up to offer an exclusive photography safari led by experienced safari guide and seasoned conservationist Craig Sholley and award-winning photographer Jeff Vanuga. The safari includes numerous upgrades set to maximize the photographic and wildlife viewing experience. A maximum of 3 guests per Land Rover means each guest will have their own row with access to both left and right sides of the vehicle. Camera Tech-Tents at camp allow your group to charge devices and review photos together well into the evening. Private charter flights between Tarangire, the Serengeti, and Arusha minimize long ground transfers and increase quality time in front of wildlife. 
Your adventure begins in Tarangire National Park, famed for its ancient baobab trees and massive elephant herds. Journey to the heart of the Serengeti for stunning close-ups of zebra, wildebeest and gazelle and their predators, lions, cheetahs, and leopards. Close your trip with Tanzania's main event — the Serengeti Great Migration — where immense herds of zebra and wildebeest converge on the Mara River ecosystem. Put your wildlife photography skills to the test in the thick of the action. During this 10-day safari, you will also visit the Canines for Conservation Centre, an AWF flagship conservation project that trains sniffer dogs to detect wildlife contraband. 
Day 1

Karibu! Arrive at Kilimanjaro International Airport and join your fellow travelers. 

Day 2-5

Head into Arusha to visit AWF's Canines for Conservation Centre where experts train sniffer dogs to detect wildlife contraband. Then explore Tarangire National Park, best known for its large elephant herds and massive baobab trees. You will have 3 days to explore the park, spotting giraffe, lion, and maybe the occasional leopard. 

Day 5-7

Enjoy a private charter flight from Tarangire into the central Serengeti, seeing sweeping views of the Ngorongoro Highlands and prehistoric Olduvai Gorge from the air. Wake up to incredible morning outings on the savanna, catching herds of wildebeest, zebra, giraffe, eland, impala, topi and more in the morning hours. Spend your days searching for the legendary Big Five as well as the plains' numerous smaller scale dramas. Retreat to your Nyumba at sunset to relax in the heart of the wilderness in comfort, falling asleep to the hypnotic sounds of the wildlife. 

Day 7-10

The northern Serengeti is raw, wild and less-visited than other areas. It's arguably the best location for viewing vast herds during the dry season months of September and October. The Great Migration is a perpetual, year-round journey featuring over 200,000 zebras and over one million wildebeest. With luck, you may have a chance to witness one of Africa's most intense wildlife phenomena, a river crossing at the Mara River. 

Day 11

After breakfast on your final day, fly back to Arusha in time for a farewell lunch at Arusha Coffee Lodge. At the adjoining Shanga Arts Center, browse through boutique Tanzanian jewelry and crafts created by disabled artisans whose training and support are funded through the Shanga Foundation. Enjoy a stop at the Cultural Heritage Center before returning to relax in your day room before your flight home. 
Inclusions:
Group Leaders from AWF and Nature's Best Photography 
Tanzanian Naturalist Guides 
Meet and Greet upon arrival 
Airport transfers 
Window seats in comfortable 4x4 vehicles with pop-up roofs – max of 3 guests per vehicle 
All accommodations and meals as stated 
All park fees 
Internal flights from Tarangire to Serengeti and Serengeti to Arusha 
Extra Weight Allowance up to 50lbs on Internal Flights 
Bottled water in vehicles 
Exclusions:
International flights, associated fuel surcharge or departure tax 
Passport and Visa Fees 
Travel Insurance 
Gratuities 
Beverages 
Personal Items
---
Reserve your spot!
For more information or to reserve your spot, contact:
Andrew Doherty
[email protected]
Phone: +1 617 923 0426