AWF Facilitates First Youth Consultative Workshop in Cameroon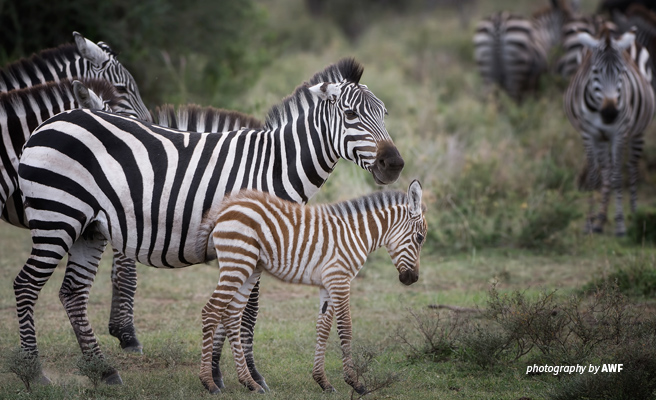 This week, the Cameroon Youth Biodiversity Network officially kickstarted its preliminary discussions on the Post-2020 Biodiversity Framework and the country's second National Biodiversity Strategic Action Plan. The group of 20 young influencers from various sectors in Cameroon were set to meet in March, but with the novel pandemic, the team had to reschedule. This extra time has enabled them to review the 10-year Biodiversity Implementation Strategy and evaluate if the document has factored in sustainable practices that will curb future pandemics.
"It is encouraging to see vital stakeholders such as the African Wildlife Foundation (AWF) seek to bridge the knowledge gap between the youth and government when it comes to decision-making processes. Understanding how it all works is a step closer to identifying how best we can get involved," Franchette Ebot, the co-ordinator of the newly formed Global Youth Biodiversity Network (GYBN) chapter in Cameroon said.
The policies that are being drafted at the moment will need to be implemented by the youth. AWF acknowledges that having them in the room is vital and is actively seeking to build their capacity so as to understand the implications of current policies to their future.
"In order for the government to enact change in Cameroon, the youth must be involved and must learn the best ways to lobby policies and draft important documents. The passion of the youth to protecting the environment is clear, and policymakers have now acknowledged this by seeking practical solutions from young leaders," Manfred Epanda, AWF's Cameroon Country Coordinator emphasized in his opening remarks at the event.
One of the key outcomes expected out of the 3-day workshop from July 22-24, 2020 is a clear roadmap on how the youth in Cameroon can engage the government during the 10-year implementation period. The youth leaders convened for this workshop have dedicated a session to discuss Biosecurity and COVID-19 and how they can integrate interventions from development partners. This process will inform the 2050 Biodiversity Vision and Cameroon's development agenda.
The GYBN has prepared a consolidated document on the youth perspective on the Post-2020 Global Biodiversity Framework guided by the 2030, 2050, and the newly drafted 2040 visions. Ensuring that these goals and visions align with national plans is key to the implementation process, especially within African governments.
The West Foundation has played an important role in enabling this workshop through their financial contribution to AWF's youth initiatives focused on policy capacity building. AWF continues to be committed to engaging the young leaders within the continent as they are ready to enact change and provide real-time solutions to the world's problems.