Wednesday, June 26, 2013

Nairobi, Kenya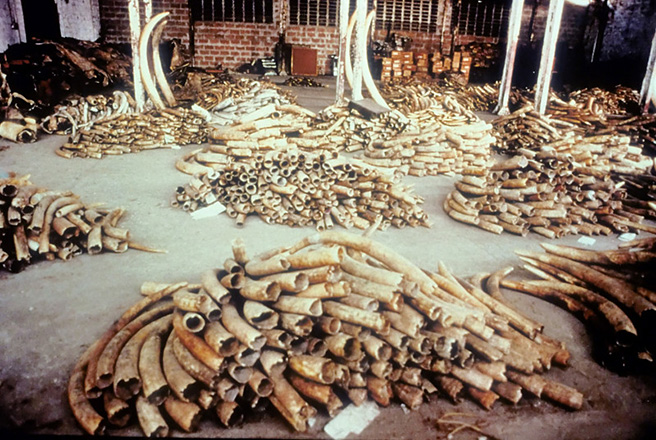 Stockpiles of illegal ivory confiscated from poachers. Photo by: AWF
African Wildlife Foundation applauds this courageous act of defiance against poachers
NAIROBI, Kenya, June 26, 2013 -- On June 21, the Philippines government destroyed its stockpile of confiscated ivory, the first ivory-consuming country to do so. The Philippines crushed more than 5 tons of seized ivory using road rollers. African Wildlife Foundation (AWF) applauds this action, which sent out a strong message that even Asian demand countries will not tolerate illegal ivory trafficking and the slaughtering of innocent creatures in Africa. More than 25,000 elephants are killed for their ivory every year.
"The Philippines took a bold step against illegal ivory trafficking last week. The illegal ivory trade is fueling terrorist activities in various parts of the world—poachers are using income from ivory sales to purchase arms and continue rebellions, increasing insecurity everywhere," said Philip Muruthi, African Wildlife Foundation's senior director of conservation science. "It is well past time for all governments to join forces with countries like the Philippines, and say 'no' to ivory consumption."
According to media reports, ivory has disappeared from various government stockpiles worldwide; by destroying its ivory stockpile, the Philippines is ensuring that these wildlife products will not re-enter the black market.
The Philippines joins a growing list of countries, including Kenya and Thailand, to take action against ivory poaching. Through its demand awareness campaign with WildAid, AWF is working to increase consumer awareness about the horrors of poaching.
"The Filipino government's prudent actions fuel a hope held by many African citizens: to put a halt to poaching," Muruthi said.
# # #
About African Wildlife Foundation
Founded in 1961, the African Wildlife Foundation (AWF) is a leading conservation organization focused solely on the African continent. AWF's programs and conservation strategies are based on sound science and designed to protect both the wild lands and wildlife of Africa and ensure a more sustainable future for Africa's people. Since its inception, AWF has protected endangered species and land, promoted conservation enterprises that benefit local African communities, and trained hundreds of African nationals in conservation—all to ensure the survival of Africa's unparalleled wildlife heritage. AWF is a nonprofit organization headquartered in Kenya and registered as a 501(c)(3) in the United States. For more information, visit: www.awf.org
Contacts
John Butler
+1 202 939 3313
[email protected]
Mayu Mishina
+1 202 939 3324
[email protected]