Remembering Madiba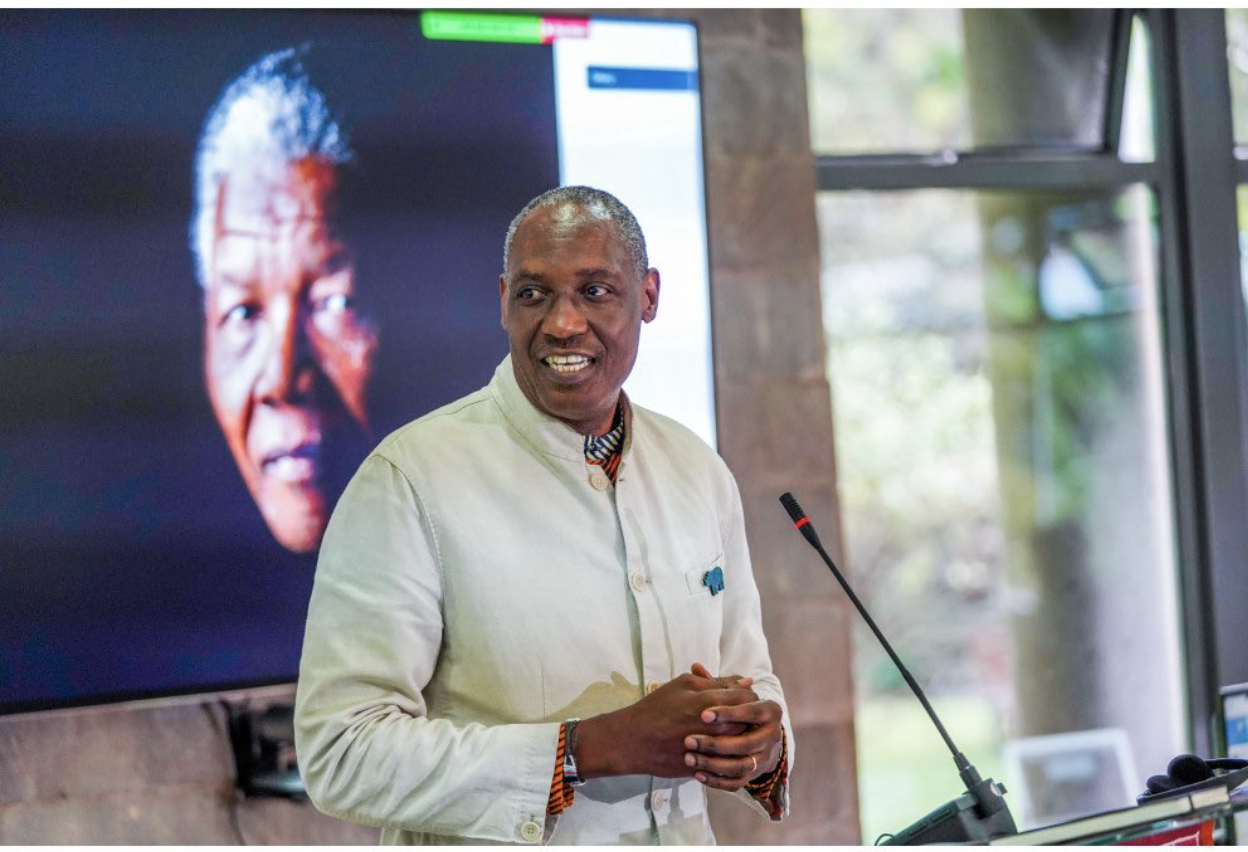 The African Wildlife Foundation (AWF) joins the world to remember and celebrate the life and contributions of Nelson Mandela on July 18, 2020. Eleven years ago, the U.N. General Assembly declared July 18 'Nelson Mandela International Day.' The day was enacted in recognition of the former South African President's contribution to the culture of peace and freedom.
In his tenure as South Africa's president, Mandela championed a number of causes. Among them was wildlife conservation in Africa. In 1995, he supported the founding of Open Africa, a group that uses tourism to help boost the economies of rural African communities. Then, in 1997, Mandela, Dr. Anton Rupert, and Prince Bernhard of the Netherlands started the Peace Parks Foundation, which supports the creation of transfrontier conservation areas, which are areas that hold a lot of conservation value and extend across multiple borders.
Mandela once said, "If we do not do something to prevent it, Africa's animals, and the places in which they live, will be lost to our world, and her children, forever."
The African youth, who make up 20 percent of Africa's population according to the African Development Bank (AfDB), are heeding this rallying call. They are actively taking up both professional and non-professional roles in conservation. In light of Africa developing, African youth are now interested in wildlife and environment conservation-related courses to protect Africa's wildlands and wildlife. They understand the value of wildlife economy that influences rural development through sustainable use of wildlife. Youth-led organizations such as Global Youth Biodiversity Network (GYBN) have been established to amplify the voice of youth around the world in preventing the loss of the world's biodiversity.
AWF, too, has been carrying on with Mandela's legacy. It has been assisting in the training of Africa's next generation of conservation leaders through the Charlotte Conservation Fellows Program. These initiatives are helping to make sure that Africans are able to take the lead in the conservation world and set an example for the rest of the world. In addition, AWF recently launched a 10-year strategic vision that focuses on the importance of engaging the youth and ensuring that they are part of the conservation narrative from the on-set.
"If there is one thing Mandela's legacy has taught us, it is that Africa needs to reimagine its status. It can no longer view itself as a continent that has been left behind by the rest of the 'developed' world, but as one that still has the luxury to decide what its development trajectory will look like. It is a continent that can still hold on to its vast natural resources while ensuring that its population is fed, its industries are running, and its young people are gainfully contributing to sustainable economies," said AWF CEO Kaddu Sebunya.
To realize Mandela's dream to conserve Africa's iconic wildlife, everyone needs to take a stand and advocate for the conservation of wildlife and wildlands. The destruction and exploitation of natural resources not only destroys our healthy ecosystems, but also has an impact on human health. COVID-19 is but one of the several zoonotic diseases caused by the destruction of nature. To prevent the emergence of future pandemics, conservation ought to be at the core of the humans' interaction with nature.