---
Clear Channel Outdoor has generously donated advertising space to The African Wildlife Foundation in 8 major U.S. airports and has remained AWF's largest corporate supporter for the last three years.
---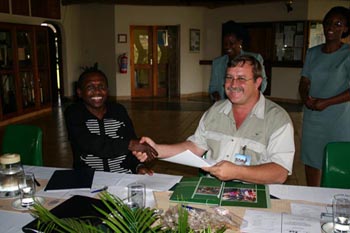 The African Wildlife Foundation (AWF) believes wildlife conservation can directly benefit the livelihoods of local people. In South Africa, home to the some of the most spectacular national parks and wildlife viewing, many communities have not received a share of the financial rewards of tourism. That is about to change, thanks to a new agreement between AWF and South African National Parks (SANParks).
---
Lions, wolves, and other big cat and canine species have long captured people's imaginations. They have been memorialized by poets and filmmakers; exploited by short-sighted traders who would wipe them out for one more shipment of pelts; and feared by people who have moved into their habitats and now compete with them for the food, water, and land they both need to survive.
---
AWF just completed (July 2005) an aquatic survey in Banhine National Park, another major step in efforts to restore wildlife resources in war-torn Mozambique. This survey was designed to inventory aquatic resources. Although a full identification of all species collected (vertebrates and invertebrates) has not yet been completed, preliminary results show that the park's aquatic systems are home to at least 18 species belonging to ten different families (see table below).
---
BEADS for Education is an organization dedicated to improving the status of women in Kenya through women's business development and girls education. Working closely with AWF, BEADS developed a successful Maasai women's cooperative in 1993. Today, the Dupoto Women's Group makes beautiful hand-crafted beaded products which include dog collars, bowls, coasters, and many other unique items. Traditional Maasai jewelry is also promoted. These products are often the only source of income for the women who support more than 125 children.
Pages