Wednesday, September 25, 2013

New York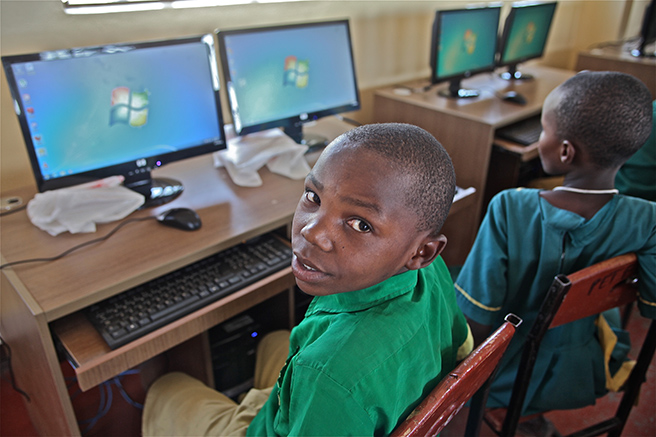 Technology, such as these desktop computers at Manyara Ranch Primary School in northern Tanzania, can help schools in remote areas leapfrog over non-existent infrastructure, offering students access to new tools for learning. Photo by: Craig Sholley
African Wildlife Foundation, in partnership with MASS Design Group, announces new Clinton Global Initiative commitment to build unique educational environments in Africa, featuring beautifully designed schools and the latest technology
NEW YORK, September 25, 2013—On Tuesday, the African Wildlife Foundation (AWF) announced a new Clinton Global Initiative (CGI) Commitment to Action at the CGI Annual Meeting in New York to build 15 conservation primary schools over the next 10 years in African landscapes home to some of world's most important wildlife populations, including elephants, rhinos, great apes, and lions. The conservation NGO is partnering with award-winning architectural firm MASS Design Group to build non-traditional educational campuses for primary school children that offer lessons and other services extending beyond the classroom walls. As part of the commitment, AWF will also provide technology, teacher training and incentives, and conservation curricula for each school to ensure a rigorous, enriching learning environment for rural schoolchildren in Africa. AWF's long-term commitment will directly benefit more than 6,000 students from multiple countries across sub-Saharan Africa—including the Democratic Republic of Congo, Ethiopia, Rwanda, Tanzania, and Zambia—and incentivize local communities to protect wildlife and natural resources in their area.
"Unlike in the United States, where urban schools often suffer from a lack of resources and a crumbling school infrastructure, the reverse is true in Africa," explained African Wildlife Foundation CEO Patrick Bergin, who, along with MASS Design Group co-founder and CEO Michael P. Murphy Jr., joined other non-profit leaders, heads of state, business leaders, and celebrities at the CGI Annual Meeting. "Typically, the best schools, qualified teachers, and the majority of educational resources end up in cities and towns. The commitment by African Wildlife Foundation upends this paradigm: We intend to build modern "campuses" that are thoughtfully conceived, designed, and constructed, and give students in rural areas of Africa access to the same—if not better—educational resources as their urban counterparts."
Why is a conservation group building schools in Africa? According to AWF's Bergin, education provides a compelling entrée into engaging in conservation discussions with rural communities.
"We're asking ourselves, how can architecture promote conservation? This question has guided our approach in designing these schools to help AWF achieve its conservation objectives," explained Murphy, who co-founded MASS in 2008 with Alan Ricks. "Early decisions like situating schools in safe areas away from wildlife corridors and designing structures to be adaptive and low-impact on the surrounding environment with edible gardens and electricity promote conservation of natural resources and community development. We want the students and the community to self-identify with their school, and to have a safe environment to cherish and protect the nearby wildlife."
AWF long ago recognized the link between education and conservation. Those who grow up without access to education are often forced to exploit the natural resources around them to survive, including cutting trees for charcoal and timber and poaching animals for food or trade. According to UNICEF's Millennium Development Goals, educating children helps reduce poverty, encourage gender equality, and promote concern for the environment.
"Providing local Africans with access to education—whether at the primary school or the PhD level—has been a pillar of AWF's work since its founding," explained AWF's Bergin. "However, AWF decided with the conservation schools initiative that we wanted to build up an entire community, using the school as a gateway, since prosperous communities are more likely to engage in conservation activities."
As MASS Design Group's Michael Murphy pointed out, when it comes to buildings, architects can—and should–provide more than just walls and roofs.
"As architects, we are capable of building more than buildings and infrastructure," said Murphy. "Through the construction process, we can provide other services beyond a school to the community. It's an opportunity to involve the community in their own project, offering jobs and skills training otherwise unavailable to the surrounding region. We want the community to see this building not only as a school, but as an opportunity for employment and training, as a community center, and in the end, as a dignified place to work and to learn."
To that end, AWF's CGI commitment—far from plopping uninspired, box-shaped structures down in the middle of a forest or savanna—will ensure each school building blends into the landscape and culture of the community. MASS's approach to design is unique: an immersive research process informs the design process of specific contextual needs and opportunities to create comfortable, multi-functional campuses that are dignified and beautiful spaces where the community can gather. Local climate and topography are considered and inform the design of the school to ensure a comfortable learning environment as well as the sustainability of the building. For example, suspended roofs allow for natural ventilation in hot, humid environments while raising schools up on plinths will help avoid flooding in areas that endure heavy rainfall.
The building or in some cases upgrading of the physical school structure will be complemented with additional investments by AWF. As part of its conservation school initiative, AWF will:
Develop and introduce appropriate conservation curricula adapted for the local biota, thereby expanding learning beyond the classroom;
Improve teacher performance through supplemental training and teacher incentives; and
Provide technological infrastructure—be it standing computer labs or mobile tablets to full Internet access—that enhances technology-aided teaching practices.
"In these schools, children will learn more than math and reading," explained Daniel Wesonga, director of conservation schools for AWF. "Lessons will take place inside and outside of the classroom, offering students the chance to learn about their surrounding environment, about local wildlife, and how ecosystems work and provide certain services to their communities. Our hope is that just by learning about the local biota—which is often left out of generalized, national standard science curricula—students, and by extension their communities, will become environmental stewards and defenders."
Further, by providing a modern learning facility, dignified housing, and regular teacher training and incentives, AWF's conservation schools will attract and retain some of the best and brightest teachers on the continent.
AWF already has some experience in this regard. Prior to the launch of the conservation schools initiative, AWF rebuilt two dilapidated schools in Tanzania and Zambia, in the process securing 100,000 acres of land for wildlife. Manyara Ranch Primary School in northern Tanzania was a crumbling structure located in the middle of a wildlife corridor before AWF relocated and rebuilt it in 2007 for school children from surrounding Maasai villages. The new school, which will be upgraded under AWF's CGI commitment, boasts modern classrooms, student dormitories, teacher housing, a cafeteria, school offices, and a high-tech computer lab. As a result of AWF's continued investment in Manyara Ranch School, 90 percent of students passed their exams last year, a success rate unparalleled in the rest of the country.
"I have benefitted from Manyara Ranch School and believe I will pass the Primary School Exam," said Deogratias Bernard, a Grade 7 student at Manyara Ranch Primary School who sat for his exams two weeks ago. "I would like to continue with secondary education. I like mathematics and science subjects mostly. In future, I would like to enhance wildlife conservation efforts."
In southwest Zambia, AWF's partnership with the Sekute Chiefdom led to the construction of Lupani Primary School, which prior to its opening had been a mud and stick structure that had to be closed during heavy rains due to flooding. Though located in a community of 3,000 households, Lupani at the time could only serve a maximum of 50 students, taught by one poorly trained teacher. This limited access to education was having a negligible impact on the district's 80 percent illiteracy rate.
In 2011, AWF rebuilt Lupani to include six classrooms, offices, and five teachers' houses that boasted solar panels, showers, and toilets. These investments have both increased school enrollment and improved the student-teacher ratio—from 50:1 to 20:1—and encouraged adults in the community to attend evening literary classes.
In return for AWF's investment in Lupani, the Sekute Chiefdom set aside 50,000 acres of community land for elephants and other wildlife; with community scouts trained and employed to protect the land. Already, AWF's investment in the community has resulted in positive conservation outcomes: Community scouts recently identified elephant poachers in their midst and reported them to the Zambia Wildlife Authority, which led to the poachers' arrest and the seizure of more than 21 pieces of ivory.
"Conserving all natural resources is important so that when our great-grandchildren are born, they will get to see them and appreciate that we have helped in conserving them," said Benjamin Masale, a Grade 10 student from Sekute Chiefdom.
Lupani Primary School, like Manyara Ranch Primary School in Tanzania, will be upgraded to the new AWF Conservation School standards as part of AWF's Commitment at CGI.
AWF and MASS Design Group are currently initiating work on fulfilling AWF's CGI Conservation Schools Commitment. Groundbreaking will begin later this year on a new conservation primary school in the remote tropical forests of Ilima, Democratic Republic of Congo, where the endangered bonobo can be found. Other potential projects are under evaluation in Rwanda, home to the critically endangered mountain gorilla, and in the Simien Mountains region of Ethiopia, home to the gelada baboon and Ethiopian wolf.
In addition to the Conservation Schools Commitment, AWF announced two other commitment at the CGI Meeting—one to scale up impact investment in Africa and the other, conveyed together with other conservation groups, to work toward stopping elephant poaching and the illegal trafficking of elephant ivory.
# # #
About African Wildlife Foundation
Founded in 1961, the African Wildlife Foundation (AWF) is a leading conservation organization focused solely on the African continent. AWF's programs and conservation strategies are based on sound science and designed to protect both the wild lands and wildlife of Africa and ensure a more sustainable future for Africa's people. Since its inception, AWF has protected endangered species and land, promoted conservation enterprises that benefit local African communities, and trained hundreds of African nationals in conservation—all to ensure the survival of Africa's unparalleled wildlife heritage. AWF is a nonprofit organization headquartered in Kenya and registered as a 501(c)(3) in the United States. For more information, visit www.awf.org and follow us on Twitter @AWF_Official and Facebook at facebook.com/AfricanWildlifeFoundation.
About MASS Design Group
MASS Design Group is a nonprofit architecture firm committed to building better buildings as well as enabling the people who build them. We immerse ourselves in communities not only to build context-appropriate, safer, and healthier facilities, but also to leverage local material markets, lead training workshops, spur craft development, and foster economic empowerment in the process. MASS believes that the inclusive process to construct, maintain, learn from, and replicate this new infrastructure is the key to healthier and more resilient communities, and so invests in people to drive positive change.
About the Clinton Global Initiative
Established in 2005 by President Bill Clinton, the Clinton Global Initiative (CGI), an initiative of Bill, Hillary & Chelsea Clinton Foundation, convenes global leaders to create and implement innovative solutions to the world's most pressing challenges. CGI Annual Meetings have brought together more than 150 heads of state, 20 Nobel Prize laureates, and hundreds of leading CEOs, heads of foundations and NGOs, major philanthropists, and members of the media. To date CGI members have made more than 2,300 commitments, which are already improving the lives of more than 400 million people in over 180 countries. When fully funded and implemented, these commitments will be valued at $73.5 billion.
CGI also convenes CGI America, a meeting focused on collaborative solutions to economic recovery in the United States, and CGI University (CGI U), which brings together undergraduate and graduate students to address pressing challenges in their community or around the world, and, this year, CGI Latin America, which will bring together Latin American leaders to identify, harness, and strengthen ways to improve the livelihoods of people in Latin America and around the world. For more information, visit clintonglobalinitiative.org and follow us on Twitter @ClintonGlobal and Facebook at facebook.com/clintonglobalinitiative.