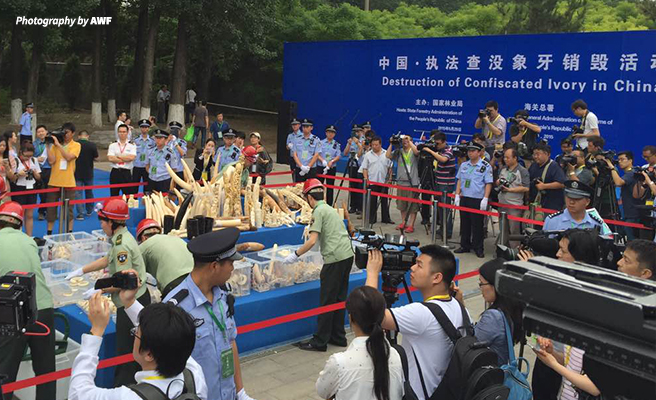 ​
When, on Dec. 30, 2016, the Chinese government made public that it would halt its legal domestic ivory trade by the end of the coming year, it immediately attracted the attention of conservationists and the global media alike. As AWF and other conservation groups see it, the single announcement has the potential to completely upend the illegal wildlife trade.
China, after all, is the largest consumer of ivory in the world, with about 70 percent of all elephant products reportedly ending up inside its borders. It also operates a legal domestic ivory trade that has provided cover for the illicit market for years. The Chinese government, therefore, is a critical ally to have in the fight against poaching and wildlife trafficking.
"This bold step sends the strongest signal possible that ivory's rightful place is on an elephant and not as a decorative item in someone's home," observed AWF CEO Patrick Bergin. "While we have seen African governments increasingly cracking down on poachers and traffickers, their actions alone would not have been enough to halt this crisis. By setting a specific end date for its ivory trade, the Chinese government is recognizing the importance of elephants to its partners in Africa and its own role in safeguarding this species."
The announced ban came as a complete surprise for some, but the move is actually the culmination of a series of steps the Chinese government has taken over the past few years on the illicit ivory trade. These actions have included:
January 2014: The Chinese government crushed 6 tons of ivory in the city of Dongguan. The ivory crush took place mere months after the U.S. government crushed 6 tons of its own confiscated ivory stockpiles in a public move against wildlife trafficking.
February 2015: China imposed a 1-year ban on ivory imports.
September 2015: Then–U.S. President Barack Obama and Chinese President Xi Jinping agreed to "take significant and timely steps to halt the domestic commercial trade of ivory" in their respective countries during President Xi's state visit to the United States.
March 2016: The Chinese government announced it would continue its bans on imports of African ivory carvings and ivory hunting trophies until 2019.
---
Beyond the poaching crisis
Combined, these actions underscore the Chinese government's understanding of the vital role Africa's natural heritage plays in the continent's continued prosperity. But joining the fight against wildlife crime is just the tip of the iceberg when it comes to China's engagement in conservation in Africa. Looking ahead, AWF President Kaddu Sebunya sees another critical opportunity. "Increasingly, China is making a shift away from exporting goods to Africa and instead is looking to produce those same goods directly on the continent," he points out. "That means a lot of future development and infrastructure planning."
Sebunya is quick to add, however, that there is also cause for optimism on this front, particularly given AWF's new role as the official conservation advisor to the African Union. Through this partnership, AWF has bolstered its credibility in Asia, enhancing the organization's ability to push for greater Chinese involvement in Africa's conservation agenda.
"As the conservation advisor, we'll be ready to help the African Union evaluate these development plans and shape outcomes so that China becomes a joint partner with Africa in protecting wildlife and wild lands," concludes Sebunya.
To that end, the AWF president recently wrapped up a trip to Beijing. There, Sebunya met with ambassadors from several African countries, including Kenya, Tanzania and Uganda, and spoke with key Chinese stakeholders to explore opportunities for future collaboration with AWF. The key, ultimately, is to promote greater China–Africa engagement in conservation as a whole.
Sebunya subsequently attended the Boao Forum for Asia. Considered the Davos of Asia, the Boao Forum features high-level meetings about a variety of development issues. Those in attendance represent many of the major decision-makers whose cooperation on conservation will be essential for long-term success across the continent. As ever, Sebunya is ready to seize the opportunity and continue forging strong relationships with these important partners.
Learn more about AWF's efforts to promote China–Africa collaboration on conservation
---
About the Author
Hannah is AWF's content specialist. She assists with the production of content for AWF's organizational publications, website and other materials. Hannah received her Bachelor of Arts in Political Science and International Relations from William Smith College, where she also completed a minor in Studio Art. She has studied abroad in South Africa, Uganda, Rwanda and Thailand.