Thursday, July 13, 2017

Washington, D.C.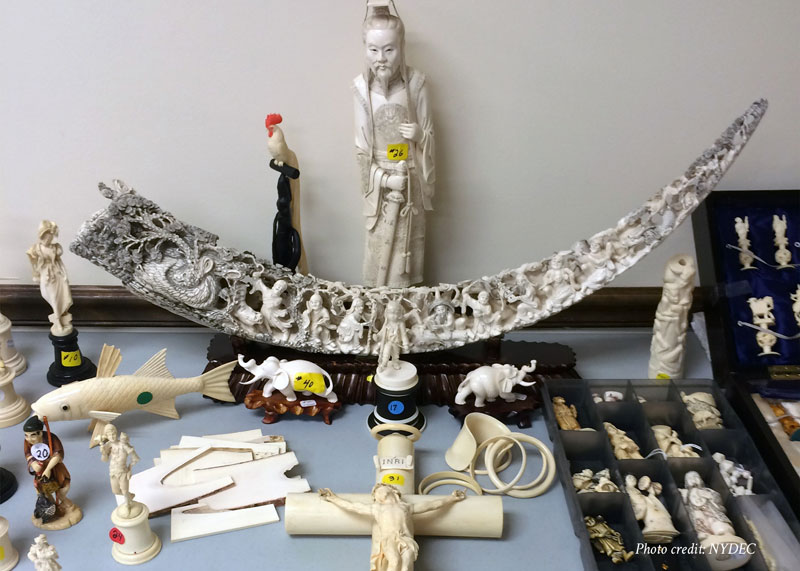 Washington D.C., July 13, 2017 – The New York State will destroy more than one ton of illegal ivory confiscated through state enforcement efforts. The ivory tusks, trinkets, statues, jewelry, and other decorative items will be crushed in Central Park while the public gathers to watch, sending a clear message that the state will not tolerate wildlife crime that threatens to wipe out Africa's endangered elephant population
WHEN: Thursday, August 3, 2017, 10:30 a.m.
WHERE: Central Park, New York City (between Sheep Meadow and Naumburg Bandshell:  (https://goo.gl/maps/HNnDmDhsTEn)
WHO: The crush is being organized by New York State's Department of Environmental Conservation (DEC), Wildlife Conservation Society, African Wildlife Foundation and a coalition of leading wildlife conservation groups, with support from Tiffany & Co. 
Other partners include: 
Special thanks to Emerald Equipment Systems for donating the crusher.
Why it matters: An estimated 96 African elephants are killed every day by poachers for their ivory. This translates to an elephant being killed every 15 minutes. The Great Elephant Census released in September 2016 revealed a 30 percent decline in Africa's savanna elephant population between 2007 and 2014. Poaching was identified as the predominant cause of this dramatic loss. Additionally, more than 20 tons of poached elephant ivory, prized as "white gold" in parts of Asia and China, as well as the United States, was seized globally in 2016.
The crush is intended to send a strong message that the United States is committed to ending the trade. It will also draw attention to the plight of elephants.
What AWF says:
"This crush demonstrates that we are united in our efforts and desire to put an end to the ivory trade. AWF continues to urge all countries to implement a complete ban on ivory trade and those with ivory stockpiles to destroy as a message to the market that there is no future in the ivory trade," Kaddu Sebunya, AWF President, said in Nairobi, Kenya.
The crush follows a relentless campaign by AWF and other conservation organizations to end the trade in wildlife products. On July 6, 2017, Japanese giant Internet retailer Rakuten announced it was banning the sale of ivory on its site, with trading to be phased out over the next month. 
Over 36,500 individuals and organization, including the AWF, sent letters to Rakuten's president earlier in the year urging the closure of the platform's ivory sales. In December 2016 China announced a ban on ivory products that will go into effect in at the end of 2017. 
In the US, federal and state sanctions are helping stop the trade in ivory and other wildlife products. 
###
Media Contact
For all media inquiries please contact Denis Galava, Director, Media Relations & Advocacy
[email protected]
Tel +254 720 947612
About African Wildlife Foundation
The African Wildlife Foundation (AWF) is the primary advocate for the protection of wildlife and wild lands as an essential part of a modern and prosperous Africa. Founded in 1961 to focus on Africa's unique conservation needs, AWF articulates a uniquely African vision, bridging science and public policy and demonstrating the benefits of conservation to ensure the survival of the continent's wildlife and wild lands.