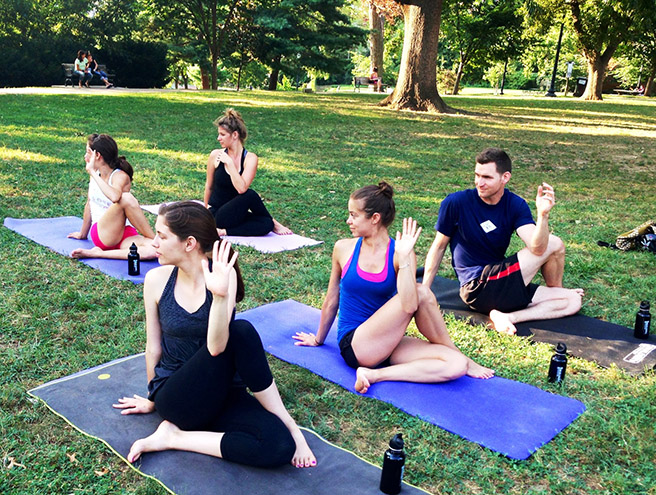 Ten years ago I began my personal practice of yoga; seven years ago I traveled to Africa for the first time; and two years ago I first learned about Africa Yoga Project (AYP) while looking for a way to connect my love for yoga with my passion for Africa. Over the past decade my yoga practice deepened and I got to a point where I felt it was time for me to share the gifts yoga has given my mind and body with others.
One of the strongest reasons that compelled me to become a certified yoga teacher was so that I could get involved with AYP as a mentor. Since the age of 20 I have been blessed with numerous opportunities to travel to and live in Africa. I have been to 10 countries and counting, and lived in beautiful Senegal for nearly two years. Last August, I visited Kenya for the first time. Kenya is not only the location of African Wildlife Foundation's headquarters but is also home-base for AYP. While I was there I interacted with amazing people, saw spectacular wildlife and wild lands, and witnessed first-hand the wealth disparities that are so characteristic of an African metropolis like Nairobi. When I returned, I embarked on my yoga teacher training, all the while committed to the idea of joining AYP in some way as soon as possible. It still astounds me how things fall into place sometimes.
Ever since being accepted into the mentoring program this summer I have been blown away by the organization and everyone who works for it. Every staff member and volunteer I have spoken with is beyond passionate about their work and AYP's mission. And now, having met my incredible mentee, Kevin, I know why. AYP's dedication to delivering the physical, emotional and communal benefits that yoga has to offer to Africans, while simultaneously providing opportunities for members of the global yoga community to participate and contribute inspired me to step up and get involved.  It is Kevin's outlook on life and vision for helping his community, however, which inspires me to give all that I can to this amazing collection of people and ideas.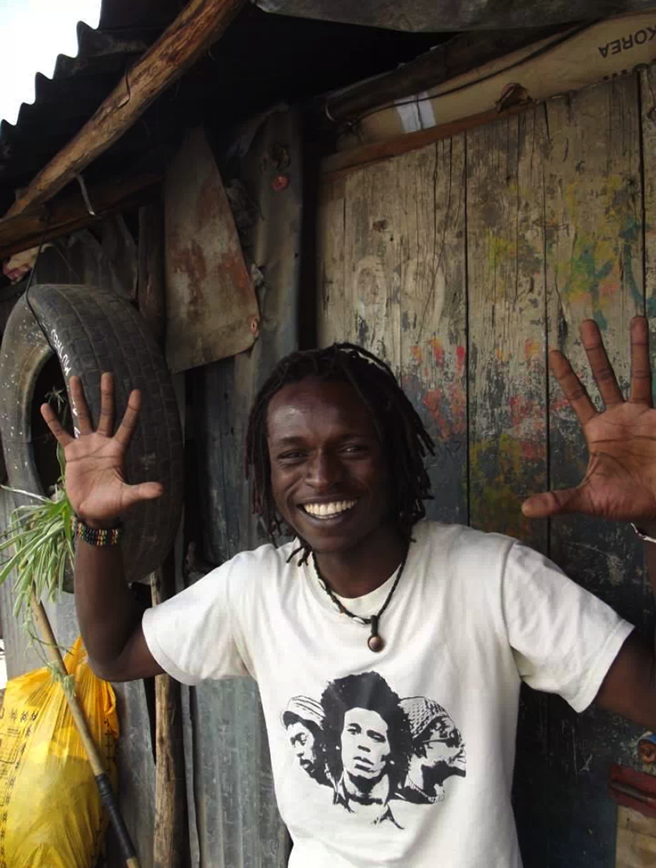 My mentee is an incredible young man. Kevin's strength, resilience and positive attitude are ineffably inspiring. When we first "met" over Skype, his smile welcomed me and let me know that more than being mentor/mentee, we would become good friends. Kevin was orphaned at a very young age and has spent his entire life growing up in Lunga Lunga, an urban slum in Nairobi's industrial district. He has overcome so much adversity to arrive at this place in his life. Many people would struggle simply to stay afloat, but Kevin has risen from his circumstances and overcome his demons with unbending fortitude. He attributes this to how meaningful it is for him to be able to give back to his community through Yoga. Kevin teaches children (ages nine to 15) and young adults (ages 16 to 30) from his slum. In taking his yoga classes, members of his community not only build physical strength through the movement, but also learn coping mechanisms for daily life through Kevin's words of motivation. Kevin tells me his favorite part of teaching is encouraging people to stay in the present moment and find solace in taking a breather from the troubles that they may have left behind or await them off the mat.
Every Sunday this fall I taught a donation-based community class in Kalorama Park. All proceeds went directly to help fund Kevin's teaching and outreach classes–enabling transportation, supplying yoga mats, and providing food to participants, amongst other start-up business expenses. I am now in the midst of planning my next fundraiser for Kevin and AYP.
---
About the Author
In addition to her role as a Major Gifts Officer for AWF, Amy Rizzotto is a food and fitness loving blogger, yoga and Pilates instructor, and nutrition coach based in Washington, DC. Amy's passion is looking at the space where yoga and nutrition fuse for optimal athletic performance and overall mind/body wellness. MOARfit serves as her platform for sharing words of motivation, tasty recipes for health, and workout tips. You can learn more about what she's up to by liking her Facebook page, MOARfit, and following her on Twitter, @MOARfit.