Wednesday, November 4, 2009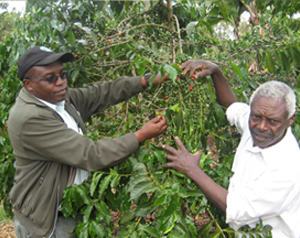 FOR IMMEDIATE RELEASE
4-Nov-09
NAIROBI, KENYA -- The African Wildlife Foundation (AWF) and Starbucks Coffee Company (NASDAQ: SBUX) today inaugurated a Coffee-Quality Laboratory on the campus of Kimathi University College of Technology (KUCT), located near Nyeri in the Central Highlands of Kenya. The lab provides local coffee farmers the opportunity to sample and taste the coffee they have grown, and learn more about what is involved in growing quality coffee for the global marketplace.
"Until now most local farmers lacked access to tasting and roasting facilities, an important tool in refining growing practices," said Chris von Zastrow, director of agronomy at Starbucks Farmer Support Center based in Rwanda. "By evaluating the coffee aroma and flavor profile of their beans, farmers can glean information about their planting and harvesting techniques and continually introduce quality improvements."
The Coffee-Quality Lab is the most recent outcome of the Kenya Heartland Coffee Project, a partnership between AWF and Starbucks. Launched in 2005 in this traditional coffee-growing region, the joint project trains local farmers to grow coffee utilizing Starbucks ethical sourcing guidelines (i.e., Coffee and Farmer Equity Practices, or C.A.F.E. Practices), an independently verified system designed to ensure high-quality coffee is grown and processed in a socially and environmentally responsible way.
Recognizing the need to protect the natural resources that support good growing practices and conserve habitat for the region's world-renowned wildlife, the Kenya Heartland Coffee Project also supports reforestation and other activities designed to safeguard the ecological integrity of the region.
"This alliance underscores AWF's belief that with careful planning and the right partners such as Starbucks and KUCT, landscapes in Africa can be strengthened from an economic as well as a conservation perspective," said AWF CEO Patrick Bergin.
In addition to opening the Coffee-Quality Lab and training thousands of farmers in C.A.F.E. Practices, AWF, along with Starbucks support, has upgraded local coffee factories to improve efficiency and reduce water usage, stewarded the planting of more than 10,000 trees to restore forest cover and protect watersheds, and created a state-of-the-art dam to conserve water resources and benefit local people.
###
About African Wildlife Foundation
Founded in 1961, the African Wildlife Foundation (AWF) is the leading conservation organization focused solely on the African continent. AWF's programs and conservation strategies are based on sound science and designed to protect both the wild lands and wildlife of Africa and ensure a more sustainable future for Africa's people. Since its inception AWF has protected endangered species and land, promoted partnerships with the private sector for ecotourism to benefit local African communities as a means to improve livelihoods, and trained hundreds of African nationals in conservation -- all to ensure the survival of Africa's unparalleled wildlife heritage.
About Starbucks Coffee Company
Since 1971, Starbucks Coffee Company has been committed to ethically sourcing and roasting the highest quality arabica coffee in the world. Today, with stores around the globe, the company is the premier roaster and retailer of specialty coffee in the world. Through our unwavering commitment to excellence and our guiding principles, we bring the unique Starbucks Experience to life for every customer through every cup.
About Kimathi University College of Technology
Kimathi University College of Technology (KUCT) is located in the Mt. Kenya region and specializes in the areas of engineering, business, and computer sciences. The university sits on over 700 hundred acres, which besides the educational facilities, includes a coffee plantation, a dairy farm and a forest. KUCT in partnership with Kenya wildlife services is implementing a tourism and wildlife conservation initiative through the establishment of Kimathi university wildlife sanctuary and tourism development.
African Wildlife Foundation
John Butler
202-939-3333
Starbucks Coffee Company
Amy Anderson
206-318-7100
Starbucks EMEA
Cathy Heseltine