Monday, August 11, 2014

Nairobi, Kenya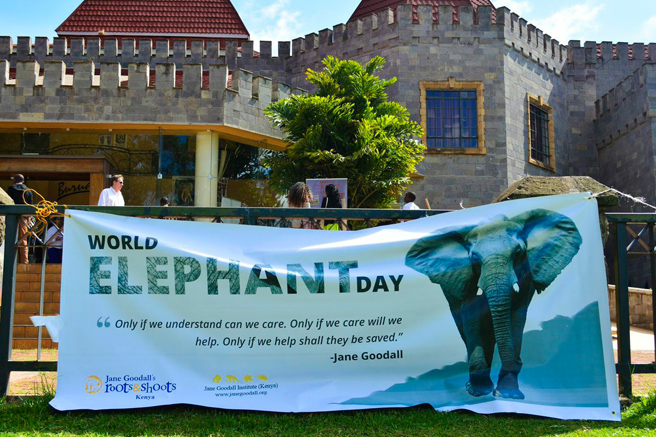 AWF and WildlifeDirect co-sponsor an event to celebrate the African elephant ahead of World Elephant Day. Photo by Immanuel Muasya.
Children, conservationists, and local celebrities joined the African Wildlife Foundation and WildlifeDirect on Saturday to celebrate world's largest land mammal ahead of World Elephant Day
Ahead of the globally celebrated World Elephant Day on August 12, an event aimed at honoring the African elephant was held on Saturday, August 9, at the Brookhouse School in Karen, Kenya. The event, attended by approximately 200 local Kenyans, was co-sponsored by the African Wildlife Foundation (AWF), WildlifeDirect, and other partners, and featured film screenings, conservation panels, and musical performances by Sam Chizi and others, while also spotlighting amazing youth conservation projects, including Richard Turere's Lion Lights.  
"The elephant is one of Africa's Big Five and literally looms large, not just in our landscapes but also throughout our history," said Dr. Philip Muruthi, African Wildlife Foundation's senior director of conservation science and a participant in one of the conservation panels at the Brookhouse event. "This event was not only about raising awareness about their magnificence and plight, but also about drawing attention to the many efforts to save them."
AWF is supporting efforts on the ground in Kenya, Tanzania, Zambia, Cameroon, and other elephant range states to bolster security around vulnerable elephant populations. In northern Tanzania, anti-poaching patrols implemented by AWF and its partner, Honeyguide Foundation at Manyara Ranch Conservancy, a key elephant corridor and dispersal area between Lake Manyara National Park and Tarangire National Park, have resulted in zero elephants poached in the last two years. With AWF support, foot and aerial patrols carried out by local Zambian NGO Conservation Lower Zambezi have cut the rate of elephant poaching in and around Lower Zambezi National Park—where an estimated 2,200 elephants live—by half. The elephant population in southern Kenya's Amboseli ecosystem, where AWF and its partner Big Life Foundation are conducting anti-poaching patrols, continues to increase. AWF is also providing support to the wildlife authority in Faro Reserve in northwestern Cameroon, located near the Nigerian border.
Today around 500,000 elephants remain in Africa, down from 1.2 million in the 1980s. Between 25,000 and 35,000 African elephants are killed by poachers every year in response to rising demand for ivory, particularly in Asia. World Elephant Day on Tuesday, August 12, will raise awareness about the ongoing threat to Africa's elephants and worldwide efforts to stop the illegal trade in ivory.
"As the world takes steps to wean itself from its ivory addiction, I can't think of a better way to celebrate World Elephant Day than by recognizing the state ivory bans in New York and New Jersey," says AWF CEO, Dr. Patrick Bergin, about the recent legislation passed by the states of New York and New Jersey, which ban the sale and purchase of elephant ivory. "That's the kind of leadership Africa's elephants need right now."
Editor's Note: Photos from Saturday's event can be found here https://www.dropbox.com/sh/g58p682j46nqrdm/AADHceOjE_xBeUWWxyZxqdbVa. Please credit Immanuel Muasya - Benuels Photography.