Wednesday, September 19, 2012

Washington, D.C.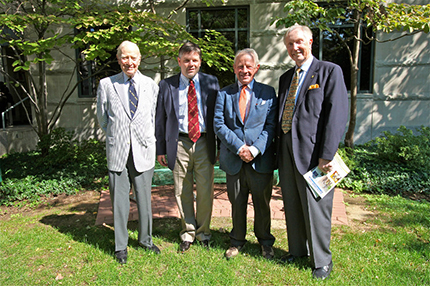 (From left) Russell E. Train with AWF CEO Patrick Bergin, and co-founders Nick Arundel and Jim Bugg, at AWF's 50th Anniversary luncheon last year.
WASHINGTON, DC, September 19, 2012 -- African Wildlife Foundation (AWF) fondly remembers environmental visionary and AWF co-founder Russell E. Train, who died September 17 at the age of 92. AWF extends its deepest sympathy to his family.
Train was an environmental leader who, together with a small group of other visionaries, founded the African Wildlife Foundation (then called the African Wildlife Leadership Foundation) in 1961 to build the capacity of Africans to steward their own natural resources. One of AWF's first big accomplishments was a grant to help found the The College of African Wildlife Management in Mweka, Tanzania. Mweka, as it is often called, is today a leader in wildlife management training in Africa, and a number of current and former AWF staff are Mweka graduates.
Train, a former tax court judge, reportedly fell in love with Africa while on safari and credited his expeditions with awakening his environmentalism. In addition to co-founding AWF and serving as its president until 1969, he was a founding director of the World Wildlife Fund (WWF), where he served as president and chairman from 1978 to 1990 and most recently as chairman emeritus. He was also president of the Conservation Foundation from 1965 to 1969. In this role, he helped to bring the environment to the forefront of Americans' consciousness and grew environmental issues and conservation into a facet of public policy.
Later, Train served in the Nixon and Ford Administrations as administrator of the Environmental Protection Agency (EPA), where he was credited with placing the issue of the environment on the presidential and national agendas during a key period in the environmental movement.
"Russell is best known by the American public for being the former head of the EPA," said AWF CEO Patrick Bergin. "All of us at African Wildlife Foundation, however, remember Russell as our founder and friend, and staunch supporter of African conservation. AWF, Africa, and conservation have lost a great champion. Russell was a true leader and visionary, and he will be greatly missed."
# # #
About African Wildlife Foundation
Founded in 1961, the African Wildlife Foundation (AWF) is a leading conservation organization focused solely on the African continent. AWF's programs and conservation strategies are based on sound science and designed to protect both the wild lands and wildlife of Africa and ensure a more sustainable future for Africa's people. Since its inception, AWF has protected endangered species and land, promoted conservation enterprises that benefit local African communities, and trained hundreds of African nationals in conservation--all to ensure the survival of Africa's unparalleled wildlife heritage. AWF is a nonprofit organization headquartered in Kenya and registered as a 501(c)(3) in the United States. For more information, visit www.awf.org.