Thursday, February 26, 2009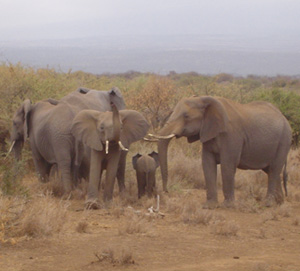 KILIMANJARO HEARTLAND, KENYA--Elephant killings in Kenya are spurring increased scrutiny of the illegal ivory trade and its effect on Africa's elephant populations.
In the recent Kenya poachings, several of the elephants' tusks had been removed and the carcasses left close to a roadway, suggesting the poachers targeted certain elephants for the purpose of removing and transporting the ivory. According to some estimates, a kilogram of ivory can fetch as much as $35-$50 on the black market. The average elephant tusk of a male elephant weighs almost 60 kilograms.
"The rise in poaching, after the important gains seen since the ivory trade was banned is a wakeup call," says Philip Muruthi, Senior Director of Conservation Science at AWF. "As global economic uncertainty increases, it's likely that the fight against poaching will only grow more intense. AWF is doing all it can to fight this disturbing development, which is taking a terrible toll on the region's elephant population."
Elephant Alarms
According to reports, an anonymous caller to wildlife authorities reported seeing a slain elephant on a ranch just south of Tsavo East National Park on February 15. Wildlife rangers confirmed the report the next morning, finding a large bull with both its tusks removed close to the roadway. After fanning out to do a further search, the rangers located a second elephant carcass that afternoon.
After receiving a second call, rangers located another elephant the next day--a large female with its tusks missing and also lying close to a roadway. The elephant was likely killed at the same time as the two bulls.
In addition to these three slain elephants, two other carcasses in recent weeks were located near East Tsavo National Park. Wildlife authorities believe that the elephants were killed with poisoned arrows and have detained several herdsmen for questioning.
Concern has also been raised by recent elephant poaching in the Amboseli area of Kenya. "As this famed region has grown increasingly congested, human-elephant conflict has risen," says Dr. Muruthi.
AWF is working with its local and regional partners to coordinate and strengthen our anti-poaching strategies in the wake of these killings. "Our community partners are equally determined to stem such poachings, which not only threaten a treasured species but also a fragile population that anchors many area conservancies," says Dr. Muruthi. "We will continue to respond to the situation and update our supporters as we can."
A Sustained Commitment
For several decades, AWF has worked throughout the Kilimanjaro Heartland, focusing on understanding elephant populations, key threats and their mitigation, mapping elephant movements and securing safe passageways for elephants traveling between protected areas. It has also pioneered conservation models that, while assisting in land use planning, create revenue streams for local people. Such models, research has shown, create economic returns that uplift communities and are further invested in conservation.
While poaching is often the motivation behind elephant killings, retaliatory attacks also occur periodically. As elephants leave protected areas, some encroach on farmed grounds, angering farmers, some of whom retaliate with spearings. To give elephants the space they need while minimizing human-elephant conflict, AWF is building community awareness of elephant movements and conflict prevention techniques. Such efforts include:
Partnering with community leaders to expand conservancies that generate income for landholders. Recognizing the importance land resources hold for both people and wildlife, AWF is working with local communities to identify opportunities to lease critical lands to conserve wildlife corridors and dispersal areas.
Convening community meetings to strengthen wildlife management policies. Local community participants, AWF, and other experts meet periodically to review land-use policies, coordinate management strategies across communities, and devise community-driven initiatives.
Financing the salaries of game scouts. The scouts, employed from the time crops begin to mature in February until harvest time in July, alert farmers to elephant activities and deter elephants from crop raiding. This year AWF will finance the salaries of ten game scouts.
AWF strongly believes that only if conservation lifts people's livelihoods will Africa's wildlife and its vast, biodiverse landscapes endure. In the Kilimanjaro Heartland, we are working with our partners to ensure that the region's elephants remain a treasured asset for all people.