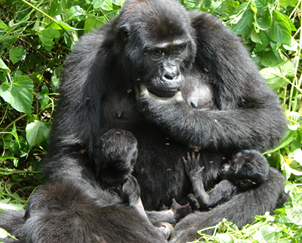 NAIROBI, KENYA--The African Wildlife Foundation is pleased to announce the addition of a new blog--Tracking Mountain Gorillas (www.awf.org/gorillablog)--launched in partnership with the International Gorilla Conservation Program (IGCP). A timely salute to the UN's Year of the Gorilla, this blog will bring the dynamic world of mountain gorillas to people all around the world.
Tracking Mountain Gorillas will feature field staff from IGCP--a coalition of the African Wildlife Foundation, Fauna & Flora International and World Wide Fund for Nature. Bloggers will share their experiences working to protect the mountain gorillas and their habitats in the Democratic Republic of the Congo, Rwanda, and Uganda.
IGCP has active programs and projects in and surrounding the gorilla national parks in the Virunga Heartland, which spans the Democratic Republic of Congo, Rwanda, and Uganda. Relayed by field staff, reports will come your way from the verdant cool misty slopes of the extinct volcanoes and rugged mountains the gorillas call home. The bloggers will keep you up-to-date on the various mountain gorilla families, reporting on gorilla movement, welfare and struggles for survival.
Along the way, you will also learn about some of the partners and collaborators who work with the gorillas as well as those who work with the families and individuals that live near the National Parks where the gorillas are found. Followers will have a chance to "meet" local individuals who are pursuing a sustainable living--from beekeeping to basketweaving--alongside the mountain gorillas.
In honor of this special year set aside to honor the mountain gorilla, make it a priority to follow Tracking Mountain Gorillas at www.awf.org/gorillablog
Read all the AWF blogs at www.awf.org/blogs