Monday, May 21, 2012

Johannesburg, South Africa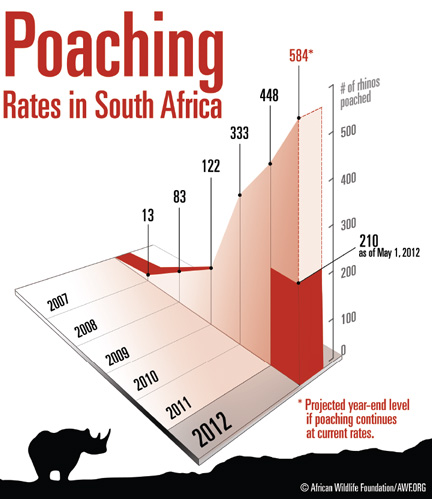 ince the beginning of the year, 210 rhinos have been poached in South Africa, raising concerns over how best to stop rhino poaching.
210 Rhinos Poached as of Early May, but Higher Poaching Arrests Offer Glimmer of Hope
JOHANNESBURG, South Africa, May 21, 2012-- After a devastating 2011 during which it lost 448 rhinos to poaching, South Africa again appears en route to a year of unprecedented rhino poaching levels. According to a government summary released by the South African Department of Environmental Affairs on May 7, it's estimated that 210 rhinos have been poached since the beginning of the year. Nearly two rhinos are now poached per day.
"If poaching continues at this rate, we could see the extinction of rhinos within our lifetime," said Patrick Bergin, CEO of the African Wildlife Foundation (AWF). "It's imperative that the necessary steps are taken before this irreplaceable global resource is annihilated from the earth."
Fortunately, arrests for poaching have been on the rise in the South Africa. The South African government reports that it has already made 128 arrests so far this year, compared to last year's 232 year-end total. The government has cracked down on poachers and smugglers, issuing harsher penalties and longer sentences thanks to the Prevention of Organized Crime Act, an act aimed at giving courts the ability to prosecute poachers and their gangs on racketeering charges.
"African Wildlife Foundation commends the South African government for its serious efforts to halt the poaching of rhinos and urges other governments to follow suit in treating rhino poaching as the serious crime that it is," said AWF President Helen Gichohi. "Apprehending poachers is not the only step in ending poaching and the illegal trafficking of rhino horn, however. We also must focus on the source of demand, and educate those who purchase rhino horn on the damaging effects they're having on a global treasure."
In light of this need, AWF recently entered into a partnership with WildAid to develop and conduct public service announcements educating consumers in China about how rhino horn is being obtained through the killing of rhinos. This public awareness campaign is one of several suggestions laid out at an emergency Rhino Summit this past spring to combat the current rhino poaching crisis. The Summit was convened by AWF and the Kenya Wildlife Service and attracted rhino stakeholders from 25 organizations and multiple countries.
# # #
About African Wildlife Foundation
Founded in 1961, the African Wildlife Foundation (AWF) is a leading conservation organization focused solely on the African continent. AWF's programs and conservation strategies are based on sound science and designed to protect both the wild lands and wildlife of Africa and ensure a more sustainable future for Africa's people. Since its inception, AWF has protected endangered species and land, promoted conservation enterprises that benefit local African communities, and trained hundreds of African nationals in conservation--all to ensure the survival of Africa's unparalleled wildlife heritage. AWF is a nonprofit organization headquartered in Kenya and registered as a 501(c)(3) in the United States. For more information, visit www.awf.org.
Contact:
African Wildlife Foundation (AWF)
John Butler
Director of Marketing and Membership
202-939-3333