Monday, February 4, 2013

Nairobi, Kenya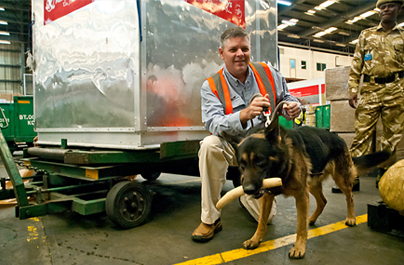 African Wildlife Foundation (AWF) CEO Patrick Bergin at an anti-trafficking sniffer dog demonstration by Kenya Wildlife Service (KWS) staff. AWF is proud to partner with KWS to uphold Kenya's long history of conservation. Photo credit: Amy Barriale
As Kenya celebrates Golden Jubilee year, African Wildlife Foundation salutes ongoing stewardship of its wildlife and land resources
NAIROBI, Kenya, February 4, 2013 -- As Kenya celebrates 50 years of independence during its Golden Jubilee year, African Wildlife Foundation (AWF) congratulates the nation on its continued commitment to conservation. Kenya has a long history of protecting and promoting its extraordinary natural heritage, and AWF is pleased to continue partnering with Kenya Wildlife Service (KWS) and local communities to ensure Kenya's wildlife will endure long into the future.
Headquartered in Kenya's capital of Nairobi, AWF has worked in Kenya for decades to support the country's wildlife conservation initiatives. In 1986, for example, AWF helped KWS establish the Ngulia Rhino Sanctuary in Tsavo West National Park. AWF and partners contributed funding, essential scouting equipment, and housing for the sanctuary's staff and rangers, creating conditions that allowed the rhino population to steadily grow. To tackle the current elephant and rhino poaching crisis, AWF has also provided funding for the purchase and training of additional sniffer dogs for its canine unit, which detect contraband ivory, rhino horn and weapons in cargo with greater than 90 percent accuracy. AWF and KWS also recently convened a joint meeting with Kenya's judicial and legal authorities to discuss harsher penalties against poachers.
At the local level, AWF has supported communities by bolstering economies and improving livelihoods through conservation. AWF worked with the Entonet/Elerai Maasai community and private operator Southern Cross Safaris to create Satao Elerai, a high-end tourist lodge in southern Kenya that invests in conserving wildlife and contributes a portion of its bed-night fees to the community. In northern Kenya, AWF launched a conservation coffee program with the Starbucks Coffee Co. to help farmers increase their yields through sustainable practices, enhancing livelihoods and reducing deforestation. These and similar AWF initiatives uphold Kenya's legacy of community conservation.
"The recent continent wide resurgence in elephant and rhino poaching serves as a reminder that illegal wildlife trafficking plagues even those nations committed to conservation," said Dr. Philip Muruthi, senior director of conservation science at African Wildlife Foundation. "Kenya's leadership in confronting the current poaching crisis, however, will send a message to criminals that Africans will not step idly aside while others steal our natural heritage."
In addition to the Kenyan government recently announcing it will add 200 million Ksh (US$2 million) to anti-poaching efforts, it also has proposals to the Convention on International Trade in Endangered Species of Fauna and Flora (CITES) to temporarily halt the ivory trade and otherwise strengthen measures against illegal wildlife trafficking. CITES is the international treaty that regulates the trade of endangered plants and wildlife; 176 countries are signatories. AWF representatives will be attending CITES' 16th Conference of the Parties, to be held March 3 -- March 14, in Bangkok, Thailand.
# # #
About African Wildlife Foundation
Founded in 1961, the African Wildlife Foundation (AWF) is a leading conservation organization focused solely on the African continent. AWF's programs and conservation strategies are based on sound science and designed to protect both the wild lands and wildlife of Africa and ensure a more sustainable future for Africa's people. Since its inception, AWF has protected endangered species and land, promoted conservation enterprises that benefit local African communities, and trained hundreds of African nationals in conservation--all to ensure the survival of Africa's unparalleled wildlife heritage. AWF is a nonprofit organization headquartered in Kenya and registered as a 501(c)(3) in the United States. For more information, www.awf.org.
Contacts
​African Wildlife Foundation (AWF)
John Butler
+1 202 939 3313
jbutler@awf.org