Wednesday, January 22, 2014

Nairobi, Kenya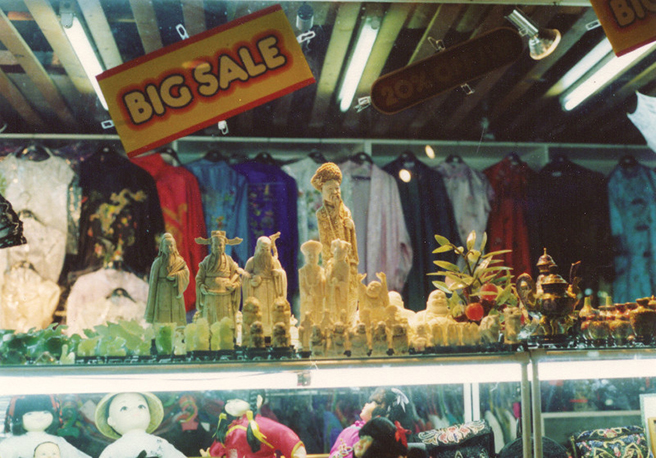 Hong Kong, 1992. Ivory figurines, carvings, and jewelry are coveted by consumers eager to show off their wealth and status.
African Wildlife Foundation urges Hong Kong to destroy its stockpile and join other countries in taking a stand against illegal wildlife trafficking
NAIROBI—As the Endangered Species Advisory Committee of Hong Kong's Agricultural, Fisheries and Conservation Department (AFCD) gathers to decide the fate of the region's stockpile of confiscated ivory on Thursday, January 23, the African Wildlife Foundation is urging Hong Kong to join a growing number of countries in destroying its ivory stockpile and publicly condemning the illegal wildlife trade. Though it had rejected proposals to destroy its stockpile in the past, the committee will review this renewed proposal amid international alarm over the loss of tens of thousands of elephants from Africa each year. Hong Kong's stockpile, estimated to be nearly 33 tons, is one of the largest in the world.
"Now is the time to decide on which side of the elephant's history you wish to be," says African Wildlife Foundation CEO Dr. Patrick Bergin. "The survival of the African elephant is jeopardized by the world's demand for ivory products. Nowhere are these ornate products more on display than in the storefronts and living rooms of Hong Kong."
The decision by the AFCD committee comes at a time when many countries, including China, have demonstrated their commitment to ending the elephant slaughter and combating the illicit ivory trade by publicly destroying their own stockpiles of ivory. In years 2011, 2012, and 2013, respectively, Kenya, Gabon, and the Philippines burned or crushed their ivory stockpiles. This past November, the United States crushed its stockpile of confiscated ivory, and in January of this year, authorities in China's Guangdong Province crushed more than 6 tons of ivory. As one of the largest consumer markets for ivory in the world, Hong Kong remains a primary destination and transit region for trafficked ivory.
"There is no such thing as unstained ivory or the guiltless ivory consumer anymore," says Bergin. "If you are buying ivory, you are fueling demand for the product and are therefore culpable in the decimation of the species. We are urging Hong Kong to use this moment in its history to send a firm, unambiguous message to ivory consumers, traffickers, and poachers that ivory has no value as a vanity object or as a tradable commodity. Only elephants should own ivory."
###
Editor's Note: To learn more about the African Wildlife Foundation's position on ivory stockpiles and ivory trade, please visit awf.org/ivoryposition.
About African Wildlife Foundation
Founded in 1961, the African Wildlife Foundation (AWF) is a leading conservation organization focused solely on the African continent. AWF's programs and conservation strategies are based on sound science and designed to protect both the wild lands and wildlife of Africa and ensure a more sustainable future for Africa's people. Since its inception, AWF has protected endangered species and land, promoted conservation enterprises that benefit local African communities, and trained hundreds of African nationals in conservation—all to ensure the survival of Africa's unparalleled wildlife heritage. AWF is a nonprofit organization headquartered in Kenya and registered as a 501(c)(3) in the United States. For more information, visit www.awf.org, follow us on Twitter @AWF_Official or @awf_media, and visit our Facebook page at facebook.com/AfricanWildlifeFoundation.