Wednesday, November 21, 2012

Nairobi, Kenya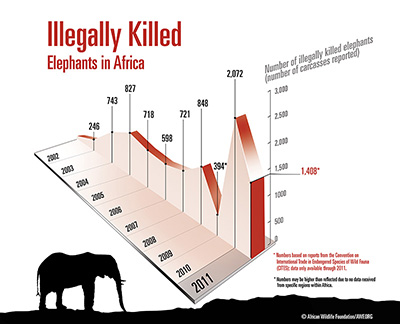 Africa's elephant populations are diminishing at an alarming rate as a result of their tusks' profitability abroad.
African Wildlife Foundation calls attention to the seriousness of poaching as high quantity of ammunition is seized during anti-poaching operations
NAIROBI, Kenya, December 21, 2012 -- Over the past several years the crimes against Africa's wildlife have been running rampant. Both rhino and elephant populations are dwindling as poachers target them for their ivory and horns that are sold on the black market at exorbitant prices.
This past week, however, Kenya Wildlife Service (KWS) reported a victory for wildlife after 46 suspected poachers were arrested and 48 kg of ivory, 764 rounds of ammunition, and other poaching weapons were seized. The anti-poaching efforts and subsequent arrests were made in different parts of the country over the course of the past month.
In wake of the rising poaching epidemic, wildlife organizations across the globe have been actively seeking justice for these species and ramping up protection efforts. "While we are far from ending this fight, this month's successes demonstrate the government's commitment to stop wildlife trafficking and the increased organization among wildlife authorities," said Helen Gichochi, president of African Wildlife Foundation (AWF).
U.S. Secretary of State Hilary Clinton recently called for increased efforts and collaboration by governments to stop these poachers whose militarized organization threatens not only wildlife but also humans. The ammunition and weapons confiscated demonstrate the involvement of these highly organized criminal syndicates, which have easy access to advanced technologies, weapons, and ammunition.
Now that the arrests have been made, the next step is to make sure the punishments are severe enough to increase the risks and prove a deterrent for others considering participating in poaching and trafficking activities. Earlier this month, AWF and KWS convened a judicial luncheon where Kenya's judicial and legal professionals came together to discuss the importance of enforcing harsher penalties against poachers.
"As global pressures continue to mount against poachers and wildlife traffickers, it becomes increasingly important that the public, conservation organizations, and governments act now," said Gichochi. "This progress is promising, but the conservation community and legal authorities must continue to work collaboratively, remain vigilant, and increase public awareness in order to successfully address this poaching epidemic."
# # #
About African Wildlife Foundation
Founded in 1961, the African Wildlife Foundation (AWF) is a leading conservation organization focused solely on the African continent. AWF's programs and conservation strategies are based on sound science and designed to protect both the wild lands and wildlife of Africa and ensure a more sustainable future for Africa's people. Since its inception, AWF has protected endangered species and land, promoted conservation enterprises that benefit local African communities, and trained hundreds of African nationals in conservation--all to ensure the survival of Africa's unparalleled wildlife heritage. AWF is a nonprofit organization headquartered in Kenya and registered as a 501(c)(3) in the United States. For more information, www.awf.org.
Contacts
African Wildlife Foundation (AWF)
John Butler
+1 202 939 3313
jbutler@awf.org