Thursday, May 2, 2013

Nairobi, Kenya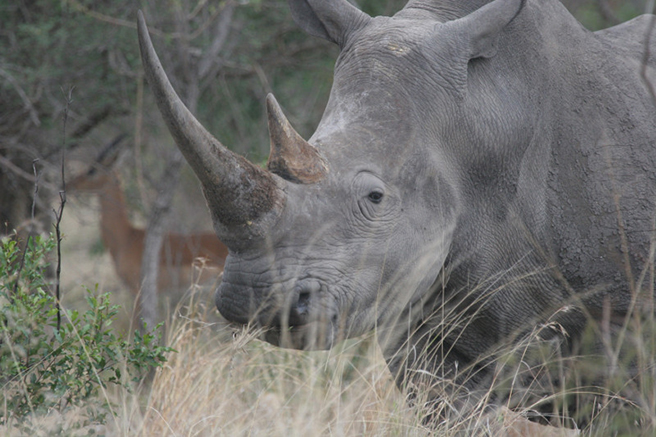 Rhino in Limpopo / Photo by: Craig R. Sholley
African Wildlife Foundation continues to ramp up efforts to save Africa's rhinos
NAIROBI, Kenya, April 30, 2013 --- African Wildlife Foundation (AWF) strongly condemns the recent poachings that killed the last population of rhinos living in the Mozambique portion of Southern Africa's Great Limpopo Transfrontier Park.
According to media reports, poachers last month killed the last surviving 15 rhinos in Mozambique's Limpopo National Park. The very wildlife rangers tasked with protecting this rhino population were said to have colluded with poachers on these killings; 30 rangers are scheduled to appear in court on charges related to this incident.
"Southern Africa is famed for its rhinos. The fact that they no longer exist in a significant part of this transfrontier conservation area is an ominous reminder of the impacts that Asian demand for rhino horn can have halfway across the world," said Philip Muruthi, senior director of conservation science for the African Wildlife Foundation.
"This incident demonstrates the need for increased action to save the African rhino," Muruthi observed. "The African Wildlife Foundation has supported rhino conservation in Southern and in East Africa for decades, but just two weeks ago, we launched a demand-reduction campaign in China with WildAid and Yao Ming. We have additionally directed hundreds of thousands of dollars in extra funding toward targeted rhino protection in Southern and East Africa, including:
Aerial surveillance support;
Canine detection units;
Camera traps for monitoring rhino populations;
Paramilitary training for wildlife rangers and community scouts; and
Ranger uniforms and communications equipment."
Muruthi added, "To think that corrupt wildlife rangers had a role to play in this carnage—when dedicated individuals elsewhere on the continent are risking their lives to protect these species—is especially troubling. We urge the Mozambican government to send a message that these heinous crimes will not be tolerated."
It is generally accepted that those conducting poaching on the ground are poor locals lured by the hefty sums being offered by organized crime syndicates. In addition to rhino-specific conservation efforts, AWF has established conservation enterprises, provided educational opportunities, and funded other community initiatives to help rural Africans establish sustainable livelihood options and lasting income opportunities.
Great Limpopo Transfrontier Park straddles three countries and consists of Limpopo National Park in Mozambique, Kruger National Park in South Africa, and Gonarezhou National Park in Zimbabwe. While Kruger's rhino population appears to be the hardest hit of these areas—thus far in 2013, 180 rhinos have been killed in Kruger, out of 249 total this year in South Africa—the killing of Limpopo's last 15 rhinos is alarming given that Limpopo had close to 300 rhinos in 2002, when the transfrontier park was first established.
# # #
About African Wildlife Foundation
Founded in 1961, African Wildlife Foundation (AWF) is a leading conservation organization focused solely on the African continent. AWF's programs and conservation strategies are based on sound science and designed to protect both the wild lands and wildlife of Africa and ensure a more sustainable future for Africa's people. Since its inception, AWF has protected endangered species and land, promoted conservation enterprises that benefit local African communities, and trained hundreds of African nationals in conservation—all to ensure the survival of Africa's unparalleled wildlife heritage. AWF is a nonprofit organization headquartered in Kenya and registered as a 501(c)(3) in the United States. For more information, visit: www.awf.org
Contacts
John Butler
+1 202 939 3333
jbutler@awf.org
Mayu Mishina
+1 202 939 3324
mmishina@awf.org