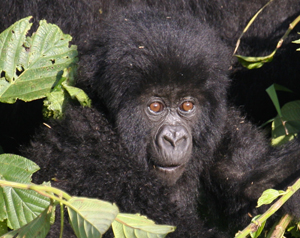 VIRUNGA HEARTLAND, Rwanda--Rwanda named 18 baby mountain gorillas this Saturday at Kwita Izina, an annual naming ceremony created to raise awareness about the plight of the highly endangered mountain gorilla. 103 gorillas have been named since the annual naming ceremony began five years ago.
The festivities took place at the edge of Volcanoes National Park, home to about a third of the world's 720 remaining mountain gorillas. The rest are found in the the eastern Democratic Republic of the Congo and in Bwindi Impenetrable Forest in Uganda. While dangerously small in number, the mountain gorilla population has persevered, saved from extinction because of the work of many dedicated conservationists including the African Wildlife Foundation (AWF).
Year of the Gorilla -- an awareness-building campaign declared by UNEP (United Nations Environment Programme) and UNESCO (United Nations Educational, Scientific and Cultural Organization) -- gave this year's Kwita Izina ceremonies added significance. Year of the Gorilla is designed to raise awareness about the plight of this highly endangered great ape.
To mark Year of the Gorilla, AWF has issued a special 2009-10 calendar featuring many never-before seen photos of mountain gorillas. A complimentary copy has already been sent to each AWF member. To purchase additional copies for family and friends, visit www.awf.org/YOGcalendar. 100 percent of the proceeds go to support AWF.
To read about this year's Kwita Izina events on Twitter, click here.
To learn more about Year of the Gorilla, click here.