Tuesday, February 26, 2008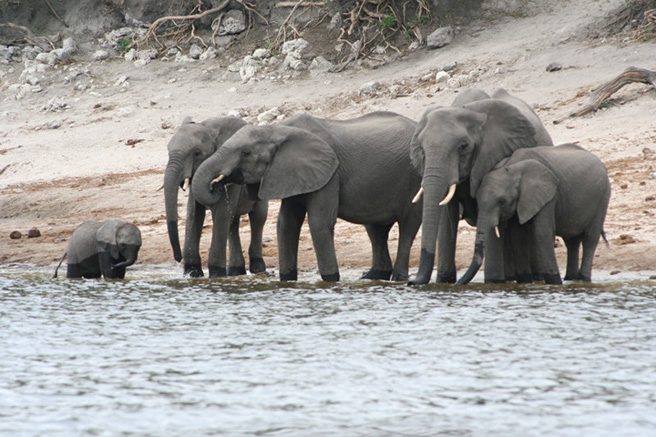 Elephants in South Africa. Photo by: Nasson Tembo
South Africa announced it will end its 1995 suspension of elephant culling to manage its burgeoning elephant populations. Since the 1995 suspension, the elephant population in Kruger National Park has grown from 8,000 to an estimated 12,500, and is said to be hurting the park's biodiversity.
In response to the announcement, AWF strongly believes that combining parks, private lands and community areas into large conservation and tourism landscapes is the best way to manage elephant populations and other wildlife. Specifically, in southern Africa, AWF has pursued a strategy of supporting full implementation of the larger Great Limpopo Transfrontier Park, which would allow elephants and other wildlife to spread out into the parts of Mozambique and Zimbabwe adjoining South Africa.
The Limpopo Transfrontier Park, formed in 2002, connects South Africa's Kruger National Park, Mozambique's Limpopo Park and Zimbabwe's Gonarezhou National Park into the largest single conservation area in Africa. Through our work in other parts of Africa, such as AWF's Zambezi Heartland, we have found that transboundary aerial surveys, on-the-ground tracking, and policy workshops can assist governments in harmonizing their plans for managing elephants that routinely cross their borders.
Experts agree that culling is heartbreaking, dangerous, and very expensive, and it is only considered regretfully as a last option when the long term well-being of elephants and other wildlife is at risk. The South African announcement of February 25 stated that culling would be allowed only as a tool "of last resort." AWF believes that in this instance, the South African local wildlife authorities are in the best position to determine when and where the highly undesirable option of culling must be resorted to.
To learn more about South Africa's recently announced elephant management policy, click here. To read the scientific presentation on which the policy is based, issued by South Africa's Department of Environmental Affairs and Tourism, click here.