Friday, August 23, 2013

Nairobi, Kenya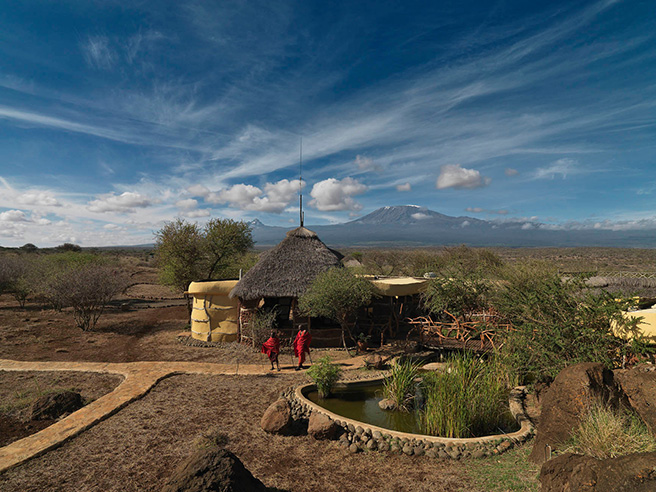 Satao Elerai, a small luxury lodge in southern Kenya, is situated on a 5,000-acre communally owned conservancy and is a unique product of a partnership, facilitated by the African Wildlife Foundation, between the Entonet/Elerai Maasai community and Southern Cross Safaris, a leading private operator. Photo by: Philip Muruthi
Conference themes mirror AWF's efforts to ensure tourism industry benefits local communities and conserves wildlife 
NAIROBI, Kenya, August 23, 2013 — 16 years after its inception, the Ecotourism and Sustainable Tourism Conference returns to Kenya, underscoring the Africa's importance as a tourism destination. The African Wildlife Foundation (AWF), along with the Kenya Tourism Board, will be a main sponsor of the conference, which takes place from September 24–27 at Nairobi's  Safari Park Hotel. The conference will bring together hundreds of tourism professionals from more than 35 countries to advance sustainability goals within the tourism industry and promote policies and practices that benefit communities, businesses, and the environment.
"Given some of this year's themes of 'Conservation and Communities' and 'Tourism and Millennium Development Goals,' it makes sense for AWF to be involved with and promote the conference and its agenda," said Brian McBrearity, director of conservation enterprise for the African Wildlife Foundation. "The African Wildlife Foundation has a history of working with communities to establish various enterprises, from high-end lodges to cultural villages and local handicraft businesses, as we've long recognized the opportunities that tourism offers in providing socioeconomic benefits to communities while also conserving wildlife and other natural resources."
In August, AWF celebrated the opening of a new community-owned conservation enterprise, Machenje Fishing Lodge, located along the Zambezi River just 60 km from Livingstone, Zambia. The sport-fishing lodge, which was officially opened by Zambia's Minister of Tourism and Arts, Hon. Sylvia T. Masebo, MP, was established with help from AWF in exchange for certain conservation concessions from the local community, including the setting aside of 20,000 hectares of community-owned land for elephants. Elephants aren't the only beneficiaries, though, as the new lodge will generate tourism revenue for the local community and create employment opportunities for community members. Machenje joins a long list of conservation enterprises initiated by AWF in partnership with communities across the African continent. Other AWF community-owned tourism enterprises include Satao Elerai Lodge in southern Kenya, Esilalei Women's Cultural Boma in northern Tanzania, and Sabyinyo Silverback Lodge in Rwanda.
"This year's conference will provide a great forum for fostering innovative thinking on how tourism can help alleviate poverty, conserve natural areas, and improve the well-being of local communities—dovetailing nicely with AWF's own mission of working with the people of Africa to conserve the continent's wildlife and wild lands," noted McBrearity.
The conference is organized each year by The International Ecotourism Society (TIES).
About African Wildlife Foundation
Founded in 1961, the African Wildlife Foundation (AWF) is a leading conservation organization focused solely on the African continent. AWF's programs and conservation strategies are based on sound science and designed to protect both the wild lands and wildlife of Africa and ensure a more sustainable future for Africa's people. Since its inception, AWF has protected endangered species and land, promoted conservation enterprises that benefit local African communities, and trained hundreds of African nationals in conservation—all to ensure the survival of Africa's unparalleled wildlife heritage. AWF is a nonprofit organization headquartered in Kenya and registered as a 501(c)(3) in the United States. For more information, visit: www.awf.org
About TIES
The International Ecotourism Society (TIES) is a non-profit association committed to promoting responsible tourism practices that benefit conservation and communities worldwide. Representing the voices of stakeholders from all corners of the world, TIES' global network supports and is supported by members from over 120 countries, who are leading the vital efforts to make travel and tourism more sustainable. Through membership services, industry outreach and educational programs, TIES is committed to helping organizations, communities and individuals promote and practice the principles of ecotourism.  http://www.ecotourism.org