Wednesday, January 15, 2014

Nairobi, Kenya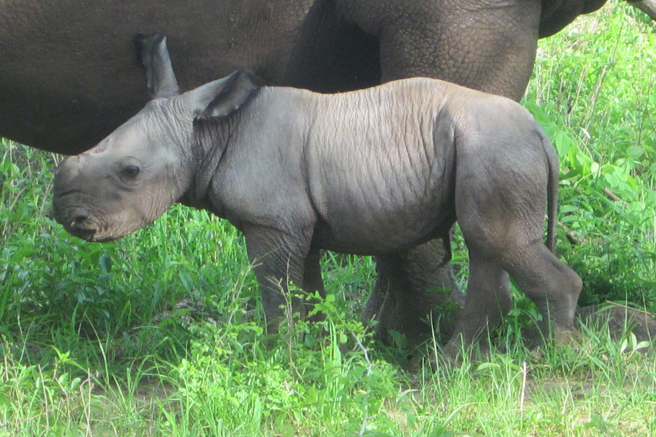 This white rhino calf, Emmanuel, born to a rhino cow named Jessy, brings the number of rhinos in Zambia's Mosi-oa-Tunya National Park to nine. Photo by: Gideon Chikanya
The African Wildlife Foundation (AWF) is celebrating two recent on-the-ground wins that, on a local level, complement the positive international momentum that appears to be gaining for Africa's wildlife.
On Dec. 25, 2013, a rhino cow named Jessy gave birth to a male white rhino in Zambia's Mosi-oa-Tunya National Park, bringing the number of rhinos in the national park to nine. The birth comes at a time when the international community is mobilizing efforts to better protect rhinos worldwide.
"Every rhino birth is reason to celebrate," says AWF Kazungula Landscape Ecologist Jones Masonde. "These days we only seem to hear about rhinos dying, so it is important to show that we are having successes on the ground in keeping key rhino populations safe and helping them grow."
In 1989, the rhino was officially declared extinct in Zambia. Today, the country has two growing populations of white and black rhinos thanks to the translocation of rhinos from South Africa to Zambia, an effort supported by AWF. The new calf in Mosi-oa-Tunya brings Zambia's total rhino population to 40, comprising 29 black rhinos and 11 white rhinos.
Ranch recovery
In northern Tanzania, for the first time in many years, increased security on the AWF-supported Manyara Ranch Conservancy has resulted in no poaching incidences during the holiday hiatus, which is often a time of increased danger for rhinos, elephants, and other wildlife, as many rangers and scouts return home to spend time with their families. The 45,000-acre conservancy is part of a larger wildlife corridor linking Lake Manyara and Tarangire National Parks. Large herds of elephants, wildebeest, buffalo, and others use the conservancy as a dispersal area and to move between the national parks.
AWF Maasai Steppe Landscape Director John Salehe emphasizes the importance of not only offering more space to wildlife but also ensuring the security of that space. "We've worked very hard over the years to re-wild this area and give elephants and other big game more room to roam," he says. "Not only have we done that, but we are showing it's possible to work with surrounding communities and local partners to ensure the area remains a conservation stronghold."
At the international level, the past year has seen many major players step up to take action. The U.S. ivory crush in November in Denver, followed this past Monday by China's ivory crush in Dongguan, underscores the seriousness with which these two countries are taking the wildlife trafficking crisis. President Obama's Executive Order last July establishing a Task Force and Advisory Council on Wildlife Trafficking signaled the resolve of the U.S. government to commit its resources and expertise to the task of combatting the illegal wildlife trade.
"Last year we saw a lot of consensus and awareness from the world community about the threats facing wildlife in Africa, as well as a lot of debate over different ways to tackle those threats," says AWF CEO Patrick Bergin, who, as a member of the President's Advisory Council on Wildlife Trafficking, will help inform the country's national strategy on combatting illegal wildlife trade. "I think we're all in agreement about the problem. Now is the time for action on a number of different levels, from the very top levels of government to the African bush. AWF, for one, is already achieving real, tangible success at the ground level."
# # #
About African Wildlife Foundation
Founded in 1961, the African Wildlife Foundation (AWF) is a leading conservation organization focused solely on the African continent. AWF's programs and conservation strategies are based on sound science and designed to protect both the wild lands and wildlife of Africa and ensure a more sustainable future for Africa's people. Since its inception, AWF has protected endangered species and land, promoted conservation enterprises that benefit local African communities, and trained hundreds of African nationals in conservation—all to ensure the survival of Africa's unparalleled wildlife heritage. AWF is a nonprofit organization headquartered in Kenya and registered as a 501(c)(3) in the United States. For more information, visit www.awf.org and follow us on Twitter @AWF_Official or @awf_media and Facebook at facebook.com/AfricanWildlifeFoundation.