Corporate and Foundation Partners
Corporate and Foundation Partners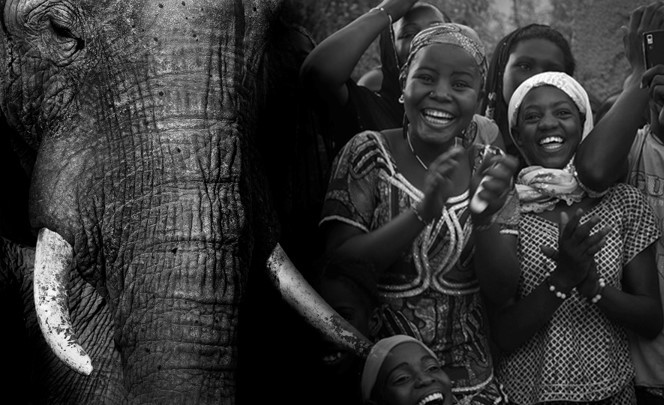 Africa's natural heritage is more than beautiful creatures and landscapes. Nature sustains life for humans and wildlife alike. Half of the world's GDP is moderately or highly dependent on nature and its services. AWF's strategic vision sets out an ambitious agenda for repositioning conservation at the heart of Africa's development aspirations. Delivering this vision implores us to strategically engage foundations and the private sector in ways that align interests and support for an African leadership agenda for nature.
We recognize and thank the corporate and foundation partners investing in AWF's proven conservation strategies. Together we can help ensure Africa's natural heritage endures and thrives. An investment through AWF helps to advance African-leadership in conservation; protect species and their habitats; mitigate human-wildlife conflict; empower communities to pursue livelihoods that protect and restore nature; educate children living near protected areas and invest in young conservation leaders of Africa; and, work at all levels of government to influence decisions that impact conservations efforts and outcomes.
Benefits of partnering with AWF
Corporations and foundations that partner with AWF benefit from the organization's:
Expertise: With over 60 years of experience on the continent, AWF is the leading organization focused exclusively on Africa and promotes a uniquely African vision for the continent's future.
Reach: AWF is a thought leader convening business executives, political leaders at all levels of governments, youth and civil society across the continent to advance decisions that balance nature and economic progress. AWF's reach is complemented by its strong, international social media following.
Approach: AWF takes a holistic approach to conservation and considers the interdependent relationship between nature and people to help promote a sustainable future for Africa's natural heritage.
Corporate and foundation partners can count on AWF's expertise, reach, and holistic approach to create mutually beneficial partnerships as we work to achieve our mission and advance solutions that create opportunity for people — not at the expense of wildlife and their habitats, but because of them.
Ways to Partner
AWF partners with corporates and foundations to deliver change on the ground in landscapes where we work across the continent, and to reshape the narrative in Africa and globally around the role that nature plays in the development agenda. We partner with companies and foundations to shape an African-led approach that links nature to people and delivers development as well as conservation outcomes. Our approach bridges policy with practice on the ground. In addition to traditional philanthropy and corporate social responsibility, we also work with companies to manage operational footprints on forest, wetland and grassland systems, to unlock market opportunities for people living in landscapes where we work, and to invest in nature in ways that deliver for the corporate bottom line as well as for people and wildlife.
Corporate & Foundation Conservation Partners
Meet All of Our Partners
African Wildlife Foundation is proud to recognize the contributions of our sponsors and supporters.
ADF Solutions
African Tracks
Annenberg Foundation
Anne Innis Dagg Foundation
Arcus Foundation
Arvid Nordquist HAB
Avatar Alliance Foundation
Blue Pacific Flavors
Bridget Rose Foundation, Inc.
Brutus Productions
Brylawski Memorial Trust
Capital Group
Cleveland Metroparks Zoo
Climate Ride
CryptoHippo
D.N. Batten Foundation
Elephant Crisis Fund
Esri
FEDEC
Fi
Foreign Policy
Franklin Philanthropic Foundation
Google Ad Grants
Helvellyn Foundation
Horne Family Foundation
Irdeto
Jamma International
Kilombero Sugar Company
Kong
LEX Reception
MacLean Foundation
MAVA Foundation
Montego Pet Nutrition
My Virtuous Quest
Nancy-Carroll Draper Foundation
National Geographic Society
Nature's Path Foods
Nomad Safaris Ltd
Oak Foundation
Panaphil Foundation
People's Trust for Endangered Species (PTES)
Q36.5
Royal Canin
Sir Edmond B.V.
The Burnap Foundation
The Explorations Company
The Friendship Fund
The Hulitar Family Foundation
The JDL Foundation
The Kors Le Pere Foundation
The Mars Foundation
The Robert A. Waller Foundation
The Walter and Ursula Eberspacher Foundation
The Wildflower Foundation, Inc.
The William H. & Mattie Wattis Harris Foundation
Uwucrew NFT
Wilderness Safaris
Enter your employer's name to find out if your company will match your donation to AWF
Contact Us
Beulah Erhiawarien
Director, Corporate and Foundation Relations
1100 New Jersey SE, Suite 900
Washington, DC 20003
202-939-3342
berhiawarien@awf.org