Corporate Partners

African wildlife and wild lands are more than beautiful creatures and landscapes. Both provide essential ecosystem services that sustain life for humans and wildlife alike. Likewise, healthy ecosystems are a pertinent part of economic growth, bringing revenue to households, companies and governments – and not only through tourism. When the survival of wildlife and wild lands are threatened, it means that not only will Africa's natural heritage disappear, but those profiting from its demise are likely helping to fuel regional and international insecurity.
Protecting African wildlife and wild landscapes is the job of the global community. That is why African Wildlife Foundation (AWF) engages African people throughout all levels of planning and implementation of our conservation work, and invites partners from across the world to work with us to ensure the longevity of wildlife and wild lands as Africa moves to a more prosperous future.
How your investment transforms Africa
By investing in AWF's proven conservation strategies, together we can help ensure wildlife and wild lands not only endure, but thrive. An investment through AWF helps to protect endangered species and their habitats from poaching and trafficking; mitigate human-wildlife conflict; engage communities in alternative livelihood activities to reduce harm to the natural environment and wildlife, while protecting their existing livelihood from animal raids; educate African children living near protected areas – the future conservation leaders of Africa; and lastly, work at all levels of government to influence decisions that impact conservations efforts and outcomes.
Benefits of partnering with AWF
By engaging with AWF as a corporate partner, companies benefit from AWF's:
Expertise: With nearly 60 years of experience on the continent, AWF is the leading organization focused exclusively on Africa and promotes a uniquely African vision for the continent's future.
Reach: AWF has relationships at all levels of government across the continent and is the African Union's (AU) official conservation partner. Likewise, AWF's political reach is complemented by its strong, international social media following.
Approach: AWF takes a holistic approach to conservation and considers the interdependent relationship between wildlife, wild lands and people to help promote a sustainable future for Africa's natural heritage.
Corporate partners can count on AWF's expertise, reach, and wholistic approach to create mutually beneficial partnerships as we work to achieve our mission of ensuring wildlife and wild lands thrive in a modern Africa.
Ways to partner
Corporate partnerships play an integral role in AWF's mandate to conserve Africa's wide swaths of land, and the wildlife that inhabit them. AWF provides a variety of opportunities for companies to support our mission, while concurrently furthering their business objectives. We work with corporations to create partnerships that leverage their best assets.
AWF's Corporate Partnership Model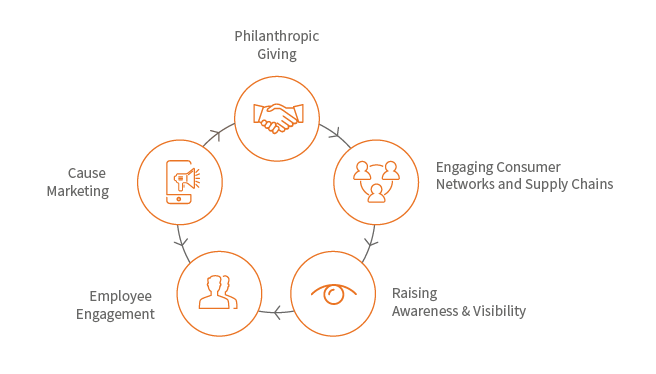 Corporate Conservation Partners
Meet All of Our Partners
African Wildlife Foundation is proud to recognize the contributions of our sponsors and supporters.
Africa Adventures
Alex Woo
Arrowhead Systems, Inc.
Arvid Nordquist
Big Cat Sanctuary
Blue Pacific Flavors
Bushtracks
Disneynature African Cats
Endangered Species Chocolate
FARU
Hublot
Kong
Kyle House Group
Lost Rhino Brewing Company
Metazoa
Nature's Path Foods
Northland Controls
Oliberté
One 54 Holdings Ltd.
Save the Elephants
Sebra Light
SeaWorld & Busch Gardens Conservation Fund
Starbucks
Stokes Equipment Company
Teemill
The Elephant Pants
The Mountain
Thomson Safaris
Toys "R" Us
Water-to-Go
Wildlife Conservation Network
Zoological Society of Hertfordshire
Enter your employer's name to find out if your company will match your donation to AWF
Contact Us
Althea Wilson
Senior Director, Development
1100 New Jersey SE, Suite 900
Washington, DC 20003
202-939-3338
awilson@awf.org