Technical Partner Newsletters
You must have a PDF viewer on your computer to view these documents; you can obtain a free copy of this viewer at the Adobe Acrobat website.
Status of Land Use Planning, Land Tenure and Biodiversity Conservation: A Focus of Udzungwa-Magombera-Selous Landscape and Mngeta Corridor in Kilombero District
Africa Biodiversity Collaborative Group survey documenting land tenure status, socio-economic and biodiversity profiles in two Southern Tanzania landscapes. 2017.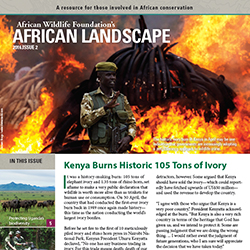 Protecting Uganda's biodiversity
The challenges of Bili Uele
Conservancy best practices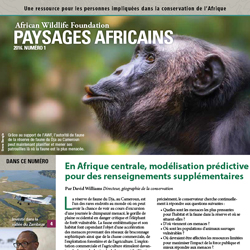 In Central Africa, Predictive Modelling for Additional Intelligence
Investing in Zambezi Valley
AWF Appoints New President
Detection Dogs Increase Security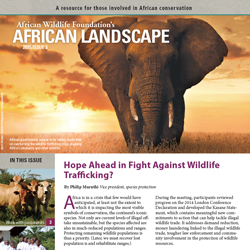 Hope Ahead in Fight Against Wildlife Trafficking?
2 Approaches to Working with Pastoralists
AWF Urges Tanzanians to Protect Their Wildlife
Surveys in Asia Show Support for Ivory Ban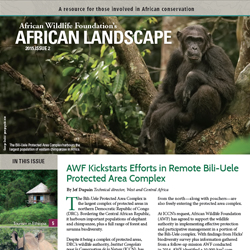 AWF Kickstarts Efforts in Remote Bili-Uele Protected Area Complex
Building Nature Tourism in Ethiopia
Technology, Training Improve Anti-Poaching and Ecological Monitoring in Central Africa
Continentwide Detection Dog Programme Launched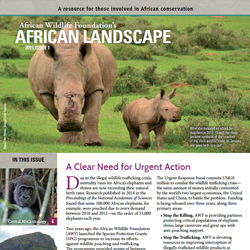 A Clear Need for Urgent Action
In the Fight Against Bushmeat Trade
Ecological Survey in Tanzania Sets Stage for Climate Change Validation
Species Protection Across the Continent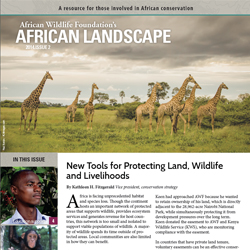 New Tools for Protecting Land, Wildlife, and Livelihoods

Collaboration is Critical

Household-Level Fish Ponds Offer Livelihood Alternatives

Graduating with Distinction in Zambia, With AWF Support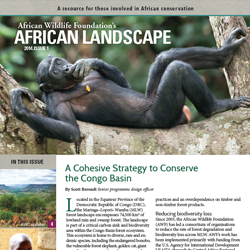 A Cohesive Strategy to Conserve the Congo Basin

Life and Conservation, Interconnected

In Ethiopia, Maximising Tourism to Minimise Threats

A Record of Results with African Wildlife Capital

Project to Improve Food Security, Conservation in Southern Tanzania

REDD+ Project Kicks Off

Momentum Gathering with AWF Conservation Schools

In Tanzania, Formalising Community Natural Resource Management

AWF Finds Ways for Humans, Giraffes to Coexist in Niger

​

AWF to Expand Antipoaching Work into Northern Cameroon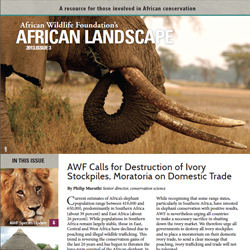 AWF Calls for Destruction of Ivory Stockpiles, Moratoria on Domestic Trade

The Heart of the Story

AWF, Community Work Together to Protect Elephant Habitat

The Use of REDD+ in Achieving Conservation Goals

New Lodge in Zambia to Benefit People, Wildlife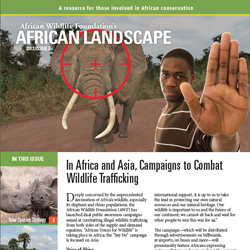 In African and Asia, Campaigns to Combat Wildlife Trafficking
What We Hear and What We Are Doing
New Species Strategy
AWF Expands Ape Conservation Across Central, West Africa
Does Conservation Enterprise Work?
In Pursuit of Sustainable Conservation
A Long-Term Commitment
Following Summit, AWF Takes Action on Rhinos
New Tool to Evaluate Conservation Enterprises
AWF Lays Foundation for Elephant, Giraffe Conservation in West Africa
Zambia Wildlife Authority Launches New Uniform as Government Declares War Against Poachers
In Kenya, Firing Up Communities About Wood-Fuel Security
South African Biosphere Reserve Fertile Ground for Biodiversity, Land Claims
Carnivore Census Provides New Answers to Old Problems
Engaging in Critical Discussions at Rio+20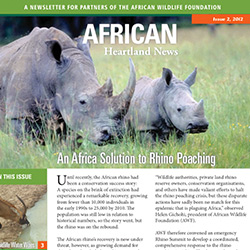 An Africa Solution to Rhino Poaching
The Challenges of Conservation in Africa
In Burkina Faso, Easing Wildlife's Water Woes
KAZA Transfrontier Conservation Area Launches
Long-Time AWF Presence Becomes VP for Programme Operations
Seeing REDD to Achieve Food Security, Resilience in Tanzania
How to Combat Rhino Poaching
Considering Ethiopia's Conservation Potential
New Face in Maasai Steppe
In Rural Tanzania, a Community Plugs into the Future
New Community Reserve Gazetted in DRC
AWF's African Heartlands Programme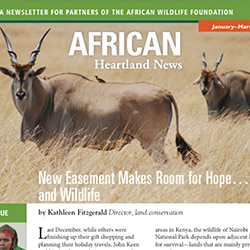 New Easement Makes Room for Hope… and Wildlife
Building Upon a Portfolio of Conservation Success
Lupani Primary School Serves as Incentive in Zambia
Participatory Micro-zoning Reduces Threats to Forest
AWF Finds Ongoing Success in Bonobo Conservation
WMA Moves Forward with Tourism Facility Plans
AWF Continues Mozambique Engagement
New Lodge Officially Launches in Botswana
Integrated Fish Farm in Zambia Marks Milestone with Zambezi Restocking
AWF Improves Infrastructure at Buffalo Springs
Fighting Rural Poverty While Supporting Conservation: A WMA Case Study
Use of Predator-Proof Bomas Mitigate Conflict in Tanzania
Empowering Local Women Through Microfinancing
Nailepeau Conservancy Created in Kilimanjaro Heartland
New 'Impact Investing' to Boost Conservation Efforts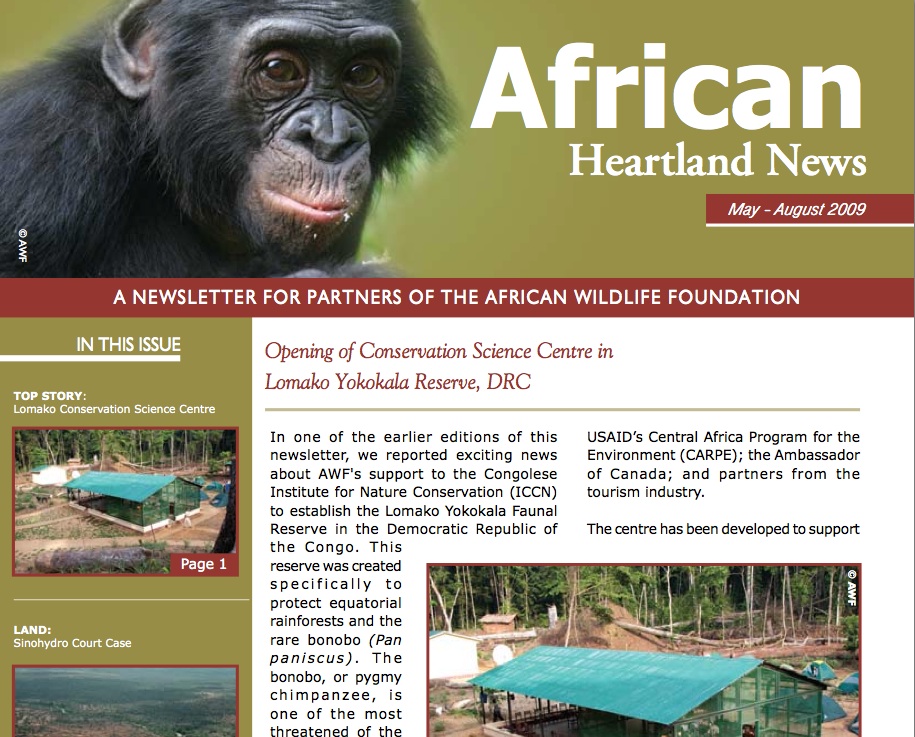 Opening of Conservation Science Center in Lomako Yokokala Reserve, DRC
Kenyan Court Orders Sinohydro Corporation Ltd. to Suspend Quarry Excavation in Amboseli
Integrating Livestock and Wildlife Systems in Heartlands
Why the Research on Grevy's Zebra
Capacity Building Fellowship for Namibia Awarded
AWF Hosts Delegation of Zambian Tourism Minister to Kenya
Update from West Africa
The African Wildlife Foundation's African Heartland Programme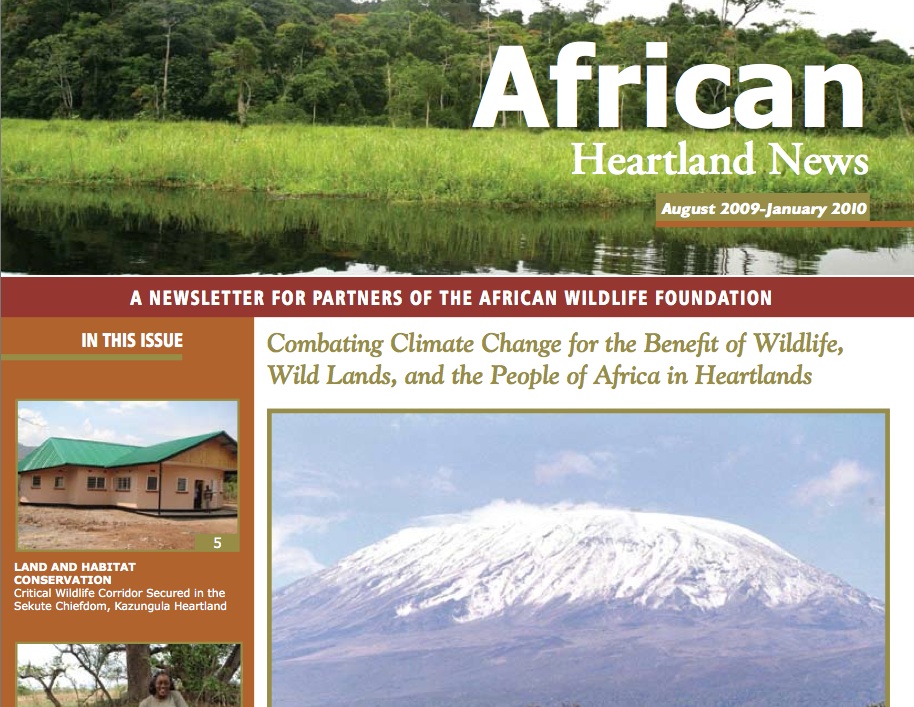 Combatting Climate Change for the Benefit of Wildlife, Wild Lands and the People of African Heartlands
Critical Wildlife Corridor Secured in the Sekute Chiefdom, Kazungula Heartland
African Wild Dog Applied Research and Conservation Project
Restructuring LUMO Lodge
West African Charlotte Fellows for 2009
U.S. Ambassador Visits AWF and Other Partners in Arusha
The African Wildlife Foundation's African Heartland Programme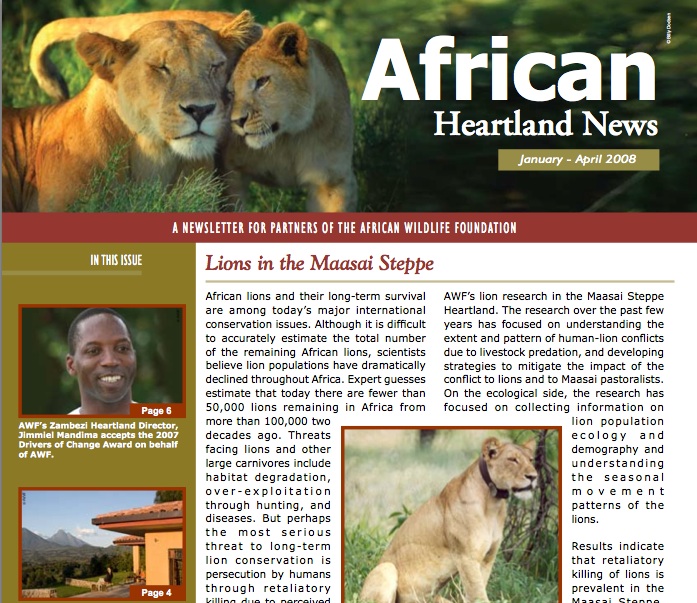 Lions in the Maasai Steppe
AWF Brings West Kilimanjaro Ranch to the Conservation Landscape
A Lodge to Benefit Mountain Gorillas
Striking a Balance Between Conservation and Development
AWF Announces Its New Charlotte Fellows
AWF Partners with NEPAD in Conservation
The African Wildlife Foundation's African Heartland Programme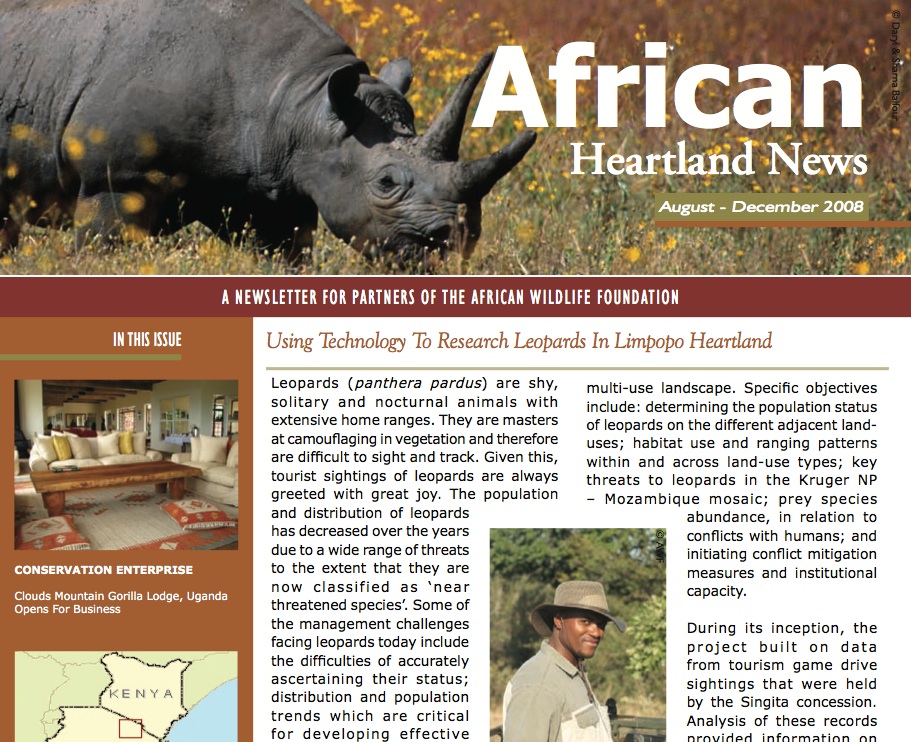 Using Technology to Research Leopards in Limpopo Heartland
Lease Program Established Around Amboseli National Park
Clouds Mountain Gorilla Lodge Opens for Business in Uganda
AWF Expanding Program to West Africa
Support to Southern Sudan - Diploma and Charlotte Fellows
AWF Experience in Implementing the WMA Policy in Tanzania
The African Wildlife Foundation's African Heartland Programme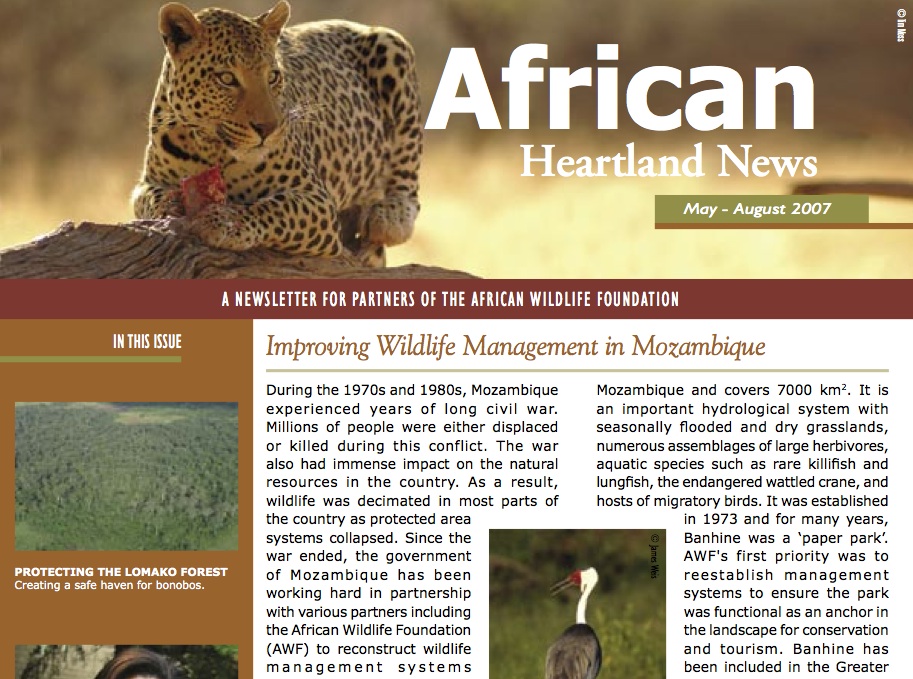 Improving Wildlife Management in Mozambique
Management Framework for Shared Elephant Population Developed
AWF and Partners Control an Anthrax Outbreak in Samburu Heartland
An Interview with AWF's Newly Appointed President, Dr. Helen Gichohi
Protecting the Lomako Forest in the Democratic Republic of the Congo
The Congo Shipping Project – Innovation at Work on the Congo Area Rivers
The African Wildlife Foundation's African Heartland Programme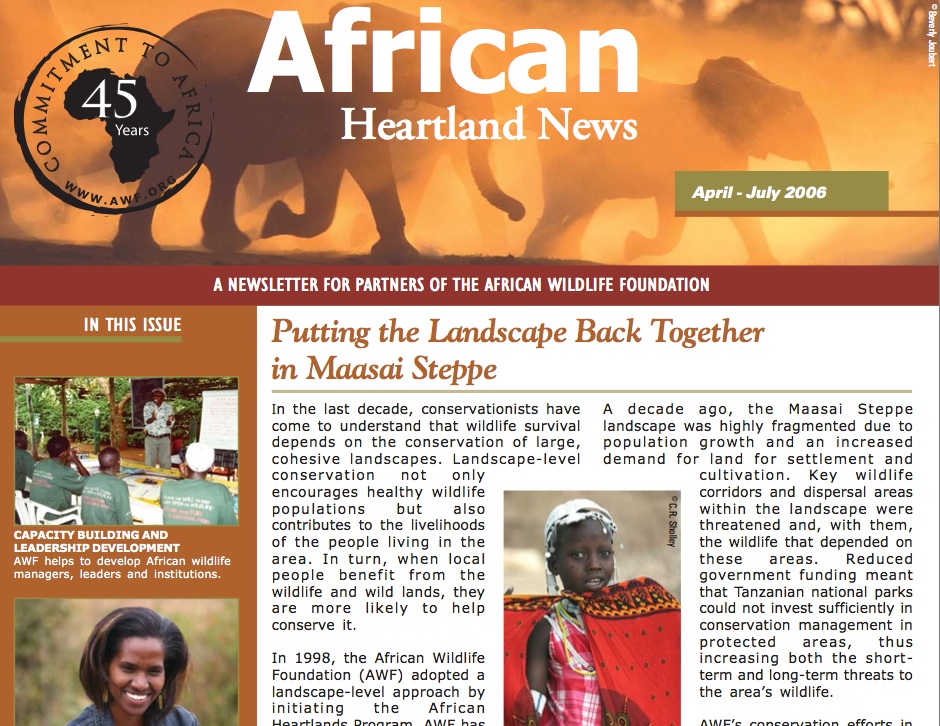 Putting the Landscape Back Together in Maasai Steppe
Celebrating 45 Years of AWF's Work in Africa
Species Stories: The Endangered Mountain Gorilla
AWF's 45th Anniversary Timeline
Land and Habitat Conservation in Africa: Conservation Easement in Kitengela
Capacity Building and Leadership Development: The Charlotte Conservation Fellowship Program
Conservation Enterprise: Tourist Lodges Bring Benefits to Wildlife and Communities
The African Wildlife Foundation's African Heartland Programme
2005 September - December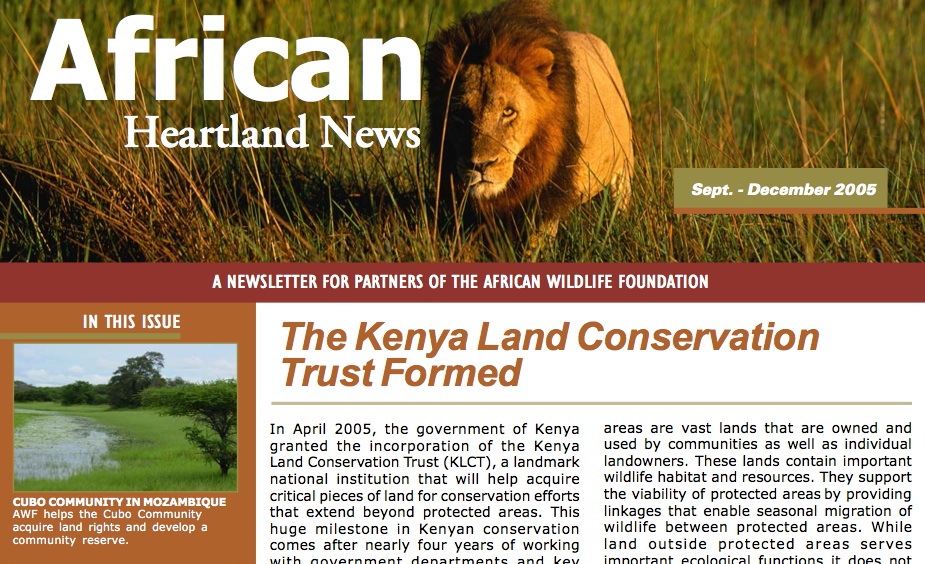 The Kenya Land Conservation Trust Formed
From the Desk of the Vice President for Programme: No Wildlife Conservation Without Land Conservation
AWF Helps Cubo Community Acquire Land Rights and Develop Community Reserve
Koija Starbeds Lodge: A Success Story of Using Enterprise for Land Conservation
Land Conservation in the Chiefdoms of Zambia
Land Purchase in Virunga to Support Mountain Gorilla Conservation
Tanzanian Military Signs Land Agreement with AWF
The African Wildlife Foundation's African Heartland Program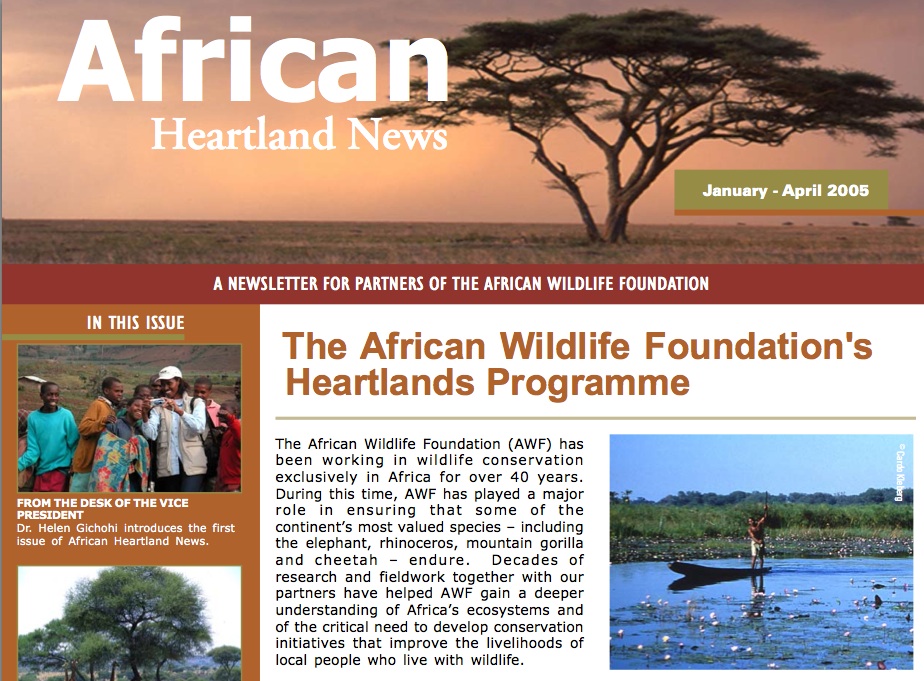 The African Wildlife Foundation's Heartland Programme
From the Desk of the Vice President for Programme
How are African Heartlands Selected?
Landscape Conservation Planning
What Does AWF Do in Heartlands:

Land and Habitat Conservation
Species Conservation & Applied Research
Conservation Enterprise
Capacity Building & Leadership Development
How Does AWF Measure Impact or Success in Heartlands?