AWF donates a canine vehicle to KWS to enhance anti-poaching efforts
AWF donates a canine vehicle to KWS to enhance anti-poaching efforts
About the Author
Grace Wairima Ndungu is a former Senior Communications and Advocacy Officer at African Wildlife Foundation. She supported the implementation of internal and external communications strategies and helped strategize on ways to promote AWF's media and ... More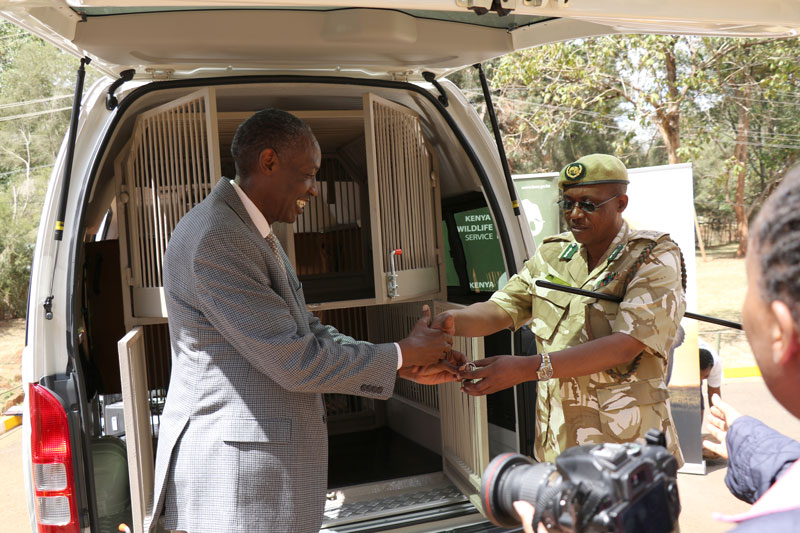 The Kenya Wildlife Service dog unit has benefited from a Ksh 12.5 million customized canine van from the AWF.
The donation is within the framework of AWF's long term collaborative relationship with KWS and specifically within the current agreement between the two institutions.
While handing over the van to KWS Acting Director General, Julius Kimani, on July 17, AWF President Kaddu Sebunya hailed the good relationship between KWS and AWF.
AWF also rehabilitated the KWS dog unit facilities situated at the Tsavo East Gate of Nairobi National Park, where the canine unit is located. The improvements are targeted in ending perennial flooding of the dog kennels but also include a construction of an office and store for dog unit staff, dog exercise area, septic tank, and installation of electrical works.
"AWF also appreciates the role played by Kenya's government through KWS in fighting wildlife crimes and in managing Kenyan wildlife. We have used Kenya's model in encouraging other African countries in their efforts to protect our wildlife and resources." Kaddu said.
A recent survey conducted by KWS with support from partners including AWF has reported an increase in elephants, buffaloes, and giraffes in the Tsavo-Mkomazi Ecosystem.
"We are learning a lot from the impact that Kenya is having in efforts to protecting wildlife and the sniffer dog unit in Nairobi and Mombasa is a significant contributor to this success. As Africa modernizes, there must be space for our wildlife. We are responsible for ensuring that our children and grand children can still enjoy and benefit from Africa's wildlife," added Kaddu.
KWS acting Director General Julius Kimani said the organization was working hard to ensure "we stop poaching and stop trafficking and through working together with partners like AWF we can work together to stop the demand."
"I want to appreciate what AWF has done in heeding the welfare of the canines. We rarely remember the canine as tools for management. The customized van will help the canine work efficiently and streamline our operations of moving the canines from one place to another until we can establish a base in different sites," Kimani said.
AWF has over a long-term collaborated with KWS to help local communities mitigate human-wildlife conflict; assist in training prosecutors to enhance their skills in detecting, handling, and adjudicating over wildlife cases in the fight against wildlife crime; and support KWS advance conservation of wildlife and wild lands in the country.