Biosphere reserves: the key to sustainable wildlife management and economic growth
Biosphere reserves: the key to sustainable wildlife management and economic growth
By Nathan Gichohi | November 28, 2018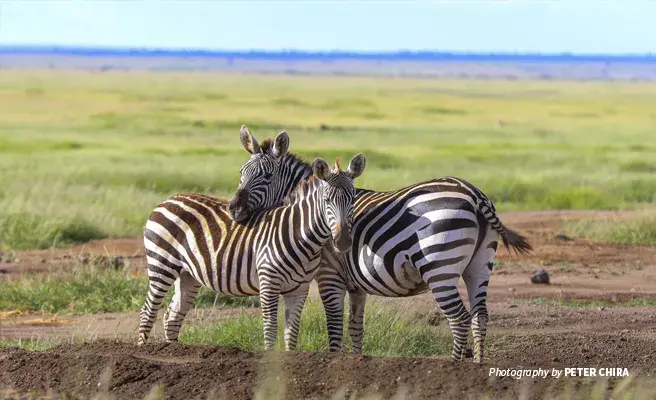 About the Author
Nathan Gichohi is Manager, Species Protection at African Wildlife Foundation. As a conservation biologist, he works on more than 40 species protection projects, focusing mainly on rhinos, elephants, and large carnivores, in AWF's priority landscapes. Nathan is also Project Manager of the Biosph ... More
Africa's wildlife-rich ecosystems extend outside of protected areas. Similarly, the socioeconomic and cultural conditions driving species loss in these expansive landscapes are not easily contained. To expand protections for these ecosystems, the U. N. Educational, Scientific and Cultural Organization upgrades their status to biosphere reserves. The World Network of Biosphere Reserves includes 79 such sites across Africa, recognized for their significant conservation value as well as their potential to drive sustainable development. A protected area, like a national park or reserve, forms the core of the biosphere reserve. In the neighboring buffer zone and flexible transition area, human settlement and economic activity is permitted but often difficult to regulate. Threats to species and habitats in these areas include land conversion and deforestation as well as illegal poaching and bush meat hunting.
To understand the complex dynamics driving species loss in Africa's biosphere reserves, African Wildlife Foundation embarked on a three-year project funded by the German Federal Ministry for the Environment, Nature Conservation and Nuclear Safety (BMU) through the German Federal Agency for Nature Conservation (BfN).
Biosphere Reserves as Model Regions for Anti-Poaching in Africa (BRAPA) first administered an online survey to biosphere reserve managers. Based on the responses, five diverse sites were selected for further research — Master of Science students from African universities assessed the effectiveness of wildlife monitoring and anti-poaching programs in the respective biosphere reserves. The five pilot sites include Bia Biosphere Reserve in Ghana, Dja Biosphere Reserve in Cameroon, Mount Elgon National Parks Biosphere Reserves spanning across Kenya and Uganda, Pendjari Biosphere Reserve in Benin, and Lake Chilwa Biosphere Reserve in Malawi.
On completion of the studies, the research teams and managers convened at the Biosphere Reserves Managers Workshop held in Kenya in May 2018. Participants traveled to the Amboseli Biosphere Reserve, whose core zone is gazetted as a national park with conservancy and community land forming the buffer and transition zones. AWF has been instrumental in engaging landowners to consolidate their acres, especially where they overlap with wildlife corridors and dispersal zones, to create conservancies. The workshop comprised a series of meetings with the wildlife management authority, conservancies, NGOs and private investors in ecotourism.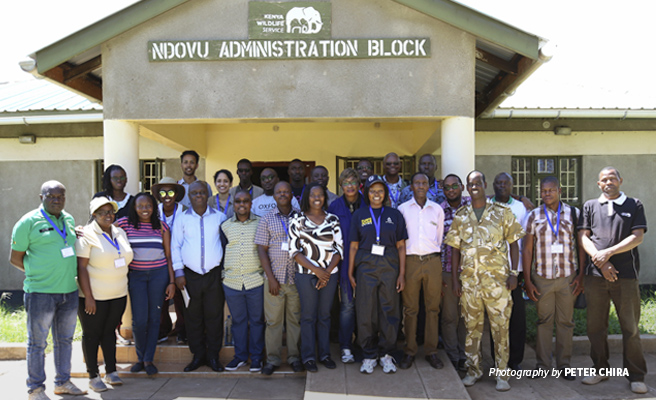 Understanding poaching dynamics in Africa
Poaching, both for subsistence and commercial purposes, remains a key threat to wildlife populations across Africa. To accurately assess the challenges facing wildlife management and monitoring, as well as the available resources to support anti-poaching, AWF conducted a survey of 36 biosphere reserves in sub-Saharan Africa. In the majority of biosphere reserves surveyed, poaching was of high to very high concern. Illegal hunting was reported to occur predominantly in the buffer and transition zones.
Mammals are largely poached because of the dependence of rural communities on mammal species for food. Increasing human population and poverty around biosphere reserves were cited as the main causes of poaching, and growing populations are continuing to put pressure on hunted species. Snares or traps contributed to the majority of the kills, but firearms and poison were also reported in some biosphere reserves.
Both West African biosphere reserves selected for further study — Bia in Ghana and Benin's Pendjari — showed a vast contrast in poached species and poaching trends over the last 5-10 years. Bia Biosphere Reserve reported an overall reduction in poaching. However, Pendjari Biosphere Reserve recorded a general rise in wildlife offtake, concentrated along the Pendjari River. The kob is the most poached mammal species in this biosphere reserve. In Bia, however, only three elephants were poached between 2007 and 2016, but snail harvesting is rampant.
The Pendjari Biosphere Reserve comprises an officially protected national park within a mosaic of conservation and concessions for sport hunting. According to the data, 88 percent of poached elephants were recorded in the hunting zone. Although regulated hunting is also allowed in Cameroon, conservation scientists struggle to reconcile the benefits of professional hunting with the subsistence needs of local populations who reside here but are not allowed to kill bush meat for consumption.
Dja Biosphere Reserve in the south of Cameroon also includes concessions for infrastructure development. The new roads, dams, and industries are attracting people, who turn to the natural resources — from the forests to the small mammals — for sustenance. Domestic consumption of bush meat is also a significant driver of poaching in both transboundary ecosystems selected for AWF's biosphere reserves study. Fishing communities within the Lake Chilwa Wetland Biosphere Reserve at Malawi's border with Mozambique have depleted fish stocks, often flouting local bylaws and regulations. For the Mount Elgon Biosphere Reserve extending across the mountainous forests on the Kenya-Uganda border, hunting for household consumption was the most prevalent motivator for hunting small mammals.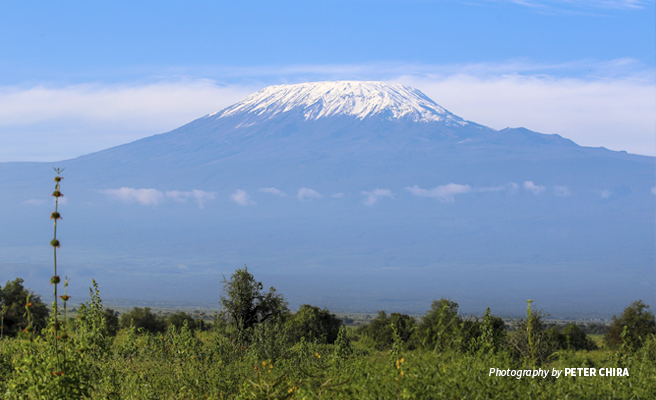 Adapting best practices for effective wildlife management
With different national wildlife policies, managing wildlife and other natural resources across boundaries has remained a challenge in implementing anti-poaching strategies in Africa. At the Biosphere Reserves Managers Workshop, participants discussed how to adapt best practices to standardize law enforcement, intelligence-led patrols, and information sharing. In addition, strengthened policy and legislation should be aimed at amplifying the status of biosphere reserves on a national and international level.
To fulfill their sustainable development and logistical function, the five biosphere reserves resolved to promote community participation in the management and ownership of wildlife resources, as well as in law enforcement.
Multi-stakeholder collaboration and targeted educational awareness on the value of biosphere reserves will strengthen the effectiveness of anti-poaching activities. As human populations grow and infrastructural development rises, an increase in institutional capacities will also help maintain ecological systems that support all forms of life — humans included.
> Learn more about the Biosphere Reserves as Model Regions for Anti-Poaching in Africa project