Boots Made for Much More than Walking
News
Boots Made for Much More than Walking
By Brenna Thompson | April 12, 2016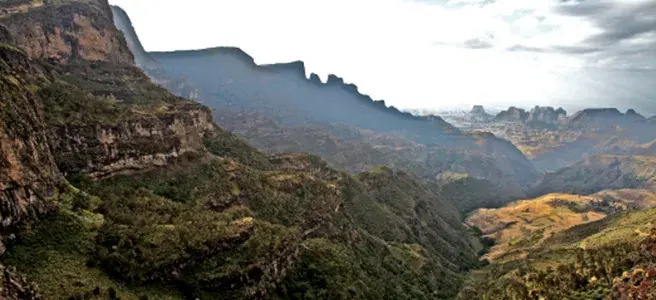 About the Author
Brenna Thompson is a former Foundation and Corporate Relations Officer for the African Wildlife Foundation. Brenna is a graduate of Colorado College and a master's candidate at Duke University's Nicholas School of the Environment.
...
More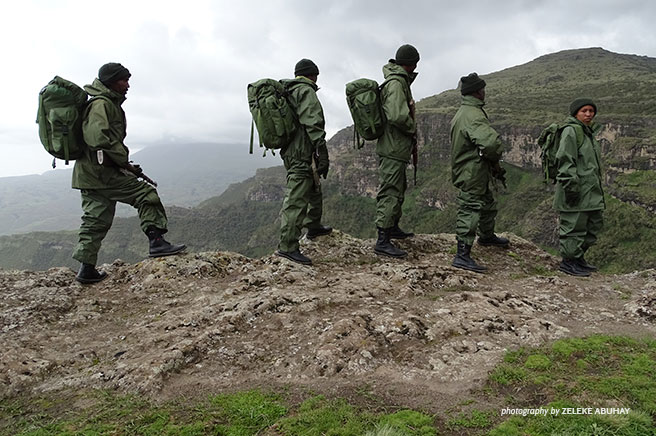 Ethiopia's Simien Mountains National Park is home to some of the world's most unique and endangered wildlife, including one species of mountain goat (the Walia ibex) that is found exclusively in the park. Due to its exceptional beauty and endemic wildlife, Simien Mountains National Park was among the very first sites to be inscribed on the list of UNESCO World Heritage Sites in 1978. It stands with places like Yellowstone National Park and the Galapagos Islands as one of the world's greatest natural treasures.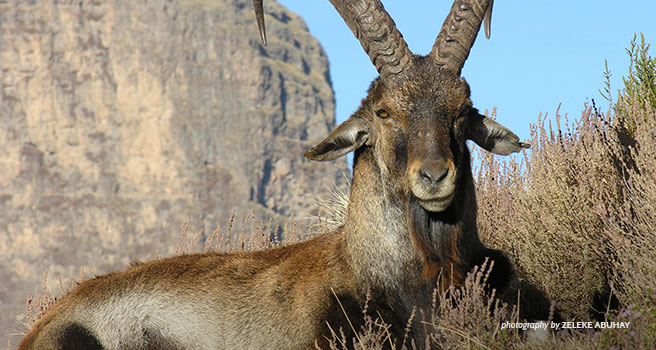 Today, however, the park and its wildlife exist on an ecological knife-edge, and since 1996 the park has been listed as a World Heritage Site in Danger. Impoverished local communities place intense pressure on the park and its wildlife through illegal livestock grazing and agriculture, timber collection, and occasional poaching. AWF is pursuing a variety of strategies for addressing the many challenges facing the park, including introducing new income streams from eco-tourism that will help to create jobs and reduce local people's dependence on natural resources in the park. Another key component of AWF's strategy involves building the capacity of the park rangers to protect the park and its wildlife.
Not your average walk in the park
Park rangers spend much of their time patrolling the park's rugged landscape; intervening in cases of illegal hunting, livestock grazing, timber harvesting and other activities that degrade the park's habitat and threaten its endangered wildlife. Day in and day out these rangers must contend with rocky terrain and steep slopes, cold and sometimes severe weather, and potentially dangerous conflicts with people engaged in illegal activity. On top of all this, funding shortages often mean that rangers have to make due without such basic equipment as boots, raincoats, and backpacks.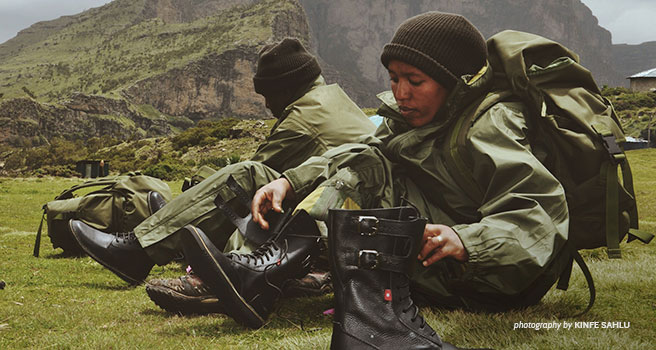 Over the past few years AWF has been providing rangers in Simien Mountains National Park with equipment support and training to make their difficult and demanding jobs just a little bit easier. In 2015, for example, support from the Prince Bernhard Nature Fund enabled AWF to provide the park's rangers with waterproof backpacks, waterproof Goretex jackets and pants, warm hats and gloves, binoculars, GPS units, and a rigorous training course on field tactics like navigation, GPS use and radio communications. This support has helped to enhance morale among the rangers and increase their efficiency and effectiveness. One thing they were still lacking until recently, however, was good boots.
Taking positive steps together
To address this issue AWF has joined forces with a footwear company called Oliberté to provide these rangers with quality hiking boots. Oliberté specially designed the Rango Scout Boot for the rangers in Ethiopia's Simien Mountains National Park, and in July 2015 they donated 80 pairs to the rangers through AWF. These boots are also available to the general public, and 10 percent of the proceeds of each pair sold will go to support the rangers and their efforts to safeguard unique wildlife like the Ethiopian wolf, Gelada monkey and Walia ibex.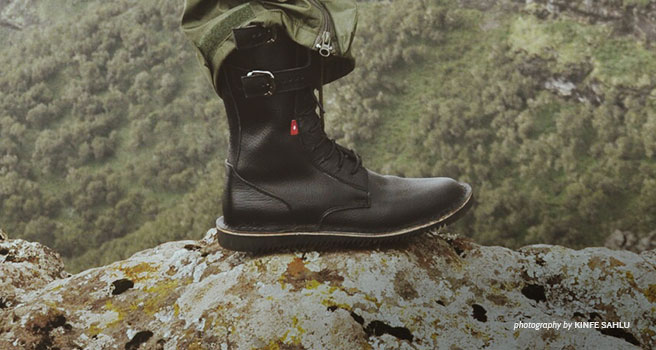 Oliberté is a Certified B Corporation, and in 2013 they became the world's first Fair Trade certified footwear manufacturing factory. Oliberté's factory is located in Ethiopia's bustling capital city of Addis Ababa, and offers well paying, stable, fulltime work to over 70 employees, 60 percent of whom are women. Workers in Oliberté's factory earn over double the minimum wage required in Ethiopia, and also earn a percentage of each pair of shoes sold that goes into a special community development fund. Workers then collectively decide how to spend the money in this fund based on their greatest needs: from medical care to school scholarships for their kids. They can also vote to take the Fair Trade premium dollars as a cash bonus, which is often equivalent to an entire month's salary.
The end result is a winning combination of social and environmental impact.