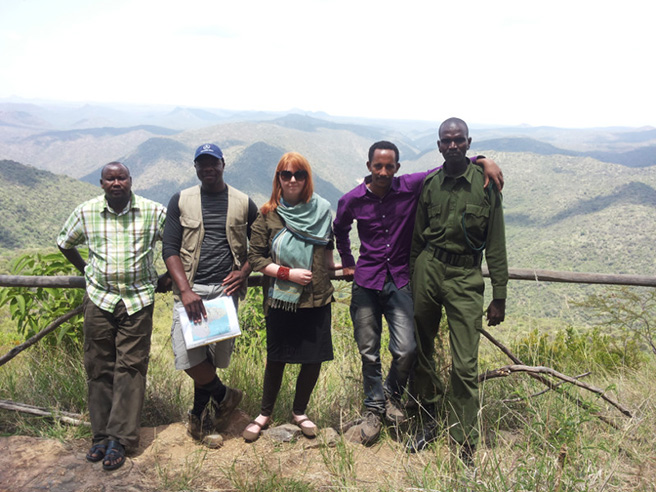 After a successful first year of our Conservation Management Training program (CMTP), we welcomed a new class of impressive young professionals to this rigorous training program—and I had the opportunity to learn a little about the new additions to the program.
Best in Class
The CMTP is a comprehensive two-year course that provides a unique opportunity for qualified individuals to obtain practical African conservation experience under the tutelage of AWF's technical experts. But while Sarah Chiles, Edwin Tambara, and Yohannes Seifu are in the early stages of their careers, they are not entirely "green" when it comes to conservation knowledge.
Sarah Chiles hails from South Africa, where she grew up close to a nature reserve. "As a result, I developed an appreciation for nature at a very early age," she shares in her personal blog on awf.org.
With her background in anthropology and urban studies, Sarah strives to better understand the social factors involved with conservation development. Her work experience with Kloof and Durban West conservancies in South Africa has sensitized her to the urgent need for diplomatic, community-based approaches.
"I have always viewed my interests in social dynamics and complexities as compatible with my interest in conservation; conservation is only successful to the extent that conservationists have a broad-based understanding of relationships between people and their environment," Sarah notes.
With a master's degree in natural resource management and experience in participatory and community-based natural resource management, Yohannes has a similar passion for linking community development to conservation. Previously, he worked with Farm Africa and SOS-Sahel, coordinating community development and training programs in remote parts of his native country of Ethiopia.
"I am also creative and entrepreneurial-minded," says Yohannes. "My favorite part of this experience so far has been engaging with AWF Conservation Schools and Conservation Enterprise programs."
Difficult Dilemma
Last summer, Edwin faced a dilemma: to pursue doctoral studies on scholarship at Stellenbosch University in South Africa or join CMTP.  Lucky for us, he chose to pursue the CMTP. "I weighed the two options based on my career ambitions and passion and what I needed in order to achieve those," he says. "I realized CMTP was the best way for me. It is a platform to gain valuable on-the-job conservation expertise and a chance for me to indulge my creative side in the conservation world."
Edwin joins AWF from the University of Zimbabwe, where he was a researcher. Hi interests in conservation go beyond research, however.
"I want to be posted to a landscape with a different culture so that I can learn about other cultures in Africa that I have not been exposed to yet," he says. "I want to gain people skills and widen my knowledge of different lifestyles and work ethics in other cultures. I believe this will give me a comprehensive perspective on conservation challenges in Africa and how AWF approaches each of the different regions."
Second Phase
All three trainees have finished their intensive orientation at AWF's Nairobi, Kenya headquarters and have begun the second phase of their programs. Sarah is in Kampala, Uganda; Yohannes is now working in the Kilimanjaro landscape; and Edwin is supporting the conservation planning team at headquarters on a broad range of projects.
Learn more about the newest class of CMTPs by reading Sarah, Edwin, or Yohannes' individual blogs—or read them all!
---
About the Author
Marie is AWF's former Membership Services Associate. With her background in the travel industry and experience living in Southern Africa, she is most interested in how the right balance of conservation and tourism can benefit both people and wildlife. She is an avid photographer and blogger, and shares these passions on her website One Carry-On Travel.