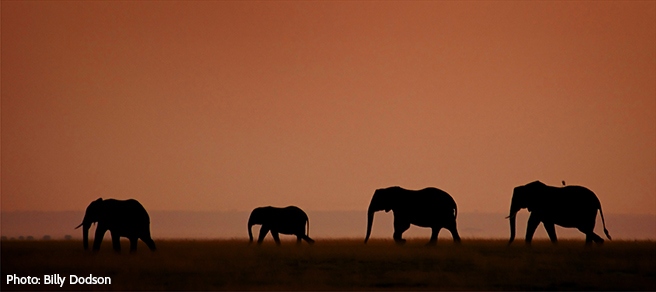 In two weeks an AWF delegation will join thousands of people from around the globe in Paris for the 21st Conference of Party on Climate Change. AWF is strongly urging all parties to support a binding and universal agreement on climate change.
One of the key components is to reduce greenhouse gas emissions to limit the global temperature increase to 2 °C above pre-industrial levels, which AWF supports. The need for a strong agreement is unquestionably supported by science, and those of us living in Africa are experiencing the impact of climate change daily. One of the most tangible examples is the rise in unpredictable dramatic weather patterns, which are predicted to escalate in the future.
Drought is one particualrly concerning weather pattern. Two weeks ago I was in the Amboseli landscape in southern Kenya, and this region is experiencing drought, again—the ground is hard, landscape dusty and vegetation dying. Although not as serious as the 2009 drought, where over 65 percent of livestock and various wildlife species died, the Maasai community has so far lost about 35 percent of their livestock.
The livestock gave vivid meaning to the term 'skin and bones.' I watched Maasai literally helping cows that had collapsed get to their feet.  Given the conditions, the Maasai pastoralists have since migrated with their livestock to far areas both in Kenya and Tanzania, a potential sources of conflict over dwindling pasture and water. The lack of water of course has cataclysmic impacts on wildlife, livestock and people. It escalates human-wildlife conflict as all converge on the same waterholes, and is pushing this iconic space to a tipping point.
In this landscape, AWF is working to mitigate climate change through large-landscape scale conservation. Likewise, we are trying to secure water points and have provided water catchment technology at household levels. Finally, we are also trying to ensure forest conservation through carbon credit benefits to the community through the REDD+ project, holistic grazing through rotation and harvesting of pasture for use during the dry season.
The time to act on climate change is now. We are living in extreme times, and this requires nothing less than firm and overdue action from our global leaders in Paris.
---
About the Author
Kathleen Fitzgerald is AWF's Vice President, Programs East and Southern Africa. She works closely with staff to design and direct land and habitat conservation projects across the continent, including establishing community conservancies, securing wildlife corridors, and improving management of protected areas and community lands.