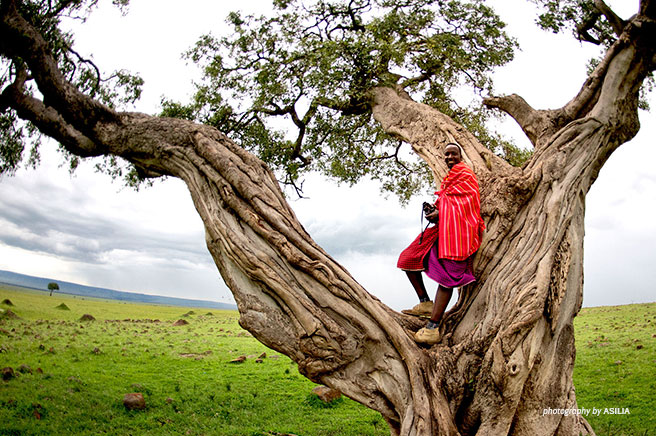 A s part of the Serengeti–Mara ecosystem, the Naboisho area in southern Kenya sees tens of thousands of wildebeest and zebra pass through the landscape each year. But the area began experiencing pressure from uncontrolled development and overgrazing. With the assistance of a few operators, among them ecotourism operator Asilia, the Maasai landowners in Naboisho formed a conservancy in 2010— eventually transforming a degraded landscape into a prime tourism destination.
Naboisho is characteristic of the sites where Asilia works: ecologically rich but economically fragile. The company's focus on sensitive areas is why AWF, through its African Wildlife Capital (AWC) impactinvestment subsidiary, provided Asilia with a US$2 million loan in 2013 to expand operations.
"Asilia operates multiple lodges in East Africa, creating conservation impact in numerous locations," says Giles Davies, AWC investment manager. Asilia also employs more than 600 people, with each new facility creating 25 to 35 new jobs. Ninety percent of lodge jobs are filled by local staff.
The AWC loan allowed Asilia to upgrade Naboisho Camp and acquire Encounter Mara, two wildlife tourism lodges in the Naboisho Conservancy, and acquire Kwihala Camp in Tanzania's Ruaha National Park. "Funding from AWC enabled us to invest in areas where the financial return is not immediate. These locales have the same intrinsic ecological qualities as established areas but were not being managed in a sustainable manner before," says Joost Freijzer, Asilia's business development manager.
"I like Asilia and their vision, as it is geared toward making the future better and involves the local community," says William Koonyi, who works as a waiter at Encounter Mara. 
---
About the Author
Mayu is director of content and messaging for AWF, responsible for AWF's print and online content, collateral and overall organizational messaging. At home, she divides her time between being a tyrant to her family and napping on the living room couch. A graduate of the University of Illinois at Urbana-Champaign, Mayu has nearly 20 years' experience in communications, storytelling and writing.