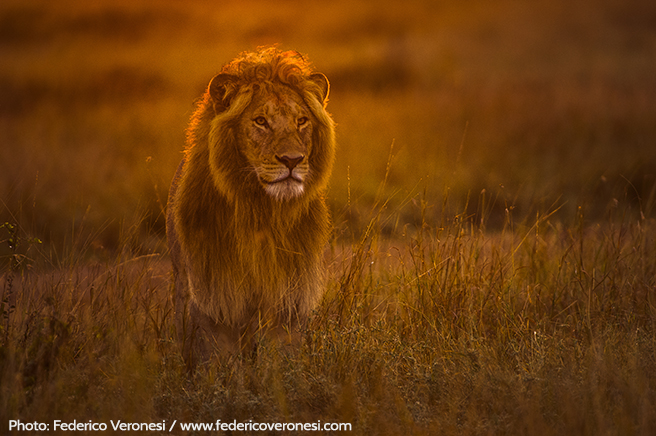 Lions are among the most intrinsic features of the African landscape. But the King of Beasts needs our help, even in its few remaining strongholds.
The entire lion population across Africa is thought to be about 23,000, down from 600,000 in 1900. While the hunting of lions by locals for cultural reasons has been outlawed in Kenya, the Maasai still pursue individuals of the species believed to have taken livestock, as a form of revenge killing.
One way AWF is addressing this issue of human–wildlife conflict is by supporting the Mara Lion Project through our Urgent Response fund. The project aims to stem the drastic decline of lion numbers by ensuring the harmonious coexistence of these carnivores and communities.
A 50-minute documentary film, "Tenkaraki ilowuarak (Because of the Predators)" is one of the key components funded by AWF. The Mara Lion Project has been showing the film to small groups around the reserves surrounding the Masai Mara. Screenings have been held in a mobile tent, to groups of 10 to 15 people to foster constructive discussion and ultimately identify homegrown ideas.
"This process will greatly aid in formulating a wide-ranging holistic approach to our community work," says Mara Lion Project Director Nic Elliot. "It will also ensure that we have the full support of the community in these endeavors."
Rich lion data
The Mara Lion Project has also worked to catalog the region's large carnivores over time, with 506 individual lions accounted for in the last year using "mark–recapture" methodology. "Instead of trying to count every single lion, we randomly sight a sample group of the population, mark it by taking a photo, then perform a series of 'recaptures' that allow us to estimate the entire lion population," explains Elliot.
The organization uses its own smartphone applications that allow for the recording of GPS points alongside wildlife sightings. Thousands of miles of travel in the bush over thousands of days have yielded a strong set of data from which informed management decisions can be made that accommodate both lions and people.
"Special thanks to AWF for making these field efforts possible," says Elliot. "Without the AWF funds, we would not be able to carry out such extensive fieldwork, which is essential to collecting baseline data on lion demography." 
---
About the Author
William H. Funk is a freelance writer and documentary filmmaker with a passionate concern for the wildlife of Africa. With a background in environmental law and policy, he works whenever possible to promulgate stories and ideas that might serve to heighten public awareness and involvement in the preservation of the wildlife of our foundational continent.