Convicting traffickers to end wildlife crime
Convicting traffickers to end wildlife crime
By Didi Wamukoya | August 31, 2018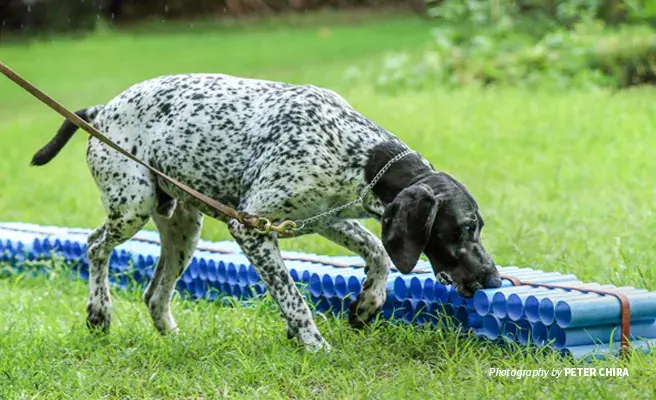 About the Author
Didi Wamukoya is AWF's Senior Manager, Wildlife Law Enforcement and is based in Nairobi, Kenya. Having graduated with a Masters Degree in Environmental Law from the University of Nairobi, Didi served as head of prosecution for the Kenya Wildlife Service for eight years. Her area of expertise lies ... More
In 2017 and early 2018, African Wildlife Foundation's canine units made over 100 busts, uncovering raw and worked ivory, pangolin scales and skins, lion bones, sable antelope horns, rhino horns, hippo teeth, and more. In August 2017 our dogs alerted their handlers to a huge stash — 50 pounds of rhino horn in a smuggler's bag at the Entebbe International Airport. The Vietnamese smuggler was arrested, prosecuted and eventually fined and deported from Uganda.
With Africa losing about 8 percent of its elephants and large numbers of other species to poaching every year, uncovering stashes of ivory and horn, skin and scales is only half the battle.
Arrests mean little if illegal activities do not result in punishments — we must also look to the courts. As wildlife poaching and trafficking continue to seriously threaten the future of African wildlife, prosecutors must be prepared to push for significant punishments to shut down poaching operations. Whether AWF is supporting the relevant law enforcement agencies to deter wildlife crimes and to arrest offenders or educating and sensitizing key agencies and communities for long-term impacts on species, the goal is viable, functional populations in their natural habitats.
Strengthening legal systems
AWF's multidisciplinary team of scientists and legal professionals is having an impact on wildlife crime. In 2015, AWF began hosting sensitization and training workshops to address gaps in the policy, judicial and prosecution systems that may hamper wildlife law enforcement and prosecution in African countries.
These gaps include lack of awareness about the socioeconomic impacts of wildlife crimes, failure of different sectors — investigative, prosecutorial and judicial — to coordinate efforts, and in some cases a failure to prosecute criminals under all applicable laws. To date, more than 825 law enforcement, prosecution, and judicial personnel have participated in the workshops.
Wildlife judicial and prosecutorial training goes a long way toward improving regional cooperation, as stakeholders get a rare opportunity to compare notes about their respective wildlife laws and enforcement capacities and strategies. In March 2017, AWF and partners brought together participants from Botswana, Mozambique, Namibia, South Africa and Swaziland to enhance transboundary collaboration, legal frameworks, and communication networks to curb illegal wildlife crime.
In 2016, we hosted representatives from Burundi, the Democratic Republic of the Congo, Ethiopia, Kenya, Tanzania and Uganda for the same purpose — to enhance regional collaboration amongst wildlife crime prosecutors in east and central Africa. As recommended during this conference, the East African Wildlife Prosecutors Coalition has been established to enable legal coordination across the region.
The sensitization efforts are paying off. As of May 2017, the conviction rate for wildlife crimes in Kenya rose to 91 percent, from 44 percent in 2013. The success is attributed to our legal trainings and closer collaboration among state and non-state actors working seamlessly to ensure that the judicial process, from investigation to prosecution to the adjudication of wildlife cases, is successful.
> Find out how our sniffer dogs are stopping wildlife traffickers in their tracks