Corporations' Critical Role in Conservation
About the Author
Beulah is African Wildlife Foundation's Director, Corporate and Foundation Relations. She cultivates relationships with corporate and foundation partners, helping to develop exciting partnerships that are good for Africa's natural resources. Born in Nigeria, Beulah is passionate about sustainab ... More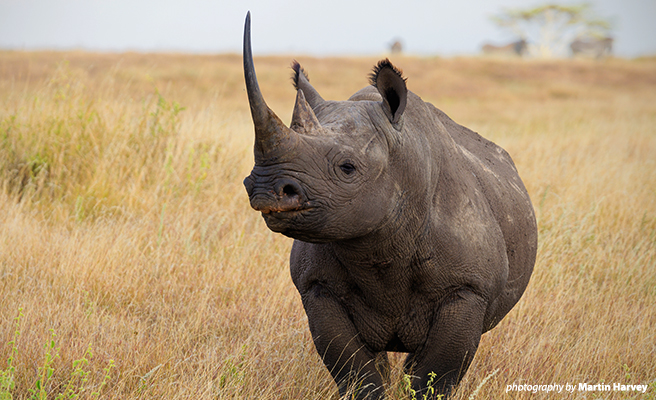 For the past several years, Africa has experienced unparalleled economic growth and entrepreneurship. As indigenous and multinational companies look to make their mark on the continent, they would be remiss to overlook the incredible value add of Africa's wildlife and wild lands. Water catchments within Africa's forests supply water to a third of the continent's largest cities—supporting human life and economies.
Africa's wildlife is also instrumental to ecosystems. Elephants, for instance, help to maintain grasslands by clearing away brush and dispersing seeds across landscapes through their dung.
And, of course, wildlife and wild lands are among the major attractions fueling tourism across the continent—inevitably supporting both local businesses and multinational corporations.
But, with the dire threats impacting Africa's wildlife and wild lands, protecting the continent's natural heritage cannot remain the sole responsibility of conservation organizations such as AWF. The private sector has a critical role to play in stopping the killing, trafficking and demand for wildlife products. Corporate partners, for example, have the ability to bring visibility to the threats endangered species face and encourage conscious consumption. Through collaborative partnerships that scale up the impact of conservation efforts, the private sector can also ensure that Africa's iconic species and landscapes are not sacrificed along the continent's path toward economic development.
Celebrating Endangered Species Day
Understanding this, the Lost Rhino Brewing Co., in Ashburn, Va., began partnering with AWF in 2014. "Our choice to partner with the African Wildlife Foundation is based on our mutual desire to stop the illegal poaching of the majestic animal we have taken as our namesake. We are proud to support their continued efforts on the ground in Africa and help raise awareness of the plight of rhino," says Chris Drummond, vice president at Lost Rhino.
Partners like the Lost Rhino Brewing Co. recognize the importance of protecting Africa's wildlife and wild lands. To that end, on Endangered Species Day, Friday, May 19, Lost Rhino will be hosting a social gathering at the Lost Rhino Retreat in Ashburn, Va., to raise awareness and funds to protect endangered species. Ten percent of total sales from the entire day will be donated to AWF, in addition to net proceeds from sales of a co-branded t-shirt.
Lost Rhino's support over the years has helped further AWF's efforts to protect endangered species. AWF also receives 1 percent of sales from EnviroKidz, a line of products by Nature's Path Foods, which is advancing the protection of elephants, rhino, lions, and great apes in Africa. AWF is also partnering with FARU, a clothing retailer that donates 10 percent of each sale to support AWF's elephant and rhino programs.
As AWF partners, these companies are aligning themselves with an African organization with nearly 60 years of on-the-ground experience—and in the process making an impact on critical conservation and sustainability issues in Africa. By supporting AWF's programming, partners are helping to bolster improvements for wildlife, wild lands and people in Africa.
"AWF corporate partners have the opportunity to invest in a diverse range of programs: protecting habitats and biodiversity, educating Africa's children and introducing them to conservation, and generating economic benefits for communities through conservation enterprises, among others," relates Althea Wilson, AWF's director, corporate and foundation relations. "By partnering with AWF, companies are helping to make sure African wildlife is not simply relegated to history and geography books."
Contact us today to learn how your company can partner with AWF.