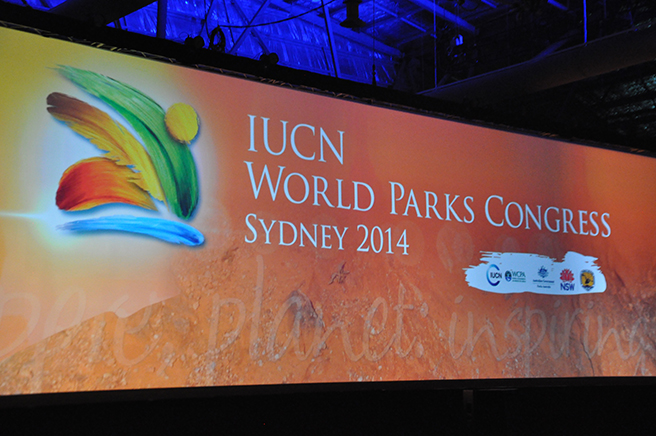 ​
World Parks Congresses come around once a decade. The last one was ten years ago in Durban South Africa. Now the protected areas community is convened in Sydney Australia. Madiba, the great Nelson Mandela, called for leadership and compassion from delegates in Durban, and launched an initiative to bring the energy and passion of youth to the table.
A decade on, and the halls of the Sydney Olympic Park are mixture of young and old conservations working together to create a world where wild life and wild lands can endure forever. Parks are one of the oldest tools in the conservation basket, with the first National Park—Yellowstone—established in 1872. Land based conservation, the core ethos of parks,  has ties from the most ancient cultures of the world. Globally, parks networks are expanding, with Africa leading the way. Tanzania has over 30% of land under protection. But wildlife isn't limited to parks, and there are many communities managing land and habitat for wildlife – like the Maasai of Mbirikani Group Ranch near Amboseli National Park. Rangers from Mbirikani are here in Sydney, bringing their story to the community of rangers and parks managers, and guiding the decade of work ahead. Visions and commitments coming out of the Congress include:
Commitments to expand the world's protected area network even further, particularly in marine environments, with President Ali Bongo Ondimba of Gabon committing to expand the marine protected area network in that country to over 20%;
Commitments to consolidate what is already under protection – brining more funds to managers, improving capacity for management, and strengthening political resolve to prevent exploitative activities in areas already designated;
Commitments to protect those who are on the front line in the war against poachers and wildlife traffickers; and 
Commitments to ensure that the ecological systems that underpin growth and human prosperity are protected and restored. 
---
There are also many new tools and approaches, like the Wild Witness app that allows anyone in the world to report a wildlife trafficking incident anonymously, the Human Dependency on Nature knowledge basket which enables practitioners to document relationships with nature, and innovative approaches to governance in protected areas. Conservation education resonates with many delegates, and is seen as a cornerstone to the long term sustainability of our efforts. 
---
About the Author
Andrea Athanas is a Program Design Manager with the African Wildlife Foundation. She has experience building business practices for biodiversity conservation and advising companies such as Shell, Nestle Nespresso, and Rio Tinto on managing their environmental footprints. Her current portfolio focuses on bringing wildlife conservation into the transformation of African economies focusing on agriculture and energy and building partnerships in Europe for AWF.