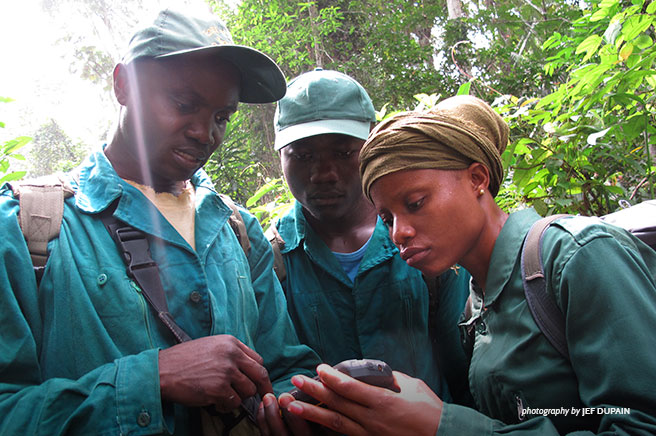 It was more than two years ago that AWF, through the African Apes Initiative, began reaching out to priority African great ape sites to offer our assistance in improving protection.
Priority sites were chosen on such factors as the presence of a critical great ape subspecies, presence of endemic species, need for intervention and availability of local partners. AWF's aim was to help the protected area authorities in these priority sites implement new technologies, specifically the CyberTracker software, plus the linking of this software to the Spatial Monitoring and Reporting Tool (SMART).
Based on the lessons learned by AWF during implementation in the Lomako–Yokokala Faunal Reserve in the Democratic Republic of Congo (DRC), similar ecological monitoring and anti-poaching efforts are now being implemented in a portfolio of other sites. These include: the Dja Faunal Reserve and Campo Ma'an National Park in Cameroon, Niokolo–Koba National Park and Dindefelo Community Reserve in Senegal, and the Iyondji Community Bonobo Reserve and the Bili–Mbomu target zone in DRC.
Training in Campo Ma'an
Last year, a team of AWF experts, including members of AWF's geographic information systems (or GIS) team, travelled to Cameroon to begin implementation of CyberTracker and SMART in Campo Ma'an National Park. AWF worked with about a dozen park ecoguards to provide training on use of the tool. The presence of the GIS team was particularly helpful, as individuals were able to get a better understanding of the potential uses of CyberTracker and SMART in decision-making for future patrols. Further, this two-way learning, between AWF and members of the protected area authority, was constructive.
Overall, the training was positive, with the chief warden and ecoguards all expressing excitement about using this technology on future patrols. In addition to helping the protected area authorities to improve efficiency and performance on patrols, the trainings will hopefully improve the perception of ownership, at all levels of the protected area authority, over ecological monitoring in Campo Ma'an.
Currently, most of the priority sites that have been provided AWF training in use of CyberTracker and SMART are applying it for anti-poaching purposes. Data gathered via CyberTracker and inputted into SMART can help the chief warden make informed decisions on deployment of his teams and anticipate potential hot spots for poachers, such as in areas where there is concentration of forest elephants, for example. With regular patrols and continued use of CyberTracker and SMART, the hope is that poaching will be reduced and patrols can begin to apply the tools for ecological monitoring.
In the meantime, AWF continues to facilitate networking between these protected area authorities, as such opportunities provide the best way for individuals involved in this work to improve their skills and knowledge base. To that end, AWF in April hosted the second annual African Apes Initiative workshop for those protected area authorities receiving support from AWF on great ape conservation work. This was followed with a practical field exercise in Dja Faunal Reserve by a number of the workshop participants.