Field trips inspire a new generation of Ugandan conservationists
Field trips inspire a new generation of Ugandan conservationists
About the Author
Abiaz Rwamwiri was African Wildlife Foundation's Communications Officer for the USAID/Uganda Biodiversity Program.
More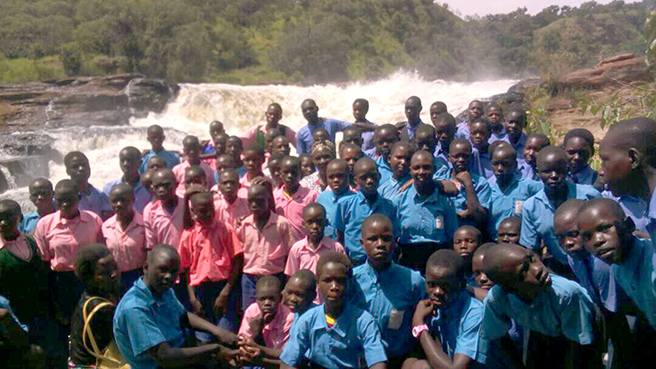 Uganda's Murchison Falls National Park is a known hotspot for poaching, an activity driven mainly by the demand for bushmeat. For the last five years, the USAID/Uganda Biodiversity Program — a program implemented by African Wildlife Foundation — has been working Uganda Wildlife Authority to build conservation awareness and create alternative livelihood opportunities around Murchison Falls.These programs range from chili growing, conservancy development, and community scout programs, and they create friendly communities that support park management in protecting wildlife and reducing threats to biodiversity.
A field trip to build conservation awareness
Notably excluded from most of these programs were the community's youth who will grow up to become the next generation of conservationists and environmental stewards. To bridge the gap, the program worked closely with the Murchison Falls National Park community conservation department to build awareness in schools near the park. A total of nine schools, including four secondary schools and five primary schools, were engaged through a series of conservation talks, culminating in students making a commitment to be champions of change for conservation.
To build on the momentum create increased awareness, AWF partnered with the park for a special field trip into the park for 350 students and 12 teachers. Students and teachers from Purongo Seed and Karuma Secondary Schools, as well as Dima and Karuma Primary Schools, took a day-long trip into Murchison Falls to witness first hand the beauty of the landscape and impact of conservation, further inspiring them to become conservation champions for the park.

School children turned conservation champions
According to Rucie Anena, head teacher for Purongo Seed Secondary School, the majority of the students who live at the doorsteps of Murchison Falls have never had an opportunity see the park on a scenic game drive or take in the view from the top of the majestic falls, a scenic point where the River Nile forces itself through a 7 meter gap in the rock resulting into the world's most powerful waterfall. In fact, most of these students come from communities that have traditionally been going to the park for one reason: bush meat.
At the end of the trip, students committed to talk to their parents and relatives on the importance of protecting the park while others promised never to eat bush meat again even if their parents serve it to them. "These animals are too good to be killed for meat. I want them to be protected so that my children can be able to enjoy seeing them like I have today," said Ochala Erickson, a senior five student of Purongo Seed Secondary School. "I won't eat bush meat again, never."
Building Uganda's youth conservation movement
Children and youth play an important role in conservation, and African Wildlife Foundation is committed to instilling the value of conservation at a young age. AWF recently supported the Uganda Ministry of Tourism, Wildlife, and Antiquities in a conservation fine art challenge that targeted over 200,000 students from 859 secondary schools.
AWF, with financing from USAID, is bringing the conservation message to schools throughout Uganda by supporting the renovation and equipping of the Lake Mburo Conservation Education Centre in Lake Mburo National Park, the development and production of a Conservation Education Manual for Lake Mburo National Park, and the creation of a Children's Activity Book for children who visit the Uganda Wildlife Education Centre.
> Learn more about the impressive USAID/Uganda Biodiversity Program