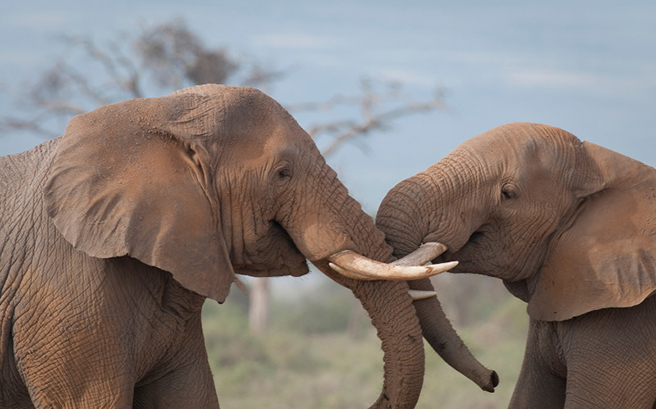 In the 1970s and 1980s, there was a terrible epidemic of poaching in Africa. That's when AWF did our "Only Elephants Should Wear Ivory" campaign, and we found a way to slam the brakes on this poaching.
We sent very clear, unambiguous messages to the marketplace that, if you're in the ivory business, you had better pivot and very quickly find something else to do, because this business is going to come to a screeching halt—and that's exactly what happened. With the ivory ban, the change was tangible.
So we know what success looks like. Now, it's taken all of us some time to realize the severity and pervasiveness of this second epidemic. Governments, NGOs, everybody has to again send a clear message that the illegal wildlife trade will be shut down.
People would love to see this happen very quickly. Unfortunately, it's a big, complex machine. With the ivory trade, we're talking about 30 to 40 African elephant range states and numerous countries that are source or consumer markets or transit points.
It's not as easy as flipping a switch.
But the pressure is mounting. AWF has a number of initiatives underway. The U.S. government is getting involved, former Secretary Clinton has gotten involved, and celebrities are participating in our campaigns. We're taking the resources people are giving us, and we are organizing as a movement.
It's starting as a couple of instruments, but soon we'll have a symphony of voices and measures by international governments that will have the same effect as before and slam the brakes on the illegal wildlife trade.
See our current anti-ivory campaign PSAs.
Photo: Barbara von Hoffmann/www.vonhoffmannphotography.com
---
About the Author
Patrick found his love for Africa while serving in the Peace Corps in Tanzania and initially joined African Wildlife Foundation as a Community Conservation Project Officer in 1990. Within AWF, Patrick has pioneered initiatives that forge linkages between conservation and human well-being. Patrick was appointed Chief Executive Officer in 2002 and under his leadership, AWF has seen significant growth and change, including the formulation of AWF's successful large-landscape approach to conservation, the establishment of our Nairobi-based headquarters, internationalization of AWF's Board of Trustees, and a tripling of AWF's operating budget. Patrick holds an M.S. in the management of extension systems from the University of Illinois at Urbana-Champaign and a Ph.D. in development from the University of East Anglia in the United Kingdom. He also serves on the Advisory Council to the Presidential Task Force on Wildlife Trafficking.