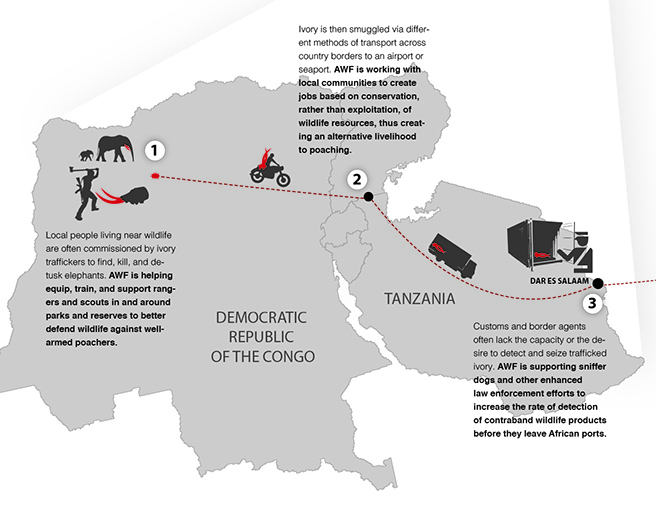 Ivory taken from an elephant in Africa travels along an elaborate trade chain that spans countries, oceans, and continents—and comprises a network of poachers traffickers, fixers, kingpins, and consumers.
Tackling this multibillion-dollar illegal wildlife trade will require interagency cooperation within government, strengthened law enforcement, punitive legislation, increased education, and a commitment by governments, non-governmental organizations, the private sector, communities, and individuals to work together.
Following is an example of how ivory might be taken from the African bush and transported thousands of miles to be sold to consumers in Asia.
Download the infographic to see the path of the ivory trade.
---
About the Author
Kathleen joined AWF in 2009 was AWF's Media Relations Manager. Many moons ago she worked at a wildlife sanctuary near the Kruger National Park in South Africa where she slept with monkeys, fought bush fires, led snare patrols, guided camping trips in the Kruger and spent untold hours removing cattle fencing. She has traveled throughout Southern and East Africa and looks forward to the day when she can take her own little (human) primate to visit the mother continent.