New Eyes and Ears for Iyondji Bonobo Reserve
New Eyes and Ears for Iyondji Bonobo Reserve
About the Author
Hugues Adeloui Akpona was the Congo Landscape Manager overseeing African Wildlife Foundation's work to conserve biodiversity in Maringa-Lopori-Wamba.
More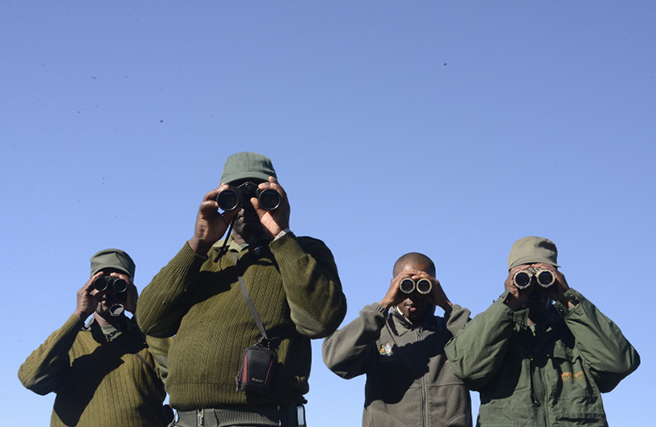 New eco-guards enrich the Iyondji Community Bonobo Reserve's Management Structure, created under CARPE II in northern DRC
In the territory of Djolu, Tshuapa District, Equator Province, the first class of "ecology guards" completed their combined military and professional training on August 16, 2014.
The 24 eco-guards counted among them three women—one of whom was the spokesperson for the class upon graduation—and were initially recruited from different landscape zones up to 100 km off of the reserve in Maringa Lopori Wamba as part of the implementation of the management structures of a newly created protected area called the Iyondji Community Bonobo Reserve.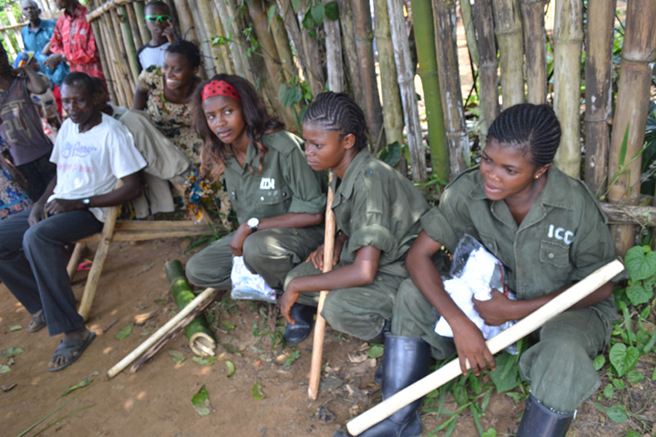 A big crowd of over 100 different members of the community came to celebrate the new guards at the closing ceremony, which took place at AWF's site at Iyondji, notably traditional and administrative authorities, military authorities, NGOs, and researchers.
The 24 new eyes and ears for Iyondji exhibited sketches and chanted slogans of the fresh knowledge they'd acquired and their commitment to protecting the reserve.
On August 19, still at Djolu, the first platform for stakeholders to discuss and determine (in a participatory approach) activities to implement in the Iyondji Protected Area for the next year took place. The Committee for the Coordination of the Area is a two-days meeting during which important decisions are taken regarding management and sustainable use of the reserve. The event was chaired by the representative of the Director General and the Provincial Director of the Congolese Institute for Nature Conservation, who respectively came from Kinshasa and Mbandaka with technical assistance from AWF staff based in Djolu.
Learn more about the beautiful bonobo reserve at Iyondji.
Photos: Billy Dodson and Hugues Adeloui Akpona