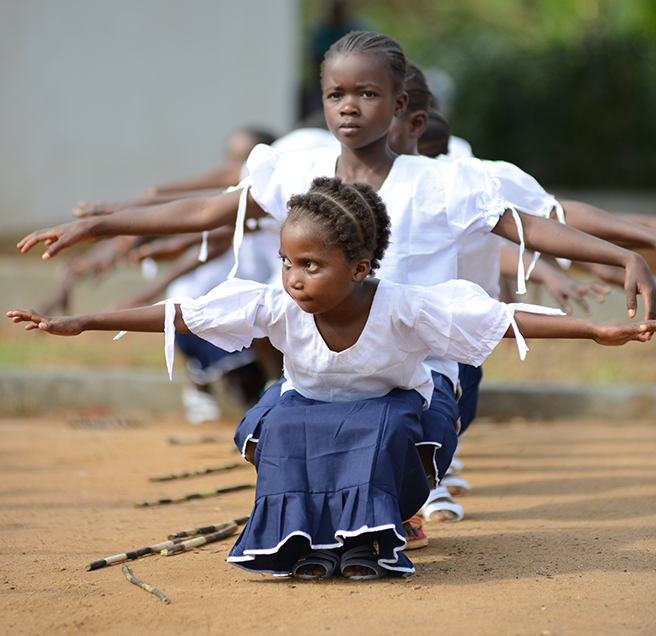 You don't know the meaning of the word excitement unless you've ridden on the back of a dirt bike for six hours through a rough forest path in a remote area of the Democratic Republic of the Congo—and you can't know terror until you've done the last hour and a half in the dark. But the reward for this sliding, bouncing, spine-crushing experience was the opportunity to witness a community-wide outburst of pure joy. In this case, the reason for the exultation was the grand opening of the AWF sponsored school in the isolated village of Ilima. 
The school is lovely, designed to be synchronous with the jungle environment. It offers students a view of the tropical forest from every classroom. And along with the usual academic subjects the students are taught and encouraged to respect their environment and the animals that make it their home. The impact of the Ilima school has already been significant. In addition to the jobs provided during its construction, second grade teacher Nicolete tells us that the quality of the school has attracted many students who would not otherwise have enrolled …. anywhere. This represents a noteworthy expansion of the conservation message. Seven-year-old Bilima is thrilled with the new school. He says it will give him the chance "to become smart."
It's invigorating to see an isolated village like Ilima blessed with a state of the art school with a dual message of traditional academics and local conservation. The morning long grand opening celebration was moving and powerful. It lifted the heart and gave us, in Jane Goodall's words …. "reason to hope."
---
About the Author
Billy Dodson first became interested in photography while on a mountain climbing trip to Tanzania in 2001. He visited East Africa for the first time as a photographer in 2005, and has since returned to Kenya and Tanzania several times for the purpose of photographing African landscapes and wildlife. Billy generously donates his photographs to African Wildlife Foundation to advance wildlife conservation—a cause he is extremely passionate about. For more information, visit Billy at http://www.savannaimages.com.